UK Staycations: How to Get Domestic Holiday Cottage Bookings
Reading Time:
6
minutes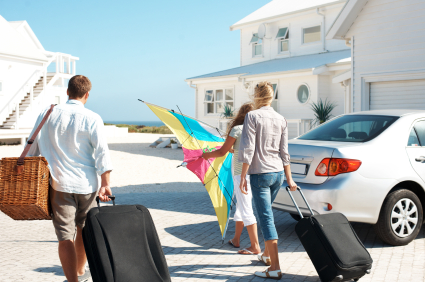 To say that the past few months has been a difficult one for the holiday letting industry would be an understatement. With thousands of holiday home business owners forced to close their properties for months due to the coronavirus, there is at least some light at the end of the tunnel now, with the recent announcement that self-catering cottages can reopen.
The tourism industry as a whole is beginning to find its feet again. Early signs are promising, with many businesses reporting a +200% increase in bookings year on year for summer and 2021. The vast majority of these bookings have been from domestic travellers looking to take a 'staycation' at a drive-to destination.
Once you understand the needs of domestic travellers, attracting them becomes a lot simpler. In this article we'll explore the multiple things you can do to attract them.
What are domestic travellers?
Domestic travellers only travel within the country in which they live. The term 'staycation' is closely linked to domestic tourism. So, for example, if your holiday cottage is located in Devon and your incoming guests are from London, they could be considered domestic travellers.
Why they are an important market
It's become far harder to travel internationally since the pandemic, with limited flights available, plus people are concerned about future flights being cancelled and another lockdown due to a second outbreak.
Therefore, the demand from domestic travellers wanting a post lockdown break – somewhere they can drive to and avoid flying, has surged in comparison with that of guests from overseas.
Whether it's to get away from weeks of uncertainty and being 'cooped up' at home or an attempt to get away from a densely populated area to a quiet, comfortable environment to relax, domestic travellers are now your most important target market, in the near-term.
How to attract domestic travellers
There are more factors in the market to contend with than ever before, so now is the time to think about how to adjust and adapt your marketing strategy.
Here are just a few of the influencing factors affecting the holiday property market right now:
There's more cautiousness from potential guests around booking terms and conditions; with travellers wanting to know their cancellation rights should there be another lockdown.
Hygiene is a priority – guests will want to know what steps you are taking to sanitise and disinfect your rental.
There's currently less freedom to explore local amenities and attractions due to post-lockdown restrictions.
Flexible stays
Incentivise potential bookers to stay as long as possible. Many travellers are forgoing their traditional 2-week holiday abroad during these uncertain times, opting for a 7/14 day break in the UK instead. Attracting these longer bookings will reduce the frequency of changeovers and your deep cleaning expenses.
However, don't rule out short stays for those domestic travellers who are looking for a last-minute long weekend away. It gives you a chance of filling those availability gaps caused by cancellations that might have occurred earlier in the year due to the coronavirus outbreak.
You'll need to react dynamically to changing trends and traveller demands.
Have a flexible cancellation policy
Due to the coronavirus pandemic, the market has drastically changed and guests will want to know what their cancellation options are if there is another lockdown. Relaxing your cancellation policy might just give you the edge on competing local rentals.
For at least for these first few months following the crisis, maybe allow cancellations as late as 3 weeks before arrival and move balance payments to 3 weeks before arrival. Reassure guests that they can get a full refund, a credit or change their dates due to future coronavirus lockdowns.
A flexible cancellation policy can be an extra 'draw' for potential bookers. For example, Airbnb has previously reported that 15% more bookings take place on holiday rentals which offer a flexible cancellation policy.
Promote the benefits of a holiday rental over a hotel
Historically, guests have chosen holiday rentals because of amenities like private kitchens and space. Now, more than ever, travellers may choose a holiday let over a hotel so they don't have to congregate with both staff and other guests in high-traffic communal areas and have more control of their surroundings.
Adjust your prices
The economic downturn caused by the pandemic has impacted many peoples' disposable income. It's a sensible idea to review your rates and make adjustments based on demand in the marketplace.
Domestic travellers are probably expecting to spend less on their accommodation than on an international holiday. If you can offer a good deal and keep your prices competitive, you'll be more likely to fill your vacancies, and fill any gaps triggered by the higher volume of cancellations the pandemic (and subsequent months of lockdown) may have caused you.
Try using a specialist pricing tool such as Pricelabs or Beyond Pricing to help you automatically set the most competitive price for maximum ROI.
Welcome pets
Whether pet-owning domestic travellers can take their beloved furry friends with them on holiday is likely to be a deal-breaker when looking to book a holiday let. A TripAdvisor survey revealed that 53% of people travel with their pets.
Also, if it's a last-minute booking, many boarding kennels are closed or booked up, so domestic travellers need pet-friendly properties.
So, if you have one, reconsider your 'no pets' policy to a 'pets welcome' policy- you'll be able to reach a much wider audience.
Include information in your marketing to convey how welcome pets are. For example, the dog or cat-friendly items you provide at the property and a list of dog-friendly activities to enjoy.
Catering to families with children
Many families are looking for accommodation with private amenities which they can enjoy with their families without the need to share with other guests in crowded spaces.
Holiday homes give guests the option to spend quality time with family members, entertain and cook meals at home instead of going out to a restaurant. Somewhere to keep the whole family safe and secure, but also have that much-needed break and change of scenery.
You might want to put together a 'family-friendly' list of things to do in the property and the local area, to inspire potential guests.
Show off your amenities
As always, what perks there are at the property for guests to enjoy during their stay remains an important 'pulling' point'. So, if you have any of the following available, ensure these are called out clearly on your website, listing sites and social posts:
Reliable and fast Wi-Fi (particularly attractive to those looking to do some remote working during their stay)
Well stocked kitchen and range of appliances to cook at home and socialise – rather than eat out
Access to smart devices such as voice-controlled heating controls/thermostat and virtual assistants (e.g. Alexa, Amazon Echo)
Access to fitness equipment inside the holiday property
Any quirky additions such as a home cinema, outdoor hot tub, fire pit, log burner etc
Share tips and advice about the local area
When it comes to showing off the local area, what it has to offer and what's open, it's never been more important as a selling point to leverage.
As well as this, it's an opportunity to provide reassurance to potential guests that there is still plenty of fun and exploring to be had.
Highlight the hidden gems in your area which can be considered 'safe' to travel to from your property to visit and experience. This will appeal to guests looking to avoid crowds and explore off the beaten path locations.
Consider pulling together some example day itineraries to demonstrate that there are still plenty of accessible activities on offer.
Recommend pubs, restaurants and takeaways which are open and taking bookings.
You can include all of this information in a series of blog posts to generated leads from travellers who are in the research stage and may not have booked accommodation yet.
Make sure you remember to share all your content on social media also. Travellers will be looking for confirmation that visitor attractions are open to tourists.
Ensure your property photography is top quality
How your property looks online when someone is researching accommodation to book is one of the major factors which will attract them to your holiday rental over somewhere else. It's really important to review your current photos and see if there's any room for improvement.
Holiday photos are a very popular theme on social media and one which the millennial demographic will often post about. To that end, reflect upon whether your property is 'Instagrammable' to those who might want to take photos of their stay and share them with the wider world.
To summarise
By the time you've worked through the above tasks, you will have covered a lot of ground in terms of readjusting your marketing strategy for domestic travellers.
There's a lot of pent up demand for holidays after lockdown. Holiday rental owners and managers should get ready to react to dynamically changing trends and traveller demand.
We sincerely hope that holiday letting businesses within the sector recover well and can operate stronger than ever.