How to Screen Holiday Let Guests & Prevent Airbnb Parties
Reading Time:
8
minutes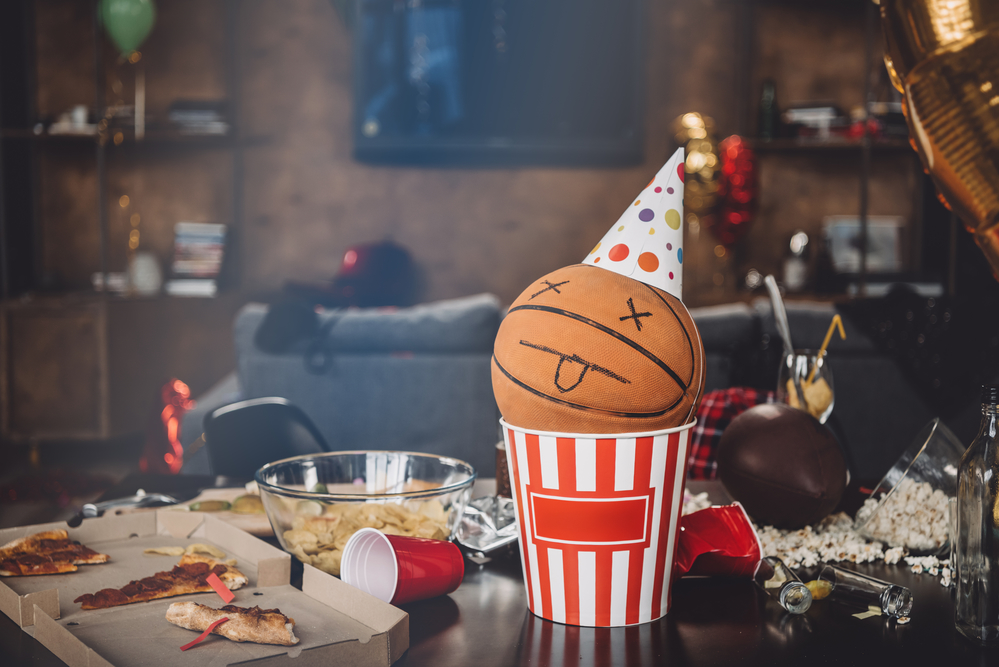 Your booking requests may be flowing in, but do you accept all guests at face value, or do you screen them first?
If you don't screen them, you are not alone. Two-fifths of holiday home owners neglect to check their guests' credentials, even though over half claim they'd been 'stung' by unruly guests in the past.
Inviting strangers to stay at your holiday rental can turn into a nightmare if you are not careful. Even though listing sites often have some guest verification processes in place, we've all read about horror stories. Trashed properties, unauthorised parties, stolen possessions, guests upsetting the neighbours, squatters… but even if you're worried about the possibility of guests from hell, you might still be reluctant to reject a booking.
The good news is that even though most reservations are made online with limited direct communication, you can avoid hosting problematic guests by taking some simple guest screening measures before accepting a booking.
How to protect your holiday let from troublesome guests
Figure out who your ideal guest is
Spend some time thinking about what type of person would be attracted to your holiday rental. Consider the enquiries and bookings you have had so far and the kinds of enquiries you seem to get.
Then, decide what sort of guests you want to attract, and who you'd be prepared to accept in your holiday home (and who you wouldn't).
When thinking about your ideal guest, consider the following factors:
Large groups: Decide on the maximum number of guests you're prepared to take. Remember, this is about the guests' comfort as much it is about your income. Sometimes 'less is more' can better ensure the right type of clientele and less wear and tear.
If you are willing to consider accepting large groups, your booking form should request all the names and approximate ages of the members of the party who will occupy the property.
Ages: Consider the different needs and risks associated with various age groups. For example, maybe an 80th birthday family reunion is acceptable, but a group of students on prom night probably isn't.
Is it a great place for families with young children, or could it be hiding some potential hazards?
Hen and stag parties: This is simple. Decide where you draw the line and stick to it.
Pets: Pet-friendly holiday lets do attract a special niche of dog-lovers and can mean more bookings – but be aware that other guests with allergies might be put off by the fact that you also cater for animals accompanying their owners.
TIP: Make these decisions crystal clear on all your marketing materials including your website and listings on holiday let portals.
Set clear rules, and make them a condition of your booking contract
Don't spend hours compiling a long, off-putting list of restrictions and rules, but do set out what is and is not acceptable when staying in your property. Rules can protect both you and the guest in the event of a dispute.
Include the maximum occupancy rules and whether you allow smoking, pets, groups and any form of 'social gathering'. A way of preventing parties from taking place at your holiday home is to make it clear to guests that only the people listed on the booking form can stay. Over occupancy and parties are strictly forbidden and breach of these terms will terminate the booking. This can act as a great deterrent for those who are secretly researching places to hold a party.
TIP: Include your house rules on your website, listing site ad and as part of your booking terms and conditions which guests have to agree to when booking.
Trust your instinct
Sometimes, we just get a gut feeling that something isn't quite right and that the guests are probably going to be difficult.
If you find that a potential guest is reluctant to communicate with you or is asking suspicious questions and keeps quibbling and pushing the boundaries on your rules, this is a red flag. And anyone who is arguing over this at this very early stage of the booking process is likely to be a problem, so think about whether renting your holiday home to this kind of guest is worth the potential aggravation.
Increase your minimum stay
Increasing your minimum stay to two or three days acts as a great deterrent for those people who may just be looking to host a 'pop up party' for one night. Avoid one-night bookings!
A further benefit of sticking to the 'two/three-night minimum stay' rule is that, with longer stays, there are fewer changeovers, so less wear and tear and cleaning costs.
Take a damage deposit
Guests who have to pay a security deposit will probably be less inclined to do anything which may jeopardise getting their deposit back.
Think about setting a damage deposit amount that isn't too high – but high enough that the guests will take care of your property. It will also help to deter anyone who isn't serious about following your house rules.
Research the guest online
This is possibly one of the easiest and quickest ways to identify some additional information about guests. Most people have some sort of online presence. Having a look at their Facebook or Twitter profile can say a lot about them. If you can't find them on social media, try googling their name, email and phone number.
You can also use a search engine to find out where they live. Anything too close to your property could be seen as a potential red flag that someone wants to throw a party in your holiday home.
Check out their previous reviews
Many listing sites let hosts review guests (and vice versa). Search for past reviews of the guest written by previous hosts. This will reveal whether the guest was respectful of the owner's property and house rules.
Also, look at the feedback they've left for their previous hosts too, as you can sometimes get a sense of how reasonable/fair/demanding your incoming guests are.
Give the guests a quick phone call
It's not something you probably need to do for 100% of incoming enquiries, but if you have a niggling doubt or something just doesn't sound right to you, you could have a quick phone call to ascertain their intentions.
This of course could be pitched as wanting to say a 'quick hello' and to provide a chance for the booker to ask any questions or for any local recommendations before they come to stay. In addition to finding out the purpose of their visit, it's also a great chance to provide (genuine guests) a great insight into how they can make the most of their stay – which might also seal the booking for them!
If the potential guest is dodging your calls and won't speak to you, this might be a warning sign that they are trying to stay under the radar with you because they aren't a good fit.
On the positive side, conducting this kind of communication (with genuine guests) builds trust.
TIP: If you accept the guest, you can use the background information to help make their stay better and more enjoyable. Are they are celebrating a birthday? Then you could leave some chocolates for them or some flowers and a card. Your guests will be grateful, and you'll gain those prized 'host points' instantaneously.
Check for local events
Whatever time of year it is, it can be a good idea to just double-check if a booking coincides with a music festival, a sporting event, or any popular local events that are going on in your area.
There's just that tiny chance that your guest could be having an after-party back at your holiday home or over occupying it.
Consider installing cameras and/or noise monitoring devices
If you're renting out your holiday let pretty much all year round, it might pay for you to invest in some good quality monitoring devices; especially if you're not going to be personally located close by to your property.
This kind of kit can help you to monitor and keep an eye on what's going on at your holiday home. It can give you peace of mind, but also provide valuable evidence should guests break the rules by holding a party or over occupying your rental.
The Ring Video Doorbelldetects motion outside your front door, so you can receive notifications, see, hear and speak to (unwanted) visitors at your holiday let.
Noise detectors like this one from NoiseAware, use sensors to track noise levels and alert you if there's too much noise.
The beauty of this kind of technology is that most, if not all of it, can be controlled and monitored from your mobile device remotely – so even if you're halfway across the country, you can set alerts to notify you of dubious activity.
It's strongly recommended that you let potential bookers know about your monitoring system, so they don't feel like you're spying on them.
Guests who want to stay at your home to rest, relax and live within the 'house rules' will likely not have a problem with this if you are up-front about how they are used. After all, it also improves their safety.
Never install cameras inside your holiday let. It is an invasion of privacy and likely to breach listing sites guidelines.
Good neighbours can be your eyes and ears
The last thing you need is to upset your neighbours. Your neighbours can get potentially annoyed and irritated by the way some of your guests' park, the noise they make or where they leave their rubbish. It pays to be mindful of this and try and head off any potential problems by keeping your neighbours on-side.
Always leave your contact details so that your neighbours can quickly let you know if there is a problem, or something looks wrong. Should an event like a party occur at your property one evening, at least your neighbours will know to alert you so you can take actions to end the forbidden get-together!
Say 'hi' early into a guest's stay
Sometimes you might not have any good reason to turn down a booking, but perhaps there's something of concern that you can't put your finger on.
Whilst you don't want to impose on your guests, a quick text on arrival, mid-stay or even dropping by for 5 minutes (do let them know beforehand) to welcome guests and check they're ok can not only deter any wrongdoing but also give yourself some reassurance. It also indicates to guests that you're an attentive host who's keeping their stay and their experience top of your list.
A mid-stay clean is also an opportunity for your cleaner to spot any problems.
The art of the polite refusal
Don't be afraid to turn down a booking if you get a bad feeling about a guest. It is perfectly acceptable to write a short, polite message to let them know that your property isn't available and that you wish them a pleasant holiday.
Try not to give a specific excuse or reason why you have refused their booking as this may cause them to try and convince you otherwise. This can lead you down the path of then needing to be firmer and blunter with your responses.
Be careful that you are not actively discriminating against someone.
The bottom line is that not every booking is good for business
Make sure you're insured
Even if you follow all the steps above, there are no guarantees that your property won't be used for a 'pop-up party' or that something won't go wrong in an expensive way.
Taking out comprehensive holiday letting insurance is perhaps the best way to achieving some peace of mind, protect against the unforeseen and nightmare guests.
Most guests are a joy to host
Despite all of the possible scenarios that can occur in your property, the vast majority of holidaymakers will treat your property with the utmost respect and abide by your house rules. However, it's in every holiday home owner's best interest to protect themselves with the correct checks, house rules and the correct insurance.