How to remove stubborn stains from your holiday home
Reading Time:
3
minutes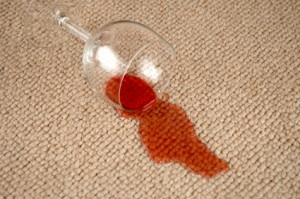 Running a finger over picture frames, checking under beds and inspecting bathrooms for hairs. The No1 complaint from guests staying at holiday cottages is 'it's dirty' – in some instances guests will up and leave, demanding compensation or a threat of a bad review.
A stringent housekeeping schedule during changeover will keep rentals in 'tip top condition'. However, it's inevitable that stains occur and will need dealing with during the limited time you have to prepare your rental for incoming guests.

Here are some tips to help you remove stubborn stains.
Bedding, linen and towels
With bedding and towel costs running into three figures, replacing stained items simply isn't cost effective. Luckily, many stains can be removed with a bit of perseverance.
Many stains are easy to remove if caught before washing. Try to avoid putting bedding or towels into the washing machine without carefully checking them first. Guests have a habit of hiding stains due to embarrassment or to avoid being charged for damaged items.
1)     Yellow spots appearing on bedding are often due to sun cream. Try a stain remover from Ariel or Vanish. Rubbing in a lime scale/calcium remover before washing, such as Lidl's W5 or Viakal (for cleaning showers) may also work.
2)     For towels soak them for 2 hours in a dilution of ammonia.
3)     Try putting a table spoon of bicarbonate of soda in the wash with white towels to remove makeup stains.
4)     For urine stains on mattresses try using Hydrogen Peroxide (30%), or sponge with detergent and a few drops of disinfectant. Ensure it's thoroughly dry.
5)     Dab blood with a cloth dipped in ice cold water, soak with washing-up liquid and cold water if the stain persists and dab dry.
6)     Vinegar can be used for all sorts of stain removal. Simply apply to the affected area, leave in the sun for an hour or so then wash.
Carpets and upholstery
1)     For red wine stains act immediately blotting as much of the stain as possible, soak with sparkling or soda water. Sponge with soapy water or try using carpet shampoo.
2)     For ink stains use a small amount of hydrogen peroxide solution, also try hand sanitizer or hairspray.
3)     For wet stains soak up with a towel, sprinkle baking soda to soak up the remainder of the spill and gently dust off or vacuum. Then mix equal parts water and white vinegar and blot the stain with a clean cloth until it is gone. Rinse the vinegar and let it air dry.
4)     To remove chewing gum freeze it with ice then scrape off. Alternatively heat using a hairdryer, then scrape off the melted gum. Also try warming a small amount of white vinegar to pour over the gum. Let it sit for a few minutes before removing and repeat as necessary.
5)     Wax – harden with ice then scrape off as much as you can. Place a kitchen towel or brown paper bag over wax and use an iron to lift the remaining wax.
6)     Remove vomit by scraping up as much as possible then sponge with cold water. Cover with bicarbonate of soda, allow to dry, then vacuum off. Sponge with a mild detergent and dab dry.
Mould
I've found that HG Mould Spray helps to keep on top of mouldy showers and avoid black silicone.
WD40
WD40 has many uses around the holiday home, some include removing;
1)     Scuff marks from flooring
2)     Rust stains
3)     Ink, crayon, pen marks from most items
Before trying any of the above we recommend using suitable safety gear, always check the manufacturer's instructions first and trying a test patch.
What 'secret' stain removal tips have you discovered?