How to Get Last-Minute Holiday Cottage Bookings
Reading Time:
5
minutes
It's every holiday let owners dream to be fully booked, but that's not always the case. The emergence of Covid-19 has added an extra level of complexity to this concept, as national lockdowns and ever-changing travel restrictions have made it impossible for travellers to plan ahead.
Global pandemic or not, a significant proportion of holidaymakers will always have their eyes on last-minute deals for a trip away. Travel experts recently revealed that 56% of bookings made prior to lockdown were made within 30 days of check-in date. Last-minute bookings are expected to surge when travel restrictions are lifted.
So, what can you do to increasing your property's occupancy and capitalise on this trend? In this article, we'll look at some tactics to promote last-minute bookings with compelling incentives.
Know your target audience
When it comes to getting last-minute bookings, it's important to understand your target audience, so you can form a strategy. They are likely to consist of one the following:
Past guests who are likely to book again. They have stayed with you before so know what to expect.
Staycationers. Overseas travel is still uncertain with the added risk of flights being cancelled.
Small groups of friends and family who are keen to catch-up with a last-minute getaway.
Those with flexible schedules. Couples, young families who aren't tied to schooling and those who can work or study remotely from the comfort of a holiday home.
Use email marketing to promote last-minute deals
Creating and sending a marketing email with your latest deal/s doesn't take much time to organise; especially if you're using a template each time.
Make sure you're continuously building up your mailing list by adding past guests and enquiries that didn't book. Also, add a newsletter sign-up form on various pages of your website, you could even promote the fact you have a newsletter to sign up to on channels like social media too.
You might decide that your subscribers deserve an exclusive special offer, just for them.
For example:
Offer couples a special discount for a nice day spa near to your rental. Or a discount voucher for a meal at your favourite restaurant.
Run special offers for weekdays, for instance, 4 nights for the price of 3.
You can also include a percentage discount such as "save 30%" so travellers know they are getting a deal.
Whatever the case, using marketing emails in this way is a cheap/free way to contact a relevant target audience who are already familiar with your brand and your business.
Set up last-minute discounts on OTA listing sites
The most important factor for attracting those last-minute bookings is the pricing, and it's pretty much the norm for 'staycationers' to expect a better deal when booking at the last-minute. What's more, your competitors will already be targeting them with their own deals and discounts, so the best course of action for you and your business is to follow suit – but with a more appealing offer.
Your online travel agencies' (OTA) websites (Airbnb, Vrbo etc) will already have some functionality to enable to you to quickly set up and showcase your last-minute discounts – after all, they want you to get bookings.
If you're hesitant to drop your prices by even a 10% minimum, just consider that (especially in these times) some revenue generated by a lower value booking is better than zero revenue from no booking at all.  Plus, applying a discount in OTAs can actually help you get discovered in those sites' searches more easily, as last-minute offers are promoted.
Promote your latest offers on social media
Marketing on social media has become even more crucial to businesses recently, as we're all spending more time on channels like Facebook and Instagram. It's therefore even more important for your business that you keep dedicating time and effort to building followings on the social platforms you and your target market use, so that last-minute deals reach as many people as possible.
You should also consider joining some relevant Facebook Groups too. Look for ones which allow holiday home owners to share and promote their properties to group members; a significant proportion of whom may be searching for that special deal on their next break.
Here are just a handful of the many UK Facebook Groups we found: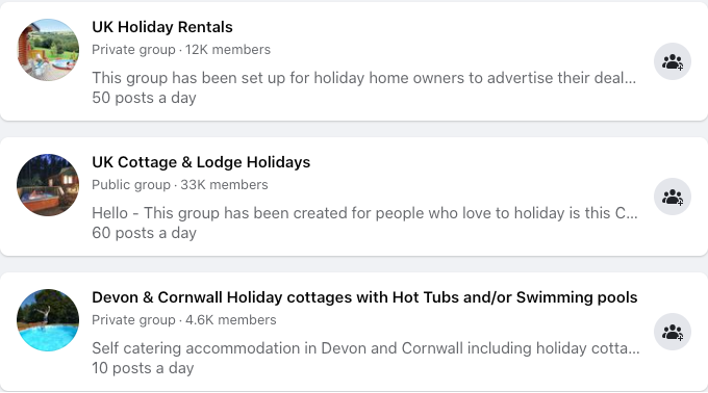 If you want to market last-minute offers in this way, be prepared to answer a possible influx of enquiries from social media users – especially on Facebook, where your Company Page makes it really easy for potential customers to send your business a message. Don't forget that this is also a chance to impress, as addressing any questions or concerns promptly will help your potential bookers make their decision more quickly. It demonstrates, even at this early stage, your attentiveness, conduct and a high standard of customer service.
The other tactic you can utilise on social media is paid advertising. For example, using Facebook 'boosted posts' can be a speedy way to spread the word about a specific 'last-minute' offer you're running to a targeted audience of your choosing – and without having to spend a fortune. It's very easy to set up through your Company Page and takes just a few minutes from start to end.
Here's an example: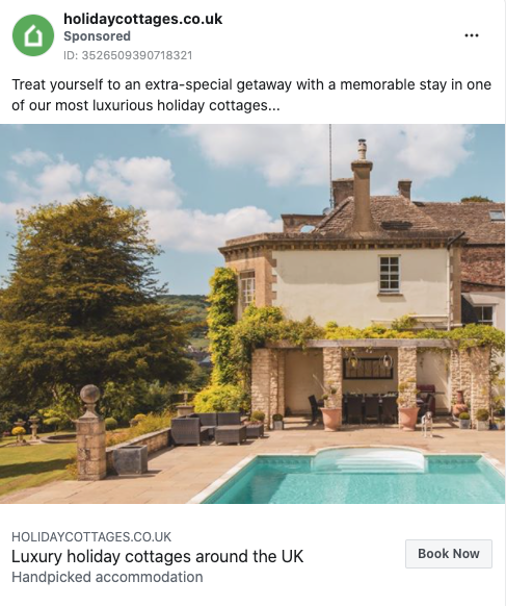 Use niche listing sites that specialise in last-minute bookings
As well as the biggest OTAs in the business, there are now more specialist sites that focus on 'late deals', such as https://www.lastminute-cottages.co.uk, https://www.snaptrip.com and https://www.independentcottages.co.uk/.
Consider listing on these sites so that you can take advantage of the travellers who are specifically looking for last-minute deals. This increases your chances of filling those available dates.
Use your reviews to encourage bookings
Whether a potential guest is booking way ahead of a stay or looking for a last-minute break, they're almost certain to check the reviews that you and your holiday home have received. They will be looking for social proof that your holiday cottage is clean, has comfy beds and delivers as promised.
You may already be in the habit of encouraging past guests to leave feedback after their stay with you, if not, it's a good idea to play catch-up to strengthen your review profile on your listing site ads, but also on your Google Business profile too.
Also, consider spending some time encouraging new reviews for your Facebook Company Page, as – in tandem with any social posts you may publish about last-minute deals – this is another place where potential guests can evaluate your rental.
Making sure you're up to date with reviews is important, as a potential guest who finds that the last review left for you was 6+ months ago will not be as encouraged compared to seeing several reviews left for you in the last few weeks.
A steady flow of good reviews conveys, most of all, that your property is a popular one, so… they better snap up that deal you have quickly before it goes!
Finally…
Promoting your last-minute special offers is essential, particularly during the Covid-19 pandemic when more people are desperate for a last-minute getaway. Using the right tools like email marketing, OTA's and social media, you can boost your last-minute bookings quickly.