Top Holiday Home Hotspots in the UK
Reading Time:
3
minutes
Revealed are the top holiday home locations in the UK. We've broken down the statistics on the locations with the most properties owned and the furthest distance owners have to travel in order to reach their holiday getaway home.
The benefits of having your own place in your chosen area can hold many benefits, the selected destination could hold a special meaning behind it, possibly reminding you of your childhood holiday memories. Or maybe you've got family far away or overseas and it would be easier to meet up at the holiday home location.
Another benefit would be that having a second home will give you the chance of having affordable holidays in the UK. There is also the potential to take advantage of booming UK tourism and earn rental income from your holiday cottage.
Top holiday home locations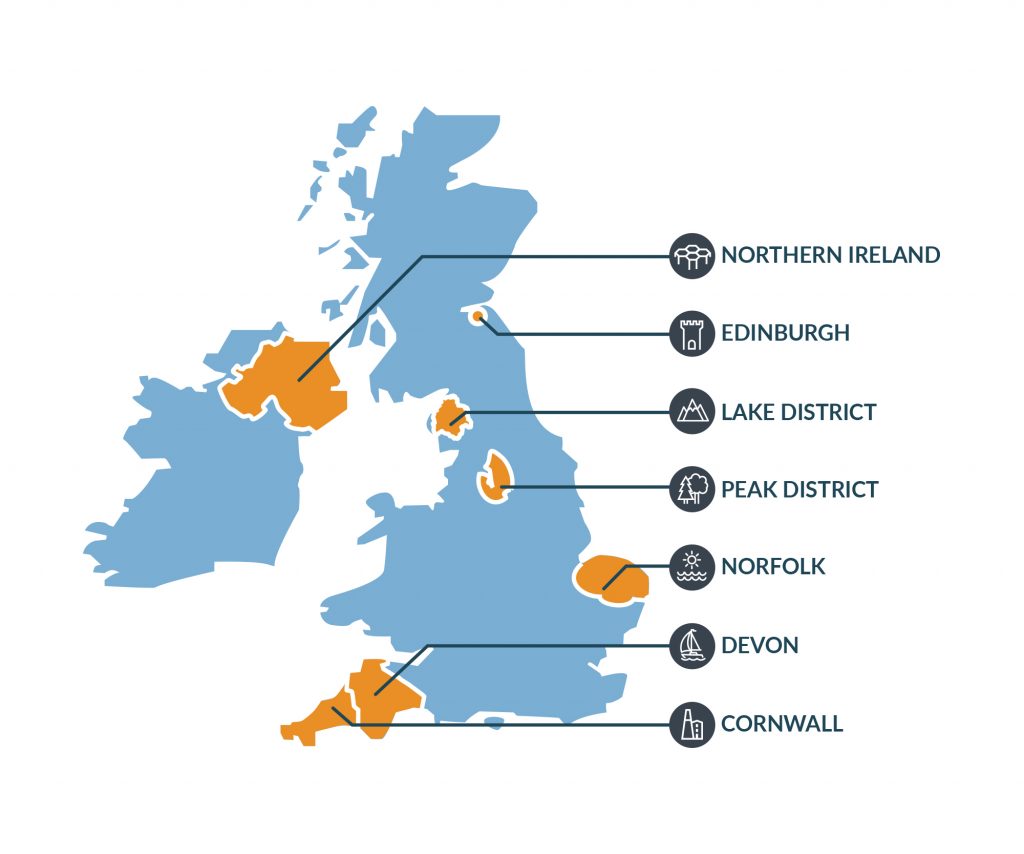 We've indicated around the UK the most popular areas where people own a holiday home. Showing at the top of the list is Cornwall, where 28% of people have their holiday homes. Cornwall is located in the South West of the UK. The coast is a highly attractive destination for people throughout the UK and overseas. Cornwall has a stunning coastline, surrounded by fantastic beaches and intriguing fishing harbours. Although summer is the peak holiday season, it is becoming a popular year-round destination.
Sitting in second place is Norfolk, coming in at 17%, known for family filled attractions, seaside resorts and zoos.
Devon just comes in short of Norfolk at 16%. It's most ideal for families and couples, containing splendid beaches along the coastline, boat trips, galleries, museums and an exciting aquarium. It's also nearer to London than Cornwall which means less of a commute for those in the capital seeking a weekend getaway.
The Lake District is the choice of 14% of owners, perfect for embracing the outdoors and exploring. The Lake District is popular with tourists all year round which makes it a holiday home hotspot.
Northern Ireland comes in at 12%. Best known for the giant causeway that consists of 40,000 basalt steps, surrounded by a stunning view by the sea.
Edinburgh is the choice of 8% holiday home owners. Edinburgh has many great attractions and sights to see. The Edinburgh castle is at the top of the old town, which is highly popular with spectacular views.
At the bottom of the list is the Peak District, held at 5%. Becoming the first national park in the UK in 1951, attracting millions of visitors every year, it's ideal for people who enjoy nature, walks and hikes.
The average distance owners travel
We calculated the average distance holiday home owners need to travel to reach their holiday cottages. Analysing nearly 1,000 holiday home locations in the UK, we found on average owners lived 121 miles away from their holiday home location.
For each holiday home destination, the average distances to their homes were as follows:
Cornwall: 220 miles
Devon: 163 miles
Norfolk: 88 miles
Lake District: 176 miles
Edinburgh: 105 miles
Northern Ireland: 131 miles
Peak District: 103 miles
Furthest distance to travel
The longest distance owners need to travel to reach their holiday homes:
The person who owns a holiday home in Back, Isle of Lewis, has to travel a staggering 746 miles from their house in Deal.
An Isle of Harris holiday home owner has to travel 682 miles from their home in Thorpe-le-Soken.
A holiday home owner in Gairloch lives 681 miles away in Tonbridge.
So, where is your ideal holiday home location?