How to Get Holiday Let Direct Bookings
Reading Time:
8
minutes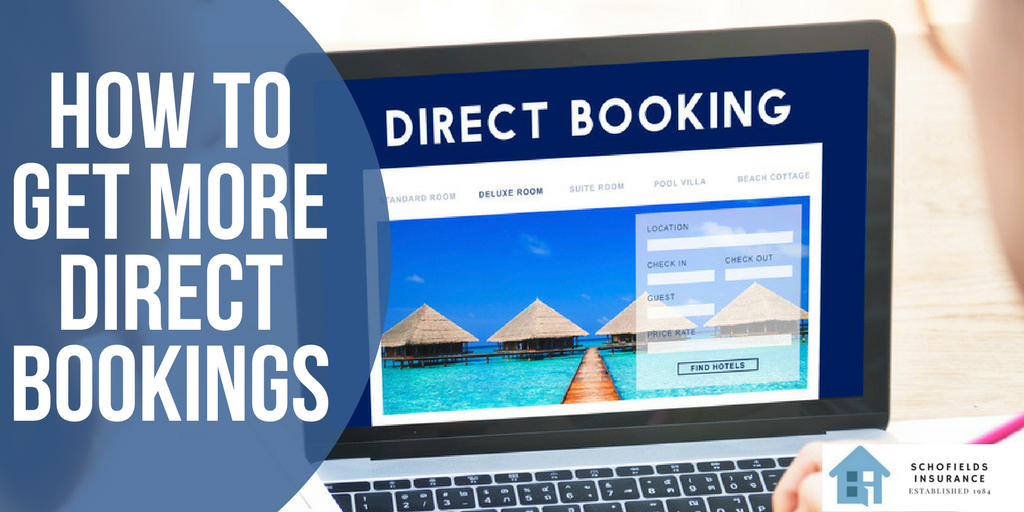 Direct bookings can result in higher profits, more repeat guests and independence. However, millions of travellers book stays using online listing sites (OTAs), such as Vrbo, Airbnb, and Booking.com. These sites help you to find guests and provide the tech to take and manage bookings – but charge you and your guests for the privilege.
Ideally, you want a healthy balance between listing sites and direct bookings to build a stable, profitable holiday letting business.
Here we outline why you should focus on direct bookings and the simple strategies that you can implement to increase direct bookings.
The benefits of direct bookings
You avoid listing site commissions
Most OTAs like Airbnb, Vrbo, and Booking.com take a percentage of the rental rate as commission and add booking fees onto the guest's total. Booking directly with the owner means guests get a better deal and you make more money by avoiding these fees. You can then invest the money you save on OTA commissions back into your holiday letting business.
Guests get the best deal
If you don't have to pay a commission, then you can offer lower prices to your guests who make a direct booking whilst earning more yourself. You can also offer guests additional benefits that are only available when booking direct. This could be gifts upon arrival, discounts at local businesses or a late check-out. A small gesture can make all the difference.
Savy travellers know this and will go out of their way to bypass listing sites because they know they will get the best deal by booking directly with the owner.
Increased trust and better communication between host and guest
Most OTAs restrict access to hosts and guests contact details, meaning guests can only communicate with their host through the platform's messaging service. When guests book direct, you're entirely in control of the communications – guests can reach out to you with any questions whether that's via email, phone, sms or live chat.
When there is direct communication with guests, there is an increased sense of trust and that you care about them and their guest experience. A personalised guest-host relationship often leads to repeated bookings, glowing reviews, and word-of-mouth referrals.
Complete control
OTAs can choose to change their commission rates, terms and conditions, algorithms, refund policy etc. at any point in time and there isn't much you can do. With your own direct booking site, you have complete control over how you present your holiday home and the entire booking from start to finish.
No competitors
Listing sites have an obligation to present users with multiple holiday lets for them to compare before booking. With your own direct booking website, your potential guests can view your property without any distractions or cross-selling.
How to increase direct bookings
Create a holiday home website
Having your own website gives you the opportunity to convince guests to make a booking, and safely secure their booking at the best rate. Use time-sensitive offers to make the guest feel like they are in danger of missing out if they don't book now.  For example, "Only 1 week left at this rate" or "10% off offer ends today". Remember to say that this offer is only available to those who book directly.
Make it easy for guests to complete the booking process online. An overly complicated process will infuriate customers which could lead to them going to a listing site and choosing a different property.
Your website should be mobile friendly, load quickly, have high-quality images and a booking system that is simple and accepts secure online payments. Once your direct bookings start to come in, you'll need software to manage them and improve your business operations.
So how do you attract guests to your website? Your website is the perfect place to show off your insider knowledge and authority about the destination. In addition to optimising your website property description for keywords like "dog friendly holiday cottage in whitby", create unique, compelling and inspiring blog posts so that you rank for all kinds of relevant keywords that your potential guests are searching. For example, phrases like "which is the best pub in x", "dog friendly walks under 1 hour in x" or "which is the best beach in x".
By providing useful content, you create a relationship with potential guests who could book with you.
Loyalty schemes
Research shows that the cost of acquiring a new customer is anywhere from 5 to 20 times more expensive than retaining an existing one. Offering guests a discount, promotion, and rewards if they book with you directly is one of the most effective and cheapest ways to encourage repeat bookings. Big hotel chains have been doing this for years because it works.
Unlike listing sites, you have the opportunity to offer guests a discount, freebie or offer concierge services – all incentives to book direct. This could either be 10% off, an extra night free, a late check-out or exclusive discounts at local restaurants or attractions you partner with.
Further incentives might be a lavish welcome basket, complimentary use of the local health club or first refusal on dates that always get booked up way in advance. Try to give guests something you'd know they'd appreciate. If a family, dog owner or couple are looking to book, then personalise gifts and discounts around their interests.
Your loyalty scheme is not only for your past guests but their friends and family also. A referral program offers benefits to both the referred guest and your existing guest when a booking is made as they both get a discount.
Listing sites make it easy for new guests to find you. Then it's your responsibility to provide a brilliant guest experience and a loyalty reward so that they can't wait to return.
Create an email marketing campaign
Email marketing is one of the most productive and cost-effective ways to grow your direct bookings.
Using your database of past guests, enquiries and emails captured via a newsletter signup form on your website, you can create email marketing campaigns to drive direct bookings.
Include useful information like upcoming events in the area, news on local attractions, walking and eating guides, or any other information that encourages the reader to subscribe to your newsletter and stay engaged with your brand. You can also email special offers, discounts and late deals.
Emailing around the time they booked or enquired last year, on birthdays, valentine's day or Christmas with an enticing offer, may be enough to persuade guests to re-book directly.
Build a brand
To become listing site independent and stand out, you need to create a memorable and recognisable brand.
One way to promote your brand to guests is to create a logo for your property and incorporate your brand name. Reinforce your brand identity everywhere you can – on your website, emails, social media, welcome book and photos.
Take advantage of on-site marketing opportunities to promote your brand during their stay (fridge magnets, coasters etc). As a special memento, you could leave branded merchandise that guests can take home. Pens, notepads, a torch, a flyer or business card inside a handwritten card, thanking them for booking with you and wishing them a lovely holiday. Be as creative as you like. You want your guests to be reminded of the fantastic holiday they had with you every time they use these items.
Be sure to include an About Us page on your website. Outline your story, why you chose the property and what your perfect day is when you stay there. You might even want to include images of yourself for added personalisation. This is a great way to establish trust.
Place your brand name strategically in your OTA's listings (title, descriptions, etc.). Savvy guests start their holiday research on listing sites but know that they can search for you and book direct for the best deal.
Be social
Social media is also an excellent tool for generating content and building an audience. You can give travellers an insight into your holiday rental and the location by sharing images and videos of both the area and your property. You can also advertise your latest deals, upcoming events and review local attractions.
You could even take it a step further and have guests share images of their holiday or their favourite part of your holiday home on social media. Encourage guests to do this by running a competition for the most creative photo to win 10% off their next stay if they tag you. You get free promotion and a booking with very little effort.
Use paid marketing
If you want to get targeted traffic quickly, paid adverts on Google, Facebook, and Instagram can be an extremely effective way to draw people to your direct booking site.
Google Ads
To drive users to your website you will want your website to appear at the top Google should someone search for your property name or similar accommodation in your area. Investing in Google Ads (PPC) allows you to bid to show at the top of the page when someone searches for keywords you bid on e.g. 'dog friendly cottage in Padstow'.
A PPC campaign doesn't have to cost a fortune, but be warned that unless your account is well structured (only bid on relevant keywords and exclude irrelevant), you will blow your budget quickly.
Once your campaign is fine-tuned, the cost per acquisition of a direct booking can be just a few pounds.
Facebook and Instagram ads
Social media marketing is one of the fastest-growing digital advertising methods.
With Facebook ads, you can target a certain audience based on their interests or their demographics. Review your past guest database to create a profile of your typical guest. Their average age, sex, occupation and location. Factor in whether they have a dog, a family or spouse. Use all of this data to create an advertisement that reaches the right audience.
For a more advanced option, you might consider using Facebook Custom Audience Advertising. If you've got a large enough list of past guests/enquirers details, you can upload this to Facebook ads. Facebook will then match those names to their Facebook profiles. You can then create tailored ads that only show to those people.
The people most likely to respond to your adverts are those who have previously visited your website, are already on your email marketing list or have stayed with you before.
However, if you get paid marketing wrong, it can gobble up your budget without producing a booking. Make sure you hire somebody who knows what they're doing and has a proven track record.
Get reviews
Nearly everyone reads reviews before booking accommodation. Reviews are one of the most important assets that can be utilised to influence a potential guest's booking decision. Therefore, your best reviews should stand out on your website and social media posts. These provide social proof that you are genuine, and guests enjoyed staying at your property. This, in turn, could encourage holidaymakers to make a booking directly on your site rather than on a listing site.
Respond to guests quickly
When you receive an enquiry, you are competing with several other rentals who have also been sent the same availability request. You need to be on the ball and reply quickly to seal the booking before your competitors do.
If you are unable to respond immediately (e.g. it's the middle of the night), it's worth setting up an automated email response, confirming receipt and that you will reply shortly. This email should cover all the frequently asked questions that enquirers tend to ask and details of how to book.
Alongside email, you might consider live chat on your website. This way you're actively engaging with your guests and can answer their questions immediately and encourage direct bookings. Live chat also builds trust because guests can see that you are legit.
Key takeaways
Securing direct bookings isn't easy, especially given the listing sites popularity and their huge marketing budgets. However, that doesn't mean it's impossible. It takes time and creativity, but it's so worth it to maximise your profits and be listing site independent.
To successfully entice direct bookings, you must offer an amazing guest experience and give guests something to talk about.
To summarise:
Make sure potential and past guests know that booking directly with you guarantees the best possible price.
Highlight any additional perks they will get by doing so.
Answer incoming enquiries quickly. Be one step ahead of your competitors.
Show off your best reviews to prove you offer a 5* guest experience.
Make it easy to book and create a sense of urgency by telling users that the offer is time sensitive or that there is only limited availability left.
Promote loyalty programs, special offers and discounts that aren't available on listing sites.
Create email marketing campaigns to engage with past guests and those who have previously contacted you.
Build a brand, produce great content and use paid marketing to drive traffic to your website.
Don't ditch listing sites entirely. Despite taking a commission, they do generate bookings because they have huge exposure. Travellers tend to browse listing sites, find the property and area they like then search around for a cheaper rate. Make sure you convert these lookers into bookers when they are searching around for the best deal.
Utilise other channels where guests can find you. Some of the smaller, niche (dog-friendly) listing sites can perform very well.
Keep track of which strategies are driving direct bookings, focus on what works and redistribute funds from poor-performing strategies.
Ultimately, if you want your guests to book with you time and time again, make sure you go out of your way to ensure every part of their holiday is perfect – and give them incentives to book direct.