Holiday home swimming pool safety
Reading Time:
2
minutes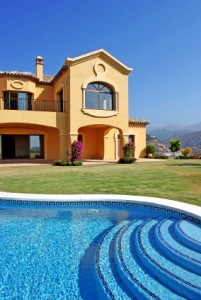 Having access to a swimming pool is a must for those using a holiday home abroad. However, regardless of how much enjoyment they provide, there is also the constant risk of injury to family, friends or paying guests – and subsequent legal action.
Home owner sued following swimming pool injury
A recent legal case highlighted what can happen when someone injures themselves whilst using a swimming pool and then suing.
Unfortunately a teenager was left paralysed after hitting her head in a swimming pool at a friend's home, and sued the girl's family over a lack of warning signs at the property.
The £6m damages case against the property owner was based on allegations that there was inadequate signage around the pool at his home, stating that guests should not dive, or indicating the depth of the water.
The outcome
The High Court judge ruled the owner 'didn't need warning signs in his own home' and that 'She was an adult. She did something which carried an obvious risk, she chose, voluntarily, to dive when, how and where she did, knowing the risks involved.'
The homeowners lawyers said there was no legal requirement for such safety signs on a private pool. The judge threw out the negligence claim, saying: 'It would not be fair, just or reasonable.'
A warning for holiday home owners
Although swimming pool personal injury claims are infrequent, this case highlights the potential liability that holiday home owners face and the importance of having comprehensive public liability insurance.
Some questions to ask your holiday home insurer;
If a third party has an accident (slip and trip, a cut from broken floor tile) or injury whilst using your pool, are you insured for any costs involved in defending an injury claim and subsequent compensation?
What level of indemnity does your public liability insurance provide? £5 million is recommended. Some foreign insurance policies provide insufficient levels of indemnity, as low as £100,000 which often exclude swimming pool related incidents.
Check that cover extents to cover holiday makers, not just family and friends.
Swimming pool safety
If you have a swimming pool at your holiday home you should take all reasonable precautions to prevent injury and protect the public – don't be negligent. Put up safety signs and inform guests of your 'pool rules'.
In the court case the judge made an interesting comment "It may well be different where there is some hidden or unexpected hazard". Take note – repair any damage and make users aware of hazards.
You should also ensure that you comply with any local laws governing pool security. For example, pool security in France.
Sensible health and safety is about managing risks. Here is some useful guidance from the Health and Safety Executive on managing health and safety in swimming pools.
Finally, this doesn't just apply to swimming pools. You should always consider your guests' safety and the consequences of letting guests use bikes, windsurfers, canoes, golf clubs etc. Don't expose yourself to claims.