How to Create a Family Friendly Holiday Home
Reading Time:
5
minutes
Families make up one of the biggest holiday let markets so it's well worth catering specifically for this niche. This means taking parents', grandparents' and children's needs into account at every step of your rental process.
Family groups also provide year-round rental potential for those harder to fill off-peak weeks. Outside school holidays you can attract parents with pre-school children, while in the long summer breaks, at Christmas and during half-term holidays, you can let to families with children of all ages.
In this article we offer some pointers on how to make your holiday let family-friendly and by extension, increase your rental income.
Give them what they need
If you're planning to attract families to your holiday let, you'll need to provide them with:
Space: Offer accommodation with enough room for everyone to hang out, together or individually for quiet time. If your holiday let is in a location where the weather isn't reliably good, make sure your indoor or under-cover areas are generously sized. Preferably with enough space for children to run around and let off steam if it's raining outside.
Space is one of the main reasons travelers choose a holiday home over a hotel. Take a look at the homeaway homepage, the heading 'The Whole House' and images of the whole family enjoying the space. They are likely to have spent a significant amount of their marketing budget researching and showing the benefits of getting together with family and friends in holiday rentals. Do the same on your website/ads.

Location:
Your holiday let should be: Ideally, no more than 60 minutes from the airport if you have to fly to get to your accommodation – no parent wants to put their children through a long car drive after a flight. Clearly state the distance and time in your marketing.
Handily near shops, supermarkets and chemists – it's easy to run out of things when you've got small children so it's good (and reassuring) to know that supplies are nearby. Tell parents about this in your property description and include full details in your welcome pack.
Strategically near things to do – a beach within walking distance, easy and interesting country walks, children's play parks, family-orientated museums and monuments, theme parks, zoos, restaurants, pubs… Include a pick of the best in your property description and a full list in your welcome pack.
Value: Offer families the impression they're getting value for money. If you're aiming for the upper end of the price bracket, highlight the extras in your holiday let. And offer special deals for outside school holidays or discounts for early bookings.
Market it to them
Focus on families at the very first stages of your marketing. This includes your rental ads, your website and your social media pages – in fact, any advertising you do! Try these:
Describe it as it is – make it obvious that your holiday let caters for families by including the words 'family-friendly' or 'children welcome' in easy-to-see places. In your property description, include a couple of sentences about family-focused activities in your area. Try to include attractions for all ages so you appeal to as wide a range as possible of families.
You may want to consider including a specific section on your website purely dedicated to families, a useful option if you're targeting different rental groups on the same site.
Create useful content that attracts travelers in the research phase, who will then hopefully remember your rental and book.
Some content ideas:
14 reasons why (your location e.g. The Rock) is (your area e.g. Cornwall's) best-kept secret for family holidays
10 insanely cool family activities you can do in the Lake District
7 child-friendly restaurants you must try in…
Show it as it is – in your photo gallery, make sure there are pictures of children enjoying your home and/or of children's equipment. Show how children are accommodated in your holiday let with a shot of the children's bedroom with bunk beds, for example.
Here are some great photos (see 5. via chicretreat) showing families socialising in a holiday rental. Travelers want to visualize how they will use your space. Show them.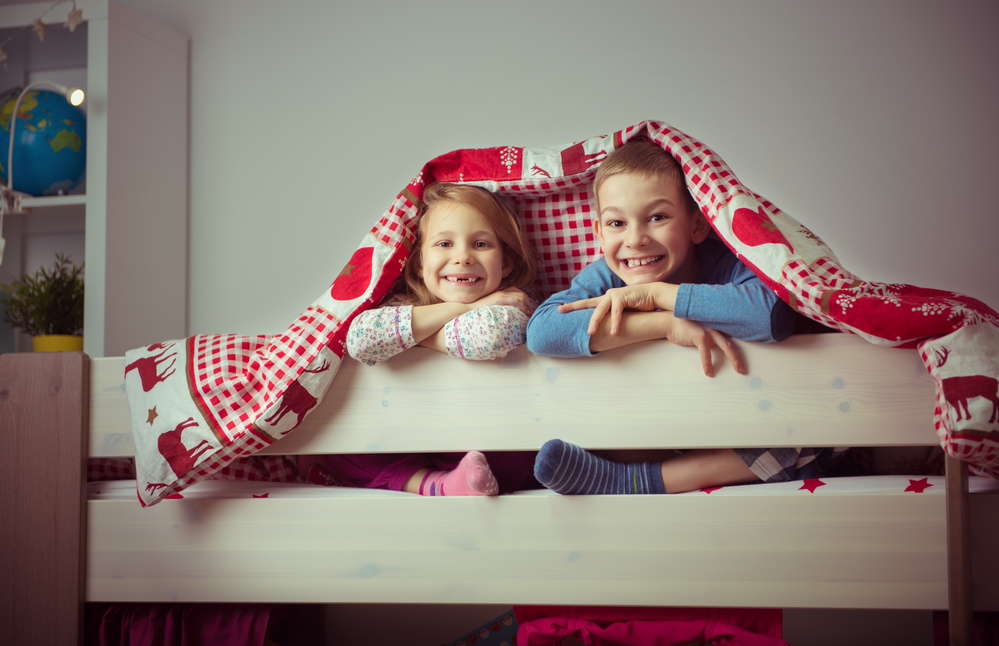 List it as it is – in your list of fittings include all the equipment you provide for children. Seeing this when they're browsing your ad or website for the first time sends the right signals to parents.
Provide as many items as you can for families so they can reduce the amount of baggage they have to lug around airports or cram into a car. Offer a pre-arrival shopping service so they are up and running on arrival.
Provide them with the equipment
Go the extra mile on this one and give parents equipment for:
Babies – as well as a cot and highchair, bottle warmer and sterilising equipment, pushchair, car seats, potty, baby listening devices, changing mat, baby bath, outdoor umbrella for the beach or sun shade…
Small children – booster cushions, plastic cutlery, toddler steps, trikes, toys, games, books, DVDs, bucket and spade, fishing nets, sandpit, water inflatables and a kite…
Older children – board games, books, video games, bikes, outdoor equipment such as a climbing frames and trampoline (check your public liability insurance covers these, that they are safe to use and well maintained)…
Teens – board games, books, bikes, snorkeling gear, video games, wifi and wet-weather ideas.,,
Don 't forget a washing machine, tumble dryer and air conditioning for hot climates!
It's likely families will be eating in so provide all the necessary equipment for cooking, including a bbq and consider the option of providing home prepared meals.
If there are any items you don't provide then refer guests to local hire companies.
Make it all safe
Ensure parents have a worry-free stay and make sure your holiday let is as accident-free as possible:
Fit stairgates and bed guards.
Provide fire guards.
Provide non-slip bath mats.
Install covers over sockets and childproof locks on cupboards.
Fence off any areas of water, however shallow, such as the swimming pool or pond.
Leave a welcome gift for children
Leave something specifically for the children in the welcome basket, like a coloring pad to draw their holiday memories, a sweet treat, or send them a pre-arrival gift in the post.
A great idea for engaging children the holiday experience is this cute and friendly character 'Oscar the Owl'.
How do you reach the family market?
In addition to providing family friendly information on your website, you could advertise on specialist rental sites that target families, such as babyfriendlyboltholes.co.uk and totstotravel.co.uk.
Final thoughts
It goes without saying that if the children are happy, the parents will be happy. Make it your aim to offer a holiday let that creates family breaks that are enjoyable and stress-free. With such wonderful family memories they will all want to come back year after year!