Tips for Writing a Successful Holiday Let Listing Advert
Reading Time:
6
minutes
The holiday lettings market is an extremely crowded one and competition for guests is intense. On Homeaway alone travelers have over 1 million holiday rentals to choose from.
With hundreds of holiday rental portals and private holiday let websites competing for online attention, creating an effective listing ad or web page can be one of the hardest things for holiday property owners.
A travel consumer will conduct as many as 38 visits to travel sites before booking so your ad needs to be captivating, accurate, and effective in making guests want to book your place over the competition.
This can be a challenge, but all it takes is a little time, effort and thought, and your holiday rental listing will stand out from the crowd and get guests clicking on the 'Book' button.
Here are some of the secrets to the best holiday rental listing ads that you can emulate:
A picture is worth a thousand words
They say a picture is worth a thousand words, and it's never truer than in the travel industry.
There is so much content to read online these days, that holidaymakers tend to quickly scan through images in order to make a quick decision on whether to bother to read the descriptions.
Just look at the websites of the leading hotel brands in the world, most of the screen is taken up by large images. These sites have spent millions developing and testing landing pages to come to the conclusion that images sell – don't undervalue the importance of your holiday rental photos.
Lead/thumbnail photo: This photo is what your potential guests see first and often what inspires them to read more, so it should be the best shot of your property or surroundings.
When deciding on your thumbnail photo, choose one that makes the viewer want to stay in your property – if in doubt ask friends or colleagues or better still use a survey tool. Which photo is the most appealing based on feedback? Outside opinions can be invaluable and often disprove your assumptions.
Choose the "view" that best represent your property and appeals to travelers desires.
Property photos: Include as many as you're allowed on your ad – the more the guests see, the better idea they'll have of your holiday let and:
Take the best photos you can (use a camera not a phone unless it's top notch).
Choose a sunny day to do your photo shoot.
Style the rooms before taking the photos – add some fresh flowers, set the table, light some candles round the hot tub…
Remove clutter and tidy up before you start snapping.
Keep cars and people out of the photos.
Take photos of special features and your unique selling points (USPs).
Here are more tips on taking holiday rental photos.
Photo captions: This is an important part of photos so don't forget to add a short text to each of your photos. Try to personalise the text to rouse emotions and draw attention to details, so instead of writing "Comfy, spacious living room" say "Relax on the balcony as you watch the sun slip into the ocean at dusk".
Use words to convince travelers that your rental is the one to choose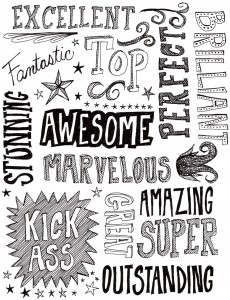 As well as stunning photos, you need some powerful words to convince guests further that yours is the ideal holiday home for them.
Before you start writing, think about your guest profile (customer personas) – ask yourself who would stay in your property, why, how do they think, why do they choose rentals. Then write the text with this 'ideal' guest in mind.
Useful tip: look at yours and competitors reviews, what do guests rave about in their reviews? The views, proximity to beach, tranquility, space etc. Reviews reveal what your market likes about your property, your best features. Convey these to your ideal guest to reaffirm your rental is the right one for them.
Tell them what they want to know from start to finish:
Write an attention grabbing headline
Along with your lead photo, this is the first thing a guest sees so, like the photo, you need to draw them in. You have 5 seconds to get users to engage with your ad before they bounce back to other listings.
You don't have many words for a headline but try to include:
Type of property (e.g. modern apartment, restored farmhouse, city penthouse, country cottage),
Where it is (not geographical location but whether it's city-centre, beachfront etc.),
Special features (e.g. private pool, mountain views, state-of-the-art kitchen, dog-friendly, free wifi).
For example: Cosy country cottage in Devon with hot tub & free wifi – dogs welcome
Don't repeat any information that is automatically show in sub-headings e.g. location, number of beds etc.
Writing the perfect holiday rental description – benefits sell features tell
Most people won't read through your entire description, they will skim through your ad. Your job is to consolidate your most remarkable features into a paragraph or two in the relevant sections as opposed to big long paragraphs.
Give travelers compelling information to make them want to read more.
A good rule of thumb for writing for the web is to imagine you are just talking to one person, your ideal guest. This will help your descriptions to feel more personal and helps your guest to really picture themselves at your property.
Write about:
The property's standout features (USPs). Shout about these as they're the benefits that will set your holiday let apart from the competition. Whether it's an unspoilt sea view, ski in ski out, frontline golf views, idyllic countryside setting or complimentary extras.
The house size, its rooms, quality/size of beds and outside spaces.
Features and fittings in each room as they apply to your target market. Tell guests all they need to know to help them want to stay there, so think about how the features make guest feel, as much as what they do.
Property suitability: If you're attracting families, write about what's in the house for children. If groups are your target market, tell guests about the social space and number of beds, seats etc.
Use bullets when possible to convey the features of your rental in an effective way.
Incorporate words such as: modern, breathtaking views, spacious, alfresco dining, private, tranquil, relaxed.
Your location – describe where your rental is located and provide some information on things to see and do in the area. Think about local attractions, amenities, best beaches, local pubs, restaurants, museums, landmarks, monuments, fairs, shopping and so on.
In your text make sure you:
Tell the truth – don't exaggerate or oversell because guests will find out and tell others in their reviews.
Don't overuse words like 'luxury' or capital letters.
Then once you have written the description, go back and cut out all superfluous words and waffle so that it's as concise as possible in selling what you have to offer.
Don't underestimate the value of guest reviews
A recent test revealed travelers were willing to pay more for a hotel with higher review scores compared to similar cheaper hotels with fewer reviews. If your listing has the most reviews then you are increasing the likelihood that your ad will be clicked.
Update it
Once your photos and text are posted on your holiday rental ad, you need to keep all the information updated including:
Your calendar – update this the minute you get a booking so guests don't waste time enquiring about dates that are already booked. It is also a good idea to refresh your calendars weekly so potential guests don't feel that your listing has been abandoned. This is also boosts your ranking on some sites.
Your rates – think ahead with these and post your holiday let prices well in advance (at least a year) and keep them up to date.
Your deals – update special offers or last-minute deals whenever you have spare availability to keep your property top of the list. Think about adding value (such as free tickets, deluxe welcome hamper, extra night free etc) and not just discounting.
Your property – if you add or change anything in the house, don't forget to update this in the text and photos. You can also play with your photos throughout the season, so towards the end of summer why not post your Christmas photos to encourage festive bookings. Don't forget to switch back to summer for the January booking surge.
Set and forget isn't an option
Holiday rental portals constantly update their sites so make sure you exploit any new features because it's likely your competitors will.
Get inspiration from travel sites and emulate on your ad – always be testing.