Where to Advertise a Holiday Home
Reading Time:
7
minutes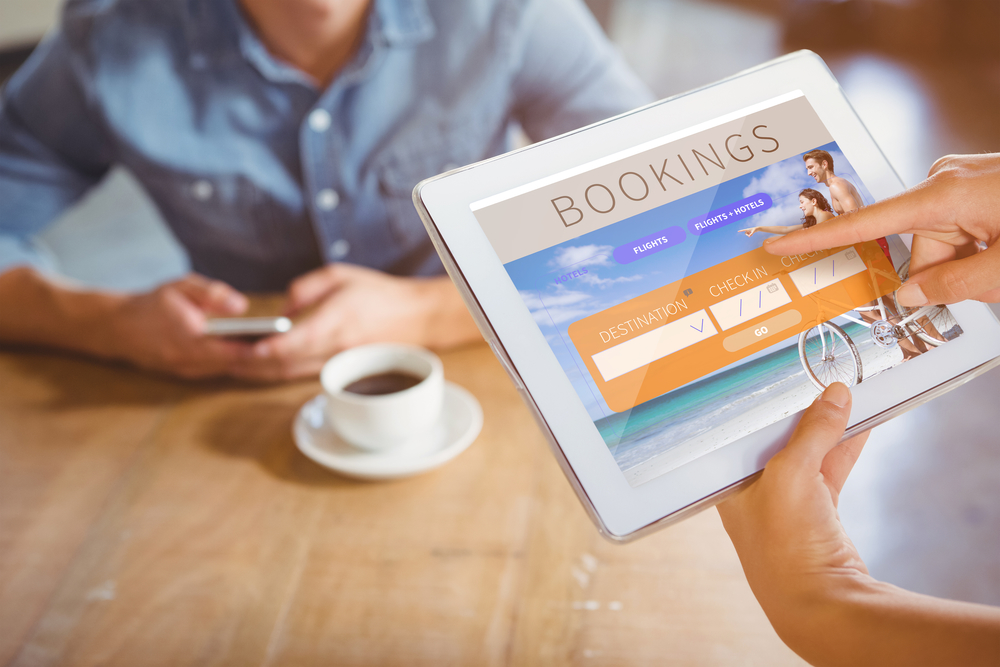 Every holiday let owner wants to know which is the best website to advertise a holiday home – and the answer is…it depends.
We know that's not the answer you want, but it's true. It depends on the type of holiday rental you are advertising, your target market, the area where it is located and the level of competition.
Each holiday home is different – and a site that works for one owner won't necessarily work for another.
The problem is that there are just so many holiday rental portals to advertise on. How do you know where a prospective guest will be looking for a property like yours?
Rather than guessing where to advertise, or worse still, blowing your budget on a listing site that delivers zero bookings, follow the tips below to help you identify the best websites to advertise your holiday home.
Why you should advertise your holiday home on listing sites
There are multiple reasons why you benefit from advertising on sites like Airbnb, Vrbo and Booking.com.
Your audience reach will be greatly enhanced – millions of people from across the world will see your holiday rental advert.
You'll attract new, and potentially different types of guests.
You'll be jumping on the back of a lot of free publicity, because portals like Airbnb advertise across multiple different channels, including TV, Google AdWords, social media and in the press.
Being associated with these trusted listing sites will add credibility to your holiday letting business.
If you want to get a quick idea of where property managers advertise, Transparent's (a vacation rental data provider) recent Airbnb IPO guide compared the market share of the biggest players in the market.
With all the short-term lets listings data added up, Transparent found that about 59% of holiday lets were listed on Airbnb, 37% on Booking.com, and 22% on Expedia/Vrbo.
How to find the best sites to advertise your holiday home
You may be a great host with a lovely property, but if no one can find your holiday rental online, you're going to find it difficult to get bookings.
Your strategy needs to ensure that you appear when travellers are searching for holiday rentals in your area, they fall in love with your property, and book it.
Major listing sites like Vrbo, Airbnb and Booking.com, pay millions to rank at the top of search engines. That's why it's a great idea to try and take advantage of all this exposure and list your holiday property on one or more of these platforms.
Put yourself in the position of a typical guest currently looking to book a holiday home in your area. Visit Google and try some different searches for the keyword phrases that they are likely to use to describe your property. For example:
 "holiday cottage in padstow"
As you're doing this, make notes on which websites are dominating the first page of your search results. Ideally, you're looking for the top three results for the most important and competitive keywords. Ignore agencies, unless you are looking to use one.
The listing sites that frequently rank for the most popular keywords that your ideal guests are using, are the sites you should be looking to feature on.
Also, experiment with 'long-tail' searches that apply to your target niche market. For example:
"rent 3 bed holiday cottage in padstow"
"dog friendly holiday cottage in padstow"
"holiday cottage in padstow with hot tub"
You can also use the keywords that Goggle suggests as you start typing in the search box – and those related searches at the bottom of the page. These are often the most popular keywords your target market use.
Which listing site is best for holiday home owners?
Due to their huge marketing budgets and site visits, it is likely that the following prominent listing sites for holiday lets will feature on your shortlist:
Don't overlook country-specific and niche listing sites
What can make a holiday home niche? Although niche listing sites receive fewer visits compared to the big three above, the booking conversion rate can be high.
There are many possible features and factors that might make a holiday let suitable for inclusion on a niche listing site. Here are just a handful, along with some examples of listing platforms suited to those niches.
Your holiday home might appeal to a niche audience because it's…
So, don't discount listing on these sites, as well as platforms that also cater for niche audiences by having a sub-section within their site. For example:
Many of these sites will attract international guests, who can boost your occupancy rates outside the traditional peak seasons where factors like national UK holidays and school terms can differ to the UK market.
How much does it cost to advertise a holiday home?
Subscription fee
Some sites will offer the option to pay an annual subscription fee to advertise your holiday rental on their website or network of websites. You will usually do all the work to manage your advert; writing copy, provide photos, keep the availability updated.
All booking enquiries will come directly to you, and you'll handle all aspects of the booking.
In return, you get to keep 100% of the rental income (usually less a credit card processing fee, per booking).
Commission-based
Most of the big listing sites offer a free listing model. This is where, instead of charging you an annual subscription fee, you pay a booking fee/commission for each booking received – a percentage of the rental cost plus fees.
(Tip: Check the timescale on when you receive your rental money, as sometimes it's only 'released' after your guests have checked-in).
Here's a quick summary of the fees (correct at the time of writing) relating to the big three.
Vrbo
Listing fee: Pay per booking – If income is estimated to be less than $10,000 each year (per listing), pay a commission starting at 8%.
Annual subscription – Prices start at $499.
Hosting fee: This is dependent on the listing plan chosen. Pay per booking subscriptions will pay a fee, starting at 8% on each booking total.
Annual subscription owners will not pay any extra host charges.
Guest fee: This is usually between 6-12% of the booking total which the guests pay.
Vrbo (formerly 'Homeaway') charge a one-time annual fee $499.  But, if you let your home for less than six weeks a year, or are due to make less than a certain amount (stated by Vrbo)  , then choosing Vrbo's option for 'fee per booking' is the best model for you.
Vrbo will determine the percentage per booking that they will be charged based on a variety of factors. However, the rate will stay between 5% and 9% per booking.
Airbnb
Listing fee: No listing fee.
Hosting fee: Approximately 3-5% to cover transaction fees, but it can vary.
Guest fee: Most will pay a service fee that is under 14.2% of the booking subtotal.
Listing your property on Airbnb is free, but Airbnb charges a 3% host service fee which is deducted from the booking subtotal (and this fee can increase to 5% if you happen to have a strict cancellation policy).
Booking.com
Listing fee: No listing fee.
Hosting fee: Commission is paid on a per booking basis, which varies between 10% and 25%.
Guest fee: No fee for guests.
As a commission-based platform, it means you can pay anything from 10% to 25% commission whenever a booking is received through Booking.com. The commission rate varies, but it's about 15%, on average.
Yearly subscription vs commission-based – which is best?
Many owners prefer paying an annual subscription, however, the commission model is a cost-effective way to test the performance of a site without having to invest money upfront.
A subscription can work well if you typically rent out your property for over six weeks of each year. If your bookings fall short of this though, consider the 'pay per booking' model, which could be a better option for you.
Ultimately, the best choice is the option which is going to provide you with the most bookings – at the lowest possible cost.
How to list your holiday let on lots of sites
If you plan to promote your holiday property by listing it on multiple sites so that more potential bookers see it, using a channel manager is probably going to be a wise route for you to take. This kind of online system helps you to manage the listings on various websites, as well as allowing you to centrally update aspects like availability and bookings – efficiently and automatically.
To find out more about channels managers and the benefits of using one, take a look at our article, how to choose a channel manager.
Where to advertise a holiday home for free?
Don't bother, you get what you pay for. Don't be tempted to list on as many 'free' sites as you can. Don't underestimate the amount of time it takes to keep content and availability calendars updated on free ads. The sites may be free, but your time isn't you will never get it back.
Use your time more efficiently by improving your top-performing ad(s) rather than maintaining mediocre listings on free platforms that don't generate bookings.
Which listing site is the best?
Should you list on Airbnb, Vrbo and Booking.com at the same time? Typically, an owner will get more bookings if their holiday home is listed on all of these platforms.
To summarise
In the first year or so, your priority is to get your property in front of as many potential bookers as possible. Consider listing on a combination of the three prominent listing sites Airbnb, Vrbo, Booking.com and using a channel manager to see which sites generate bookings for you – and which don't. It's about testing things out and seeing what works for you.
As your holiday letting business develops, your dependency on listing sites will decline due to an existing pool of guests re-booking directly with you. However, until 100% of your bookings are direct, you will still have to rely on one or two lucrative rental sites that deliver the most bookings at the lowest cost. The 80/20 rule applies. One or two optimised listings and your own website will generate 80% of your bookings.
Analyse your bookings and ditch poor performers
It's important to regularly evaluate how many genuine enquiries, and more importantly, bookings each listing site sends you. If a platform simply isn't generating bookings, it's not worth paying for. Ditch the listing so that you can re-invest your money and time advertising elsewhere.
(Tip: You should judge a site by its ability to get you bookings for weeks outside of your peak 'easy to rent' seasons).
Our knowledge of the industry tells us that sites will perform better in some years than others. This may be due to changes in how they're marketing themselves, the user experience, increased competition and changes in how search engines like Google rank their websites.
What to check before advertising
When you're looking for a site to list on, consider the following factors before committing to advertise with them.
What's the booking procedure?
Are bookings instant, or can you review the booking first?
How good is the customer support?
How will your property be ranked?
How many competing properties is your location are there?
How much booking/service/cleaning fees are the guest charged on top of the booking amount? This can make your holiday rental less attractive in terms of pricing.
Can guests cancel at any time without repercussions?
Check the site's reviews on Trustpilot (and similar review sites).
Ready to get started?
Then follow our tips on how to create a holiday rental ad.
And, if this all sounds like too much hard work, you could always use a holiday cottage letting agency instead.