A Quick Guide to Creating a Google My Business Listing
Reading Time:
9
minutes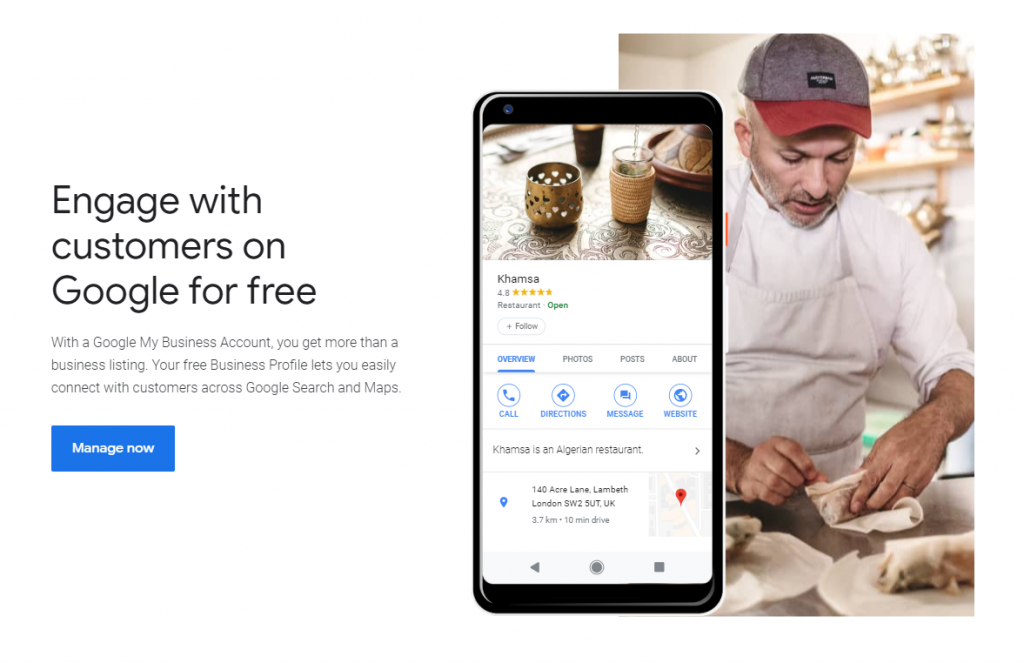 The way people search for information online has changed over the past decade. As Google continues to dominate in the search engine stakes, it's brought with it several new features for users wanting to get their business in front of their target audience; the main one being Google My Business.
So how do you get listed? Follow our steps below to get up and running! This guide will help you create and optimise your listing to so you can grow your holiday cottage business.
What is Google My Business?
Google My Business (GMB) is a tool for businesses which is easy-to-use and free. It enables business owners to manage their online presence across Google, including Search and Maps. It's particularly important for businesses that may rely on customers who are nearby find them (e.g. restaurants, shops and hospitality businesses), and it can certainly be a way to gain a competitive edge on some of your industry rivals!
If you have ever searched for a business or service near you or in a specific location, you've probably seen Google's "map pack" – showing local businesses matching your search.
Check out this example when searching for "holiday cottage in windermere":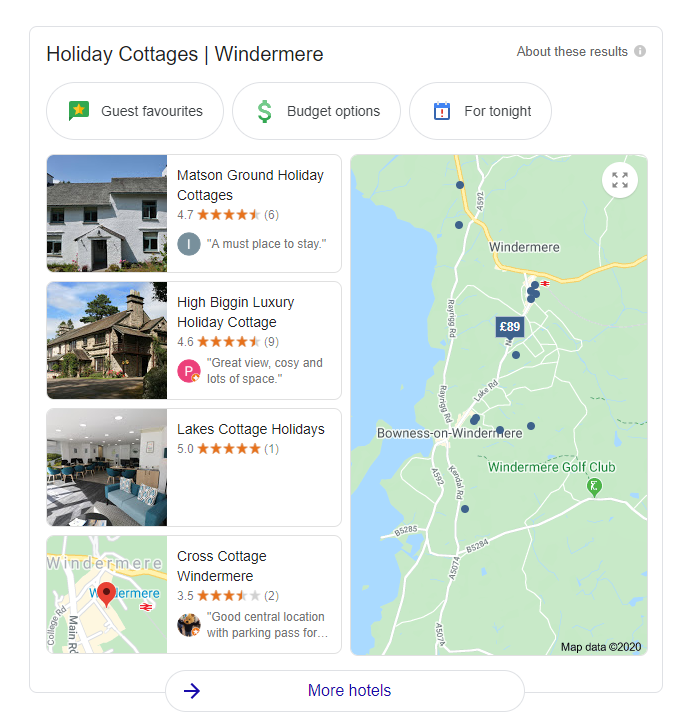 I'm a holiday cottage owner. Can I use Google My Business?
At the time of writing, the Google guidelines state that rental properties such as holiday homes are ineligible for a listing*. So, in this article we'll be focusing on why and how to use GMB for related organisations in the holiday let industry, such as property management and holiday cottage agencies.
*That said, if you're a individual holiday cottage owner looking to set up a listing for a rental property you own, there's nothing stopping you trying submitting your GMB entry. Google often does approve and list individual holiday cottages, try searching for holiday cottage in your area and you will see.
We just wanted to make you aware that Google deems this nature of property ineligible for their service and may remove your business information from Google.
Why should your cottage management agency use Google My Business?
Like other businesses, if you're letting holiday cottages you'll be relying on new (and existing) customers' to find you online; whether that's to look up your phone number, find out who you are, what you do and where you are located, or drop you an enquiry email.
GMB allows you to manage the information that Google users find when they search for your business, or the products and services that you offer. You can also read and respond to reviews from your customers.
And did you know that the number of Google reviews and the level of ratings you receive are factored into local search rankings? It means that the more reviews and positive ratings you collect, the higher up you're likely to appear in Google search results (over time). There's no way to request or pay for a better local ranking on Google.
You may already have a GMB listing set up if your business has been running a while, but have you looked at it lately to see if it's still up to date?
Whatever the current status of your GMB account (non-existent or part-completed), if you're a holiday let agency or a property management company, you can't afford to miss out on all the benefits of a fully optimised GMB account.
How to list your holiday cottage on Google My Business
First, check whether you already have a Google My Business listing by typing in your "business name & town/city" to see if a branded Knowledge Panel comes up. If it doesn't, proceed to the steps below.
Step 1: Visit https://www.google.com/business/ and log into the Google Account you want associated with your business (for example, using a Gmail address).
Step 2: Go to google.com/business and select "Start now" in the top right-hand corner.
Step 3: Write your business name.
Step 4: Type your business address.
Step 5: Select the business category that seems most accurate (here, you're telling Google who should ideally see your business listing).
Step 6: Add in your business phone number and website address.
Step 7: Finally, choose an option so that you can get your account verified.
If you're going ahead and requesting to verify your listing, there are a few different ways that Google will allow you to do so:
By postcard
By phone
By email
'Instant verification' (available if you already have a Google Search Console account for your website)
'Bulk verification' (where you might be eligible if you operate more than 10 locations for the same business)
Note: If you think you've already got a GMB listing set up, it might be worth logging in and working through the steps above, to make sure your basic profile is fully completed – and to trigger the verification process if you haven't done so already.
Next, we'll take you through some important tips so that you can make sure that you're making the most out of your new or updated GMB listing.
Inputting accurate information that reflects your business is essential
It's really important that you input all information as honestly and accurately as possible to improve your chance of being successfully found on Google.
Therefore, the name you write in the 'business name' field should exactly match how you would write it or use it in the real world. So, try to resist adding extra words here; you should simply include whatever marries up correctly with your business name.
Enter (and then double-check) that the physical address and phone number/s you're using in your GMB listing are correct. Try to ensure that you're using separate local phone numbers for each of your offices too. So, even if you use multiple phone numbers and they all forward to one number in the end, enter separate ones as Google uses phone numbers as a unique distinguisher for your business.
Also, make sure that the address and phone number on your website (contact page/in your website footer) is consistent with your GMB listing. All of this information being consistent helps indicate to Google that it's showing the right business when a user searches.
And, in the spirit of everything being joined up, be sure to add a link (url) from your GMB listing to your website – and vice versa!
Next, take a look at your business categories and hours. The aim with choosing categories is to be as concise as you can, so try to keep them down to no more than two to three categories. Don't try to add in extra selections which might be vaguely related to what you do, otherwise this will dilute the strength of what you're trying to be found for, and it might confuse Google.
When looking at populating your opening times, simply make sure that you've entered accurate business hours, and keep a note to adjust them proactively as you come up to holiday periods like Christmas (you'll see that GMB does give you an option to add 'special hours').
Finally, look out for 'suggested changes' to your live listing from users. Anyone can suggest edits, and sometimes they completely miss the mark, but occasionally someone will spontaneously submit a suggested change to your GMB entry for you to review. If you don't agree, you can indicate as such via your account.
Bring your listing to life with an engaging description and some images
GMB allows you to enter a description of your business of no longer than 750-characters, so you've got a limited window in which you can describe and 'sell' your business to people.
It's the first thing that many potential guests will see, so we'd suggest that you focus your first sentence on the most important business information. What do you want to get across if you only had 10-12 words? Perhaps what you do, and where you operate. Keep your writing appropriate to the kind of guests you want to attract.
Bear in mind that if you're not concise enough in the way you structure your GMB business description, there will be a risk that some of what you want to get across first will end up being truncated (particularly on the results appearing on mobile devices, where space is naturally more limited). So, try to use relevant and strong keywords in this description, but keep it relevant and punchy.
Also, avoid including mentions of 'special offers', 'deals', url links or other potentially misleading or inappropriate information, as this is not what your GMB listing is for. We'd strongly recommend Google's advice on best practices for GMB listings here, as this should then set you on the right path for keeping your business entry as optimised (and free from being removed) as possible.
Next, let's talk about images. In the holiday letting industry, photos are crucial for social media, websites, brochures and listings. The same applies to your GMB entry.
The first thing to think about is your GMB profile photo. You should choose something which represents your business well. So, perhaps your logo – or a recognisable photo you're already using across other channels as a profile picture. Again, you should be thinking about consistency. Think about how easy it will be for your potential customers to instantly recognise your business in search results if they have also happened to stumble across the same profile image when viewing your business website or Facebook page.
As well as a profile image, you'll have the option to add (or modify) photos on your GMB profile. It's recommended that you add at least ten photos, and you should try to choose the best/most relevant two or three and put them first in the image album.
This is because, depending on a user's browser, when you search for a business on a desktop, you'll sometimes see a handful of images on the right-hand side panel of your Google results (as well as some written business information).
Make a mental note to keep this pool of images refreshed every so often – by removing really old photos and adding new seasonal ones.
Google reviews: a powerful feature
Reviews on Google provide valuable information about your business to both you and your customers. Business reviews appear next to your listing in Maps/Search and can help your business stand out on Google. Here are some tips from Google.
The reviews attached to your GMB listing are an invaluable trust signal; with enough great reviews you can give your business a boost as they inspire customers to book.
A great way to build your reviews up is to approach and encourage happy existing customers and ask them to leave you a review. It's something you can ask for in your after say follow up email. All you need to do is send a brief personalised message along with a review link – which you can retrieve from your GMB account.
There is always the chance you'll receive a negative review without expecting it. Don't worry though, it simply means that you've got an opportunity to acknowledge and address any disgruntled customers publicly, and Google gives you a platform on which to do this. But remember to take any further conversation offline so that you can deal more discreetly with any unfavourable feedback.
Likewise, it's great if you respond to all positive reviews left for you too; it can help you build a rapport with your customer/s and contribute to retaining their future business. Once you respond, the user who left the review will be alerted – they'll see you've acknowledged their feedback, and that you care.
Similarly, you should keep an eye out for any incoming customer questions about your organisation. Be honest and accurate with your answers and try to leave a response promptly so that you can make the most of the user's attention; who knows – perhaps they'll email or call you straight after!
Top tip: Make sure that you've set up alerts for any incoming user questions or newly received reviews by visiting the 'Settings' area of your GMB account. You can also download a GMB app onto your phone so that you are notified instantly.
Posting updates
In the last year or so, Google has introduced a new ability to post brief status updates about your business to your GMB listing. This looks similar to a social media post, and will appear alongside some search results for your business.
The great thing about this feature is that it can show the user news and snippets of information about your business. One thing to note is that you'll need to keep posting updates every week, as each post is only up for about 7 days. You'll usually get an email with the 'results' of the ad-hoc update you posted, showing you if it contributed to user clicks/views for that week.
Sally's Cottages is a good example of a business doing it right.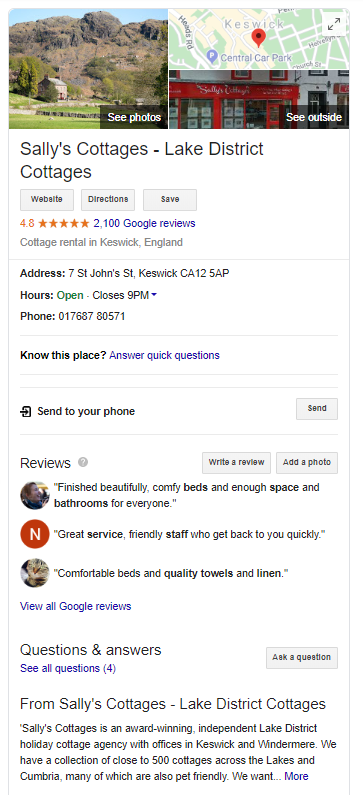 Listings from OTAs
Another way to get exposure is via OTAs as Google also shows listings from OTAs which are Google partners, such as Expedia, HomeAway, and Rentals United. It means that searchers can be instantly presented with some rates and availability without even clicking through.
Get started today…
Creating and optimising your Google My Business listing ultimately drives more traffic to your website, increases direct bookings and cuts out listing site fees.
If you haven't quite got around to claiming your GMB listing yet, make it a priority for today.
Further reading:
The Ultimate Guide to Google My Business
How to Optimize Your Google My Business Listing
The Easy Guide to Optimizing Your Google My Business Listing