Social Media Marketing Tips For Holiday Rentals
Reading Time:
10
minutes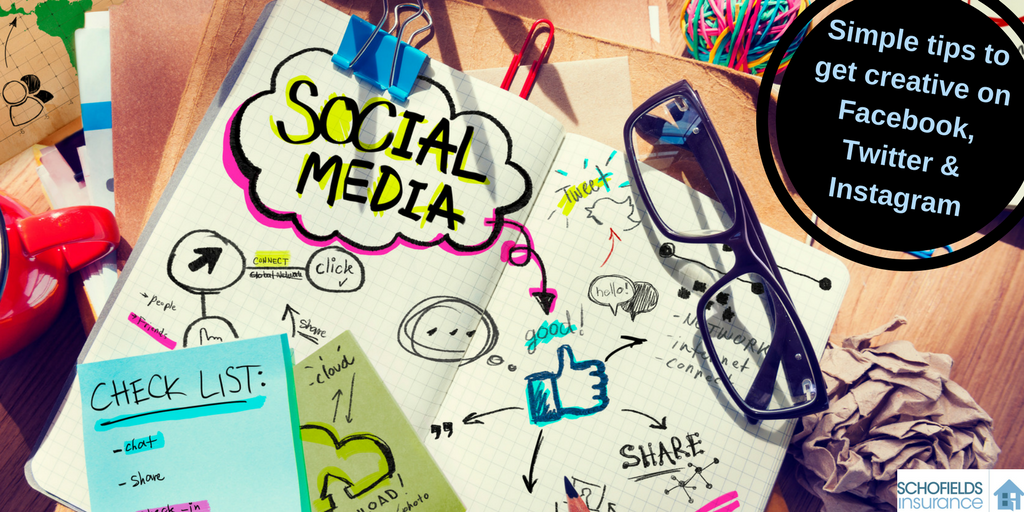 Even though a traveller may find your property on Homeaway or Airbnb, they are likely to carry out further research on you, your property and what to do in the area before they decide to book. Your social media accounts are the perfect platform to both establish your credibility and produce the right type of content that will convince them that your property is the one to book.
Is It A Waste Of Time?
Social media and marketing yourself online has never been more important. Research by Social Media Today says that on average people spend 30% of their day on social media. A percentage that is equal to 5 years and 4 months of a person's life.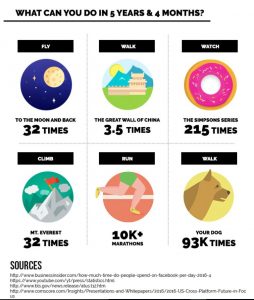 Lots of holiday homeowners continuously upload content to their social media pages with the majority 'throwing content against the wall and seeing what sticks.' Meaning that they're active on social media because they think that's what a responsible holiday rental marketer should do. But is your time spent "working" on Facebook and Twitter improving bookings? Should you be using this time to focus on the marketing platforms that are proven to get bookings? In essence, you need to use tools to analyse and measure whether you are getting a return on your investment from your time dedicated to Facebook and Twitter.
Social media marketing allows you to create a good reputation and network with local businesses and holidaymakers. It's a rounded marketing platform where you can talk to previous guests, upcoming guests and potential guests all at once. Not to mention it is the biggest platform to engage on – it's also free!
Social media is only a small part of the marketing mix. Rental owners need to ask why they want to be on social media. Is it to offer customer service, build your reputation or to generate new bookings.
Below are a few tips to help you use social media to reach out to potential guests and give your holiday rental brand extra credibility…
Social Media Allows You To….
Share Your Knowledge
Social media can easily become clogged with posts that fail to convey any useful information. Although images and video of your property are eye-catching, your guests might want to know more. Social media enables you to convey your collective thoughts and knowledge with others. You're more likely to obtain engagement by interacting with your followers with posts on gorgeous sunsets, local events and beautiful beaches which enable guests to have an insight into the area.
There might be some "hidden gems" that you could be sharing with potential guests, such as secluded beaches or a restaurant that the locals don't want tourists to know about (because it's so good).
Share Late Deals & Special Offers
Deals and special offers can keep followers interested, however, it's essential that you don't overload your followers with sales pitches. Too much advertisement can easily turn into spam that your audience will quickly tune out.
At spontaneous deals is a lucrative incentive that not only intrigues current followers but also entices newer ones.
It's worth creating a deal for out of seasonal holidays. Many people enjoy short breaks when Christmas, Easter and Valentines Day is on the horizon. You might want to post special offers to entice early bookings around seasonal holidays. This will diversify content and keep followers on the lookout for any deals available.
Build Relationships
Not only is it important to build relationships with holidaymakers, it's also important to engage with businesses in the area that compliment your rental.
Anyone who goes on holiday will no doubt frequent local shops, cafes, restaurants and attractions. Setting up mutually beneficial collaborations with local businesses for guest discounts creates yet another incentive for holidaymakers. Discounts for the places where they'll inevitably be spending money can be a great selling point for guests, especially families who want an affordable getaway.
As an added treat you should welcome guests with a basket filled with local product, guides and luxury toiletries. It's another enticing social media post idea that also advertises local businesses who you can encourage to share your post, comment and like.
Engage With Holidaymakers
A happy guest can be your greatest ally. Once a person has stayed at your property encourage them to leave a review, share their holiday images and their experiences on your page. Send your guests an email the same day as a quick reminder as they are more likely to do so. You could encourage engagement by running a contest for the best holiday photo that showcases the location.
Interact with your audience by asking questions or a quick survey e.g. what essential items would you like in a welcome basket? Not only will you get new ideas, you'll also prove to your customers that you care about their needs and value what they have to say.
Use these methods to build a two-way-conversation with guests. When people leave comments on your posts, engage with them and give them any advice to help them out. It shows a personal and friendly interest that guests can appreciate. The more genuine a person seems the more likely people will engage and respond to their page and posts.
Which Social Media Platforms Should You Focus On?

Facebook
People probably spend more time on Facebook than any other social network – Facebook draws in over one billion people per day. This is a huge market to tap into to promote your holiday home effectively, especially as most users update their statuses while on holiday.
As long as you give people useful and engaging content, it's a great platform to get word-of-mouth recommendations for your holiday rental.
When your guest like and share your content, updates their profile or posts photos or your rental, these get seen by all of their friends who may also like the or comment. Free promotion and there's a good chance they just might be your next guests!
Firstly start with a monthly Facebook strategy for regular content uploads. Teamed with extra content this can keep your page looking fresh and engaging. It's simple to schedule content for certain days at certain times. Research on the best times to post on social media has found that users tune in at different times during the week. It's worth noting when to post on each social network for maximum content reach.
Posts may include:
Picturesque images of the local beaches, sunsets or a photo of the 'house special' at your favourite restaurant
Videos of your town or view (create one on your iPhone with this simple guide)
Information about the location – the best restaurants and local market
Local attractions and days out
Like/share or best photo competitions are an effective way to encourage engagement
Leave your email for special offers
Facebook is an excellent place to gauge reaction or ask an opinion. You can use tools such as SurveyMonkey.
Facebook Savvy Homeowners
There is a multitude of profiles that have excelled at social media and developed a huge online presence. The majority of which has been achieved with images and informative captions. Unlike most social media platforms, Facebook allows you to have up to 8,000 words per status.  The likeliness of a person reading 8,000 words is slim. But the larger word count enables the property owner to curate more detailed descriptions. Ultimately, providing their followers with the information they require without bombarding them with too much text.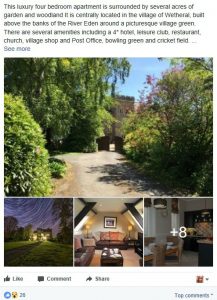 Lakes Cottage Holidays is a brilliant example with the page attracting over 99,600 followers. With the help of video, imagery, promotion of local events and articles the page has engaged a massive amount of people.
The page is primarily imaged based with hearty captions to provide further information. It also allows them to subtly add links to the property without pitching a sale. Instead, it simply makes followers aware of the property.
Another successful Facebook page is Sally's Cottages who has over 400,000 followers. The Cumbria based properties have attracted many users with their array of content and competitions.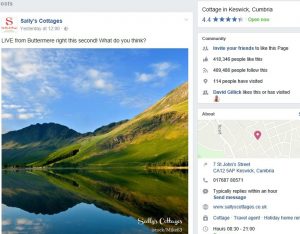 The simple yet striking image above received 3K likes. A massive response given the caption only reads: "LIVE from Buttermere right this second! What do you think?"
Again, Sally's Cottages primarily focuses on images. In particular, automatic rotating pictures that showcase various rooms within a property. These clever and eye-catching posts effectively showcase the properties. Often these posts are accompanied with a longer description that includes essential information on the property (number of bedrooms, living room space, gadgets, WiFi etc).
Further reading for Facebook tips:
http://www.simplybusiness.co.uk/microsites/facebook-for-small-businesses/

Twitter
Twitter is great. It allows you to directly engage with holidaymakers and other businesses in one fell swoop. A simple search for 'Holiday' or 'Travel' immediately connects you with profiles that may be interested in your area.
However, you've got to be savvy in promoting your property. You don't want your message to come across as a sales pitch. This can be difficult given the limited work count as Twitter only allows 140 characters.  As an authority on your property location, use Twitter to become a trusted information source by posting useful content, images and video.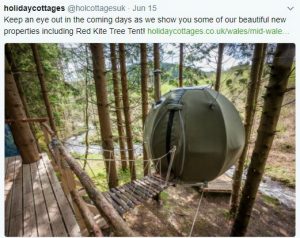 Trending hashtags are a brilliant way to maximise content outreach. However, only use hashtags that fully relate to your post otherwise it's a waste of those precious characters. Focus on a couple of hashtags such as #FridayFeeling #TravelTips #HolidayCottage #LakeDistrict etc. which are easy to curate posts for. With the right tweet and hashtags, you can effectively reach your target audience. Hashtagify is a site that generates popular hashtags from a keyword, use this for maximum content outreach.
Just remember to capitalise each word when using hashtags. The #susanalbumparty is just one example of hashtag PR disasters.
Another useful tool to engage with is Twitter lists where you can store profiles into categories of your choice. You can store competitors, local businesses and previous guests to find their interests. Ultimately this can help you craft appealing tweets, engage and share to further your content and showcase your property.
Who's Doing It Right…
Once again there are homeowners and letting agencies who have successful grasped Twitter and their audience. Holiday Cottages has over 1,700 followers who regularly engage with their posts. With striking images, offers and trending hashtags, Holiday Cottages has built a strong online presence.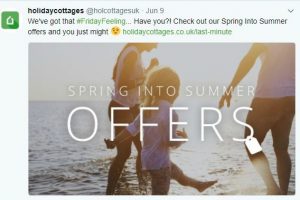 For businesses, Twitter is a prime platform as they can easily reach new audiences without being too forward. The open market means you can engage with a multitude of profiles for information, ideas and networking.
However, like most social media platforms, Twitter needs to be nurtured. By this, we mean regular content updates as well as retweeting others content. This enables you to network with other businesses and share rich content with your followers.
Like Facebook, you can easily schedule posts via Hootsuite or Tweetdeck.
Overall, Twitter is a winning platform and if regularly maintained it can be an exceptional tool to further your property, bookings and revenue.
Further reading for Twitter Tips:
https://neilpatel.com/blog/beginners-guide-to-twitter/
Instagram
"A picture paints a thousand words"
It's a well-known fact that images resonate with a person more than text and people love sharing photos of their vacations. Which is why Instagram is a platform all holiday home owners should be tapping into. As a platform entirely dedicated to imagery, you have the chance to showcase hard to resist dreamy images of your property and its surrounding exterior. People want to see your holiday rental and the surrounding area before they book your property.
No matter the profile, whether it's for business or pleasure, a good photo will more than likely attract likes and followers.
Like Twitter, Instagram posts can be pushed further afield with the use of hashtags. Given that travel is such a huge market, the hashtag can be very useful at increasing engagement. Posts on Instagram have more freedom given the larger word count and number of hashtags. Instagram gives you 2,200 characters and up to 30 hashtags on anyone post.
Whilst available, ladling your caption with hashtags can be overbearing and distracting to your followers. Instead, you should include all relevant hashtags in the comment section. It will have the same effect but won't affect the posts reach or engagement.
Instagram is a great tool for catching the eye of potential holidaymakers. Unlike other platforms, the duplication of an image isn't too damaging to the page. If you vary your captions or focus on one detail within the image, it's effectively an entirely new post.
Instagram Guru's
The Beach Lodge is one most holiday home owners would be jealous of, given the copious amount of followers. The profile has gained whooping 55.8K followers.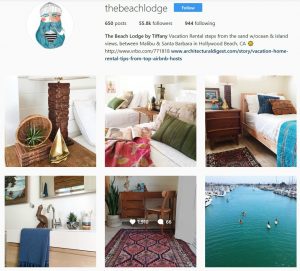 Owner, Tiffany has uniquely decorated her property with dainty tribal rugs, funky trinkets and simple pretty rooms. The tribal design that echoes throughout the property has particularly caught many people's attention. Including the company in which Tiffany shops at.
On top of that, Tiffanys ability to portray a chatty demeanour on her posts has kept many people interested and engaged with the property. In this post, Karen from Chic Retreat gives a great overview of how Beach retreat is killing it on Instagram.
Be sure to also check out Karens' Instagram for inspiration. Karen takes to regularly posting interior design tips for vacation rentals. The fresh, colourful and simple images make the profile stand out. It's an inviting page that has attracted a fair number of followers.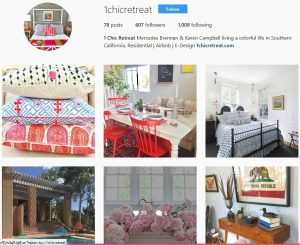 She is also able to craft engaging and enticing captions. Rather than focusing solely on promoting the property, Karen often includes a personal anecdotes or has a talkative tone that reaches out to her followers. It's those little touches that can make all the difference.
Also, check out this vacation rental owner who has over 17K followers. See how they collect emails by offering an 'insiders guide to St Barths' – clever marketing by being an authority on the resort.
Further reading:
http://neilpatel.com/blog/beginners-guide-how-to-build-a-killer-instagram-following-and-increase-your-sales/

The Art Of Social Media – To Summarise….
It's important to accept that not all of your social media posts are going to generate views, likes, comments and not all of your special offers will generate bookings.
However, what a good social media strategy does is allow you to build relationships with holidaymakers, local businesses it and gives your rental extra credibility. It also gives you the chance to gain feedback from guests. This, in turn, can help you improve your property and the overall stay for guests. Not only will you get new ideas, you'll also prove to your customers that you care about their needs and value what they have to say.
Today's traveller researches everything online before booking, so when potential guests visit your page and see all of your 5*reviews and pictures from happy guests, they will be convinced to book with you.
Remember social media is only a small part of your marketing strategy.
More social media marketing guides:
https://moz.com/beginners-guide-to-social-media
http://www.simplybusiness.co.uk/microsites/guide-to-social-media-success/