Social Media Marketing Strategies for Holiday Lets
Reading Time:
13
minutes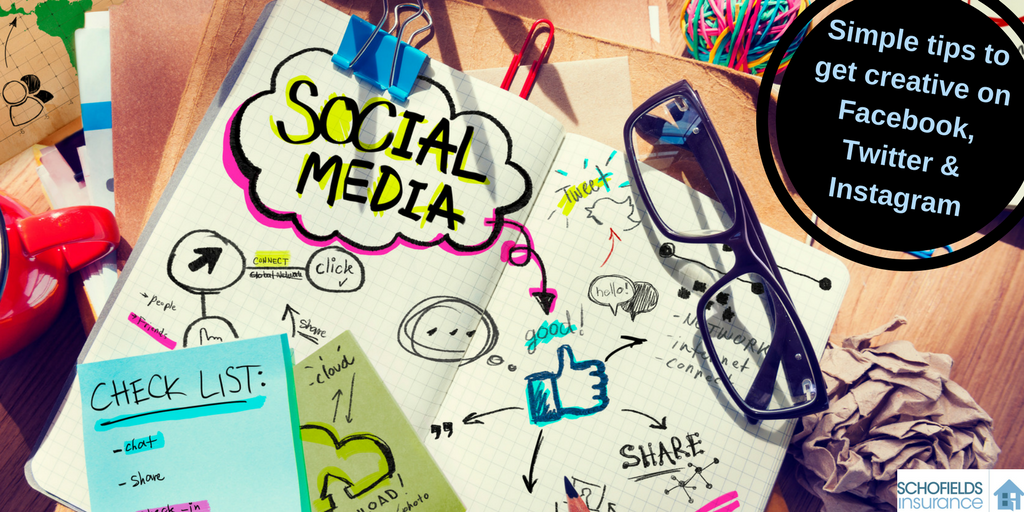 Even though a potential booker may initially discover your property on a holiday let portal like Vrbo or Airbnb, they are very likely to carry out further research on your property and what to do in the area before they finally decide to book a stay.
And what's the most convenient channel for them to check?
Your property's social media accounts.
They're an ideal platform for would-be-guests to both establish that you're a credible holiday letting business and see whether your social content resonates with them enough to convince them that your property is the one to book.
Is social media a waste of time?
The simple answer is 'no!'
Social media and marketing yourself online have never been more important. Recent research tells us that, since the global pandemic first emerged, peoples' digital behaviours have greatly changed – and this includes the fact that more people are spending time on social media. The typical user is now spending 15% of their 'waking life' using at least one social platform.
In general, social media marketing allows you to create brand awareness and build a good reputation online, as well as allowing you to network with local businesses and holidaymakers. Social platforms like Facebook are brilliant for talking to previous guests, upcoming guests and potential guests all at once; not to mention that social is the most globally used digital marketing channel type these days. It's also free to use (if you're not using paid social advertising).
There will indeed be a large proportion of holiday cottage owners who think posting regularly is the most important part of being on social. This approach, however, is more 'throwing content against the wall to see what sticks'. They're probably not taking full advantage of all the features a social platform has to offer, and perhaps not thinking about the most strategic, savvy ways to build up genuine followings, engagement and opportunities for driving more traffic to their website.
But it's important to try and get your use of social media right, as it has become a more significant part of the marketing mix over the past couple of years. Rental owners can now conduct a level of customer service, generate new bookings, advertise their business, build brand awareness and drive more website traffic – all through this one medium.
If you think about your own situation for a moment:
Do you think that the time you currently spend marketing your holiday let on Facebook, Instagram or Twitter is making a positive impact on bookings?
Do you think there is much more you could and should be doing?
Is more focus needed on aspects such as keeping the basic information on each of your social profiles up-to-date and relevant, for example?
Below, we've compiled some helpful information and ideas to help you improve your social media marketing. We focus on three platforms in particular – Facebook, Twitter and Instagram.
How to market your business on social media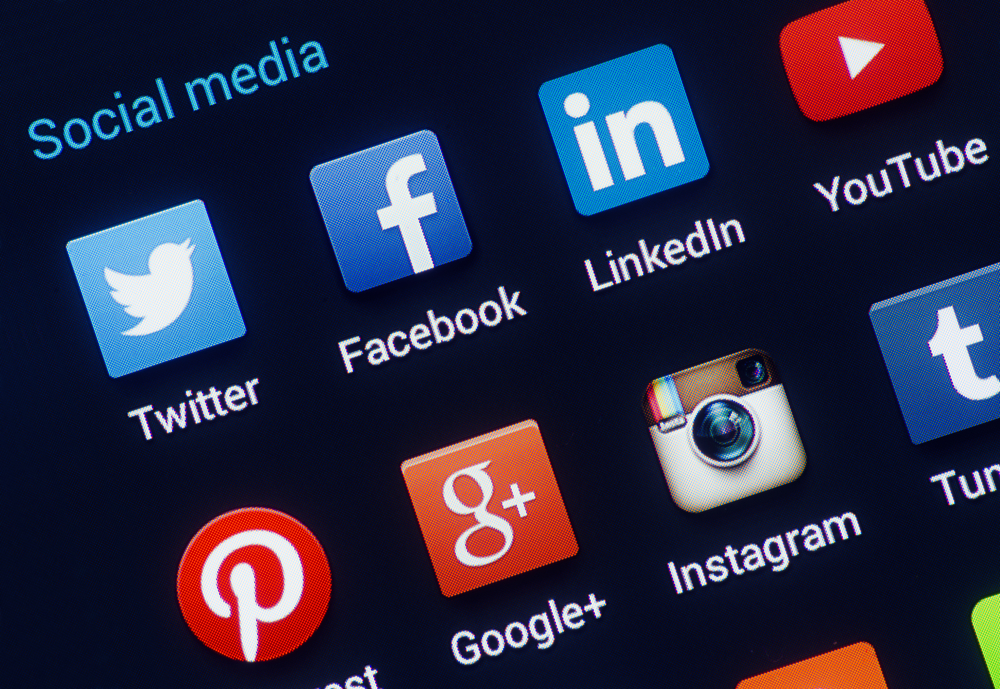 Share late deals and special offers
Deals and special offers can keep followers interested, however, you mustn't overload your followers with too many sales pitches. If your social feed read like one long advertisement as people scroll through it, this can easily come across to your audience as spam and cause most people to click away.
More effective, are those 'spontaneous' deals offering what appears to be a lucrative incentive. Not only does this content instantly become more shareable between others on social, but it intrigues current followers and entices new ones too!
To that end, it's worth considering creating a deal for 'out of season' stays. Many people enjoy the prospect of a short break when occasions like Christmas, Easter and Valentine's Day are on the horizon. So, you might want to publish posts about special offers to entice early bookings and fill cancellations. This will add variety to your social content, whilst also giving those who are looking for deals a reason to follow you.
Build relationships with local businesses
Not only is it important to build relationships with holidaymakers, it's also important to engage with local businesses that compliment your rental offering.
Anyone who goes on a holiday will no doubt visit at least some of the local shops, cafés, restaurants and attractions. It means that setting up mutually beneficial collaborations with local businesses for guest discounts can create yet another incentive for potential guests to book.
Discounts for the places where they'll inevitably be spending money can be a great selling point, especially for families looking for a more affordable getaway.
As an added treat, you could welcome guests with a basket filled with locally-produced items. It's another enticing social media post idea that also advertises those local businesses. In turn, these local 'partners' will likely share and comment on these posts, meaning your content will be seen by even more people.
Connect and receive feedback from guests
A happy guest can be a brilliant future advocate of your business on social media. Once a booker has stayed at your property, encourage them to leave a review, share their holiday images (tagging your business name of course!), and write about their experience on your page.
Prompt your guests to do this by sending an email the same day as they leave, or the day after while their experiences are still fresh in their minds. You could also encourage user-generated content by running a contest for the best guest holiday photo that showcases the location.
Interact with your audience by asking simple questions; for example, "what essential items would you like to see in your next welcome basket"? Not only will you get new ideas, you'll also prove to your customers that you care about their opinion, and truly value what they have to say.
Use these methods to build a two-way-conversation with guests. And, when people leave comments on your posts, always acknowledge and engage with them. If they're asking for some quick advice, respond promptly to try and help them out.  This shows a personal and friendly interest that guests appreciate.
Share your local knowledge
The beauty of social media is that it enables you to convey your knowledge and insight with others, but as you've probably noticed, social media can easily become 'clogged up' with posts that fail to convey any useful, relevant information.
Although images and video of your property may be eye-catching, your guests might want to know more about the local area and what there is to do. So, try to think beyond your immediate property and its offering, and focus on other aspects which might entice and tempt potential guests to seriously consider booking with you. Promote the town – not just the property.
This could be a post (linking to your blog) about a nearby landmark, you might live in an area surrounded by amazing pubs or interesting attractions, or perhaps you could highlight the wonderful country walks and scenery on offer?
There might also be some hidden gems that you could be sharing with potential guests, such as a secluded beach, or a restaurant that the locals don't want tourists to know about (because it gets booked up quickly!).
The big 3 social media platforms you should focus on
Facebook marketing tips for holiday rentals
Facebook is the most popular social media platform in the world, with around 2.7 billion users globally. It's therefore a huge market to tap into to promote your holiday home.
As long as you keep posting genuinely useful and engaging content, it can be a great platform for attracting future bookers and delighting existing guests.
As well as posting content about your property, Facebook can be a great place to deal with incoming enquiries too – due to its native messenger feature. Rather than a guest or potential booker needing to go to your website to send an enquiry, it's a far easier, quicker way for them to drop you a message.
Facebook's business pages have several useful features too. For example, guests can rate your property and leave you a review directly on the page, which in turn acts as 'social proof' to others who may be researching their next holiday. You can also set up special offer posts and events, as well as posting photos into their galleries and listing your services.
In general, your Facebook posts could include a mixture of content focused on the following:
Picturesque images of the local beaches, countryside views or perhaps even a photo of a tasty-looking meal from a local restaurant
Short and snappy videos which showcase highlights from your town (you can create one on your iPhone using this simple guide)
Information about local things to do – for example, the best pub that's within a short walk of the property, when the next farmer's market is happening, local attractions and the best days out
Travel and/or covid-related updates
Competitions and promotions
Notice that none of the above focus on your actual property. It is wise to mix up different topics so that you're continually offering your audience that 'all-round' view of what they can expect.
And if you have the budget, you should consider trying some Facebook advertising – it can create extra brand awareness and may even prove effective in providing a boost to your bookings – especially during low season periods.
Facebook Ads allows you to target potential customers by their demographics and interests, so you could, for example, set an ad up to promote your lake district dog-friendly cottage aimed specifically at people aged 40+, who are located in the UK and interested in walking with their dog.
If you're interested in the advertising side of Facebook, you can learn more information about how to get started with an ad account, here.
Who is using Facebook well?
There is a multitude of profiles that have excelled at social media and developed a huge online presence. The majority of which has been achieved with images and informative captions. Unlike most social media platforms, Facebook allows you to have up to 8,000 words per status.  The likeliness of a person reading 8,000 words is slim. But the larger word count enables the property owner to curate more detailed descriptions. Ultimately, providing their followers with the information they require without bombarding them with too much text.
Lakes Cottage Holidays is a brilliant example of this. Their Facebook page attracts over 102,000 followers, and with the help of video, high-quality images, the promotion of local events, and informative articles, their channel has engaged with a massive amount of people.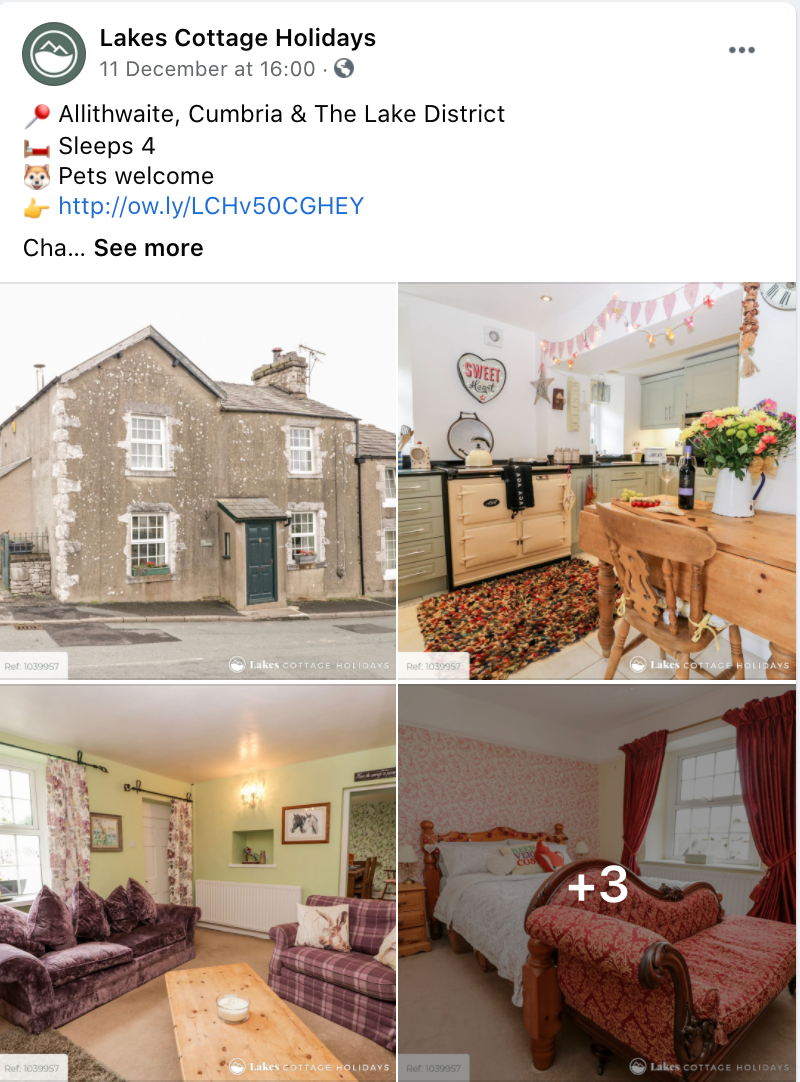 The posts they publish (example above) are primarily based on using high-quality images and engaging captions which provide helpful nuggets of relevant information. This allows them to subtly add links to their properties – and show them off – all without pitching a sale. Instead, these posts simply serve to create awareness amongst followers of their holiday cottages.
Another successful Facebook page is Sally's Cottages, which has over 620,000 followers. The Cumbria-based holiday cottage agency attracts high volumes of users with their array of content and enticing competitions.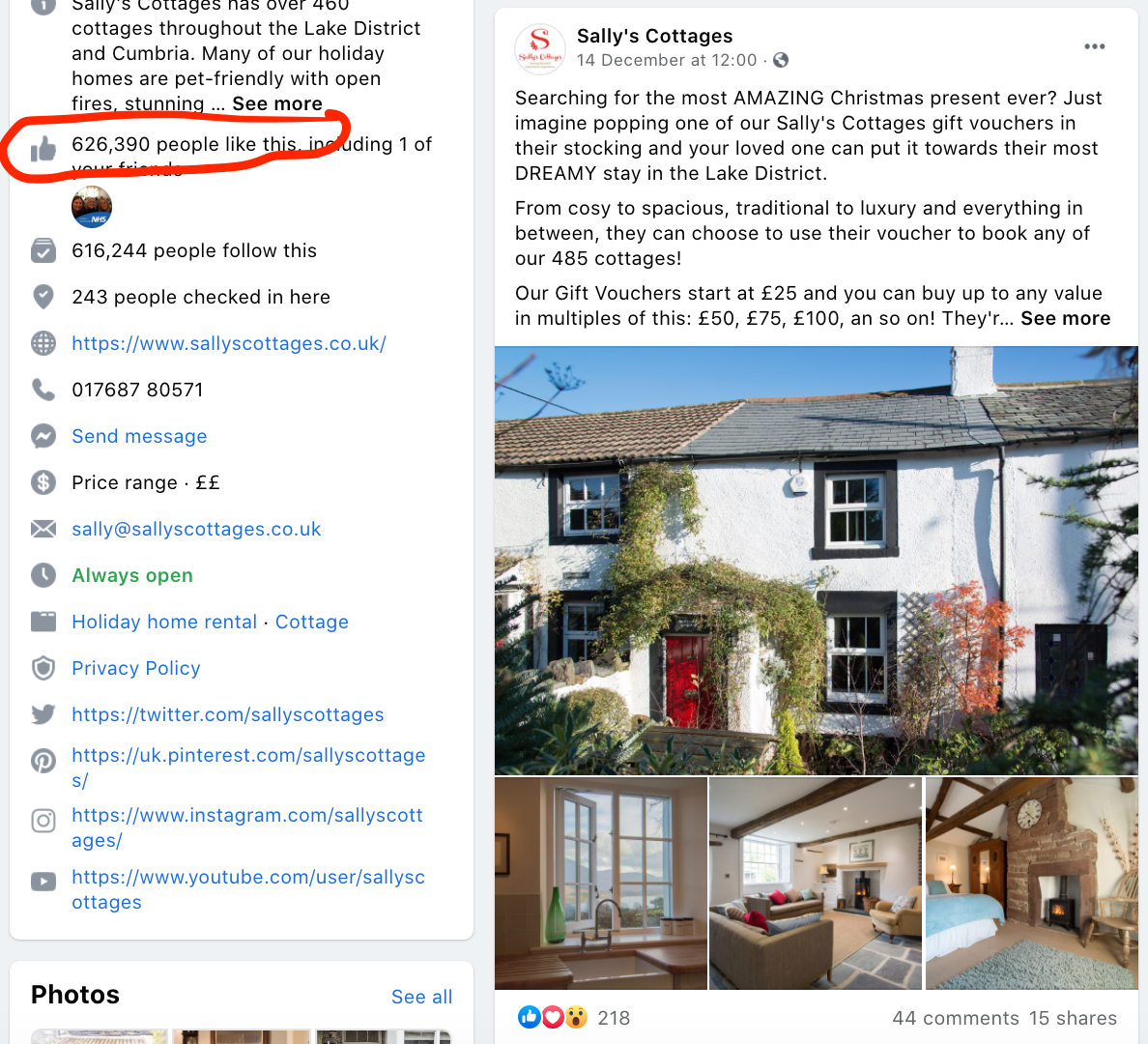 The simple yet striking post above received 1.1K likes within the first 15 hours of it being published, along with hundreds of comments and shares. The massive response has been prompted partly by the open-ended question featured in the social post; Sally's Cottages is asking their audience a question.
Like Lake Cottage Holidays, Sally's Cottages primarily focuses on images. In particular, collages and slideshows that showcase various rooms within a property.
And often these posts are accompanied with a longer description that includes all the essential information on that property – e.g. the number of bedrooms, living room size, features, WiFi etc.
If you're looking for some further reading on getting started with a Facebook Page, or even seeing what you might be able to do to improve your page's engagement, visit this microsite for small businesses.
Twitter marketing tips
Twitter is a fast-moving, 'conversational' social platform, and like Facebook, it allows you to quickly engage with holidaymakers and other businesses.
You can easily engage with multiple profiles for information, ideas and networking. A simple search for keywords like 'holiday cottage' or 'staycation' means you'll soon be discovering relevant profiles that may be interested in what your holiday letting business has to offer.
And, like other social channels you're using to promote your holiday home business, Twitter, when harnessed correctly, can help you become a trusted information source – through the posting of useful, informative content, quality images and videos. However, you've got to be savvy in promoting your holiday property. As with the other social platforms you're marketing on, you don't want your messages to come across as sales pitches.
There's a slight challenge too, with the limited character count available for Tweets, (280 characters).
Using hashtags is a brilliant way to maximise the number of potential people seeing your Tweets.  However, only use hashtags that fully relate to your post otherwise it's a waste of those precious characters. Focus on a few hashtags such as #TravelTips #HolidayCottage #LakeDistrict etc. which are popular and relevant to the content you're Tweeting about.
But how do you know what kinds of hashtags you should be using? Tools like Hashtagify can help guide you towards the right choices. They show you information on popular hashtags based on high volumes of data it pulls from Twitter.
Just remember to capitalise each word when using hashtags. The #susanalbumparty incident is just one example of the hashtag PR disasters that can occur when you're not double-checking how your # reads to users!
Through the posting of:
high quality, interesting or informative content
on a consistent, regular basis
including the most appropriate, relevant hashtags
…you'll have the best chance of attracting and engaging your target audience and building up more of a following for your Twitter channel – and your holiday rental business.
Who is using Twitter well?
Once again, there are many property owners and letting agencies that have successfully utilised Twitter and its audience. Sykes Holiday Cottages for example has over 24,000 followers, with a respectable proportion of these regularly engaging with their Tweets.
With their striking images, offers and use of hashtags, Sykes has built a strong presence for themselves on Twitter. They also use competitions and polls to mix up the content on their channel, and trigger genuine engagement and interest from users: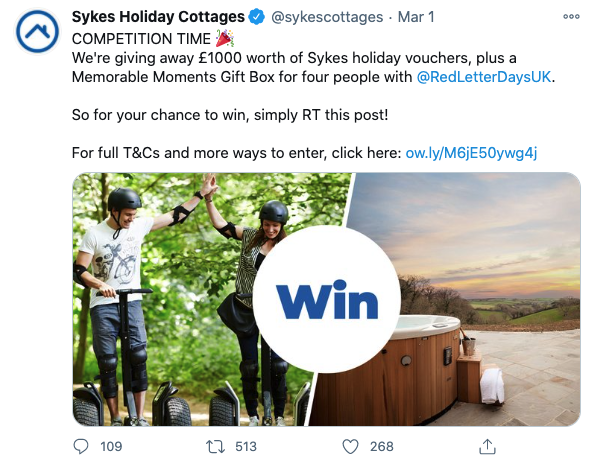 And, because Twitter 'moves' as a platform in real-time, it's an ideal channel for communicating important messages or updates to their audience:

If you're looking for some further reading on setting up and running a Twitter account for your business, we recommend you take a look at this detailed, helpful article for more guidance and tips.
Tips to improve your Instagram marketing strategy
"A picture paints a thousand words."
It's a well-known fact that images can resonate with a person more than the written word, and it just so happens (luckily) that most people love sharing photos of their holiday. It's why Instagram is an essential social platform that all holiday let owners should be tapping into.
As a platform entirely led by imagery, you have the chance to showcase all those hard-to-resist, dreamy images of your property and its idyllic surroundings. It's a no-brainer that potential bookers will want to see what your holiday rental and the surrounding area is like before they commit to making that booking.
Just like Twitter, Instagram posts can be pushed further afield to be seen by more people by using hashtags. Given that travel is such a huge market anyway, there will be hundreds of popular hashtags that may be useful to include in your own Instagram content.
Currently, the Instagram written captions accompanying each image (or set of images) can be up to 2,200 characters long and can contain up to 30 hashtags.
But whilst the number of hashtags available is fairly large, using too many on a post will be overbearing and distracting to your audience, so try to include just four or five of the most relevant ones each time. It will have the same effect overall, but won't hinder the post's potential chances for being engaged with by fans and followers.
Who is using Instagram well?
The Beach Lodge is one social profile most holiday home owners would be jealous of, due to the high volume of followers and the very well-organised attractive profile they've built.
Their Instagram profile has gained nearly 60,000 followers since it was first set up and attracts hundreds (and sometimes thousands) of likes and comments each time a post is published. And, we can see from the profile below that every single opportunity has been used to provide information and add branding.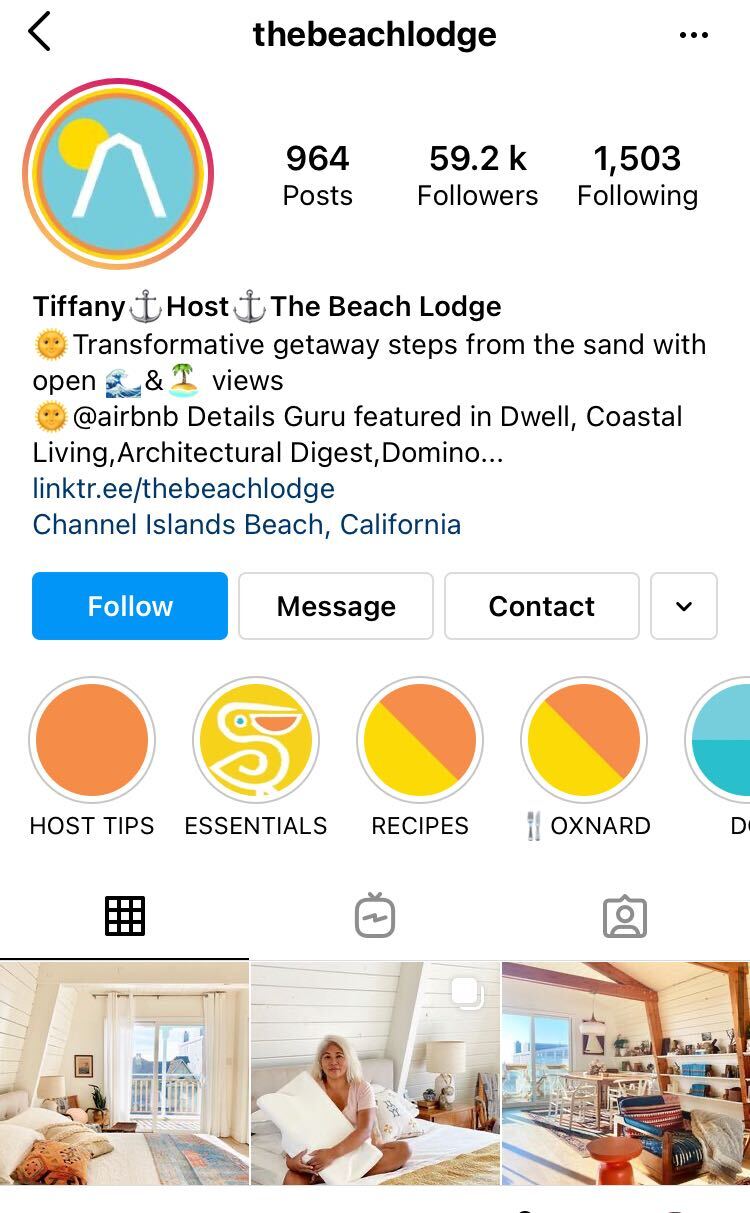 Owner and host Tiffany Caliva-Talledo has decorated her property with dainty tribal rugs, funky trinkets and light, calming wall colours. The way the property looks has attracted attention, not least from the likes of Airbnb, Dwell, and Coastal Living – who have all chosen to feature her and the property in write-up articles on their websites.
On top of that, Tiffany's chatty style comes through in the written content of her posts, keeping many people interested in and engaged with the updates and images which showcase her property.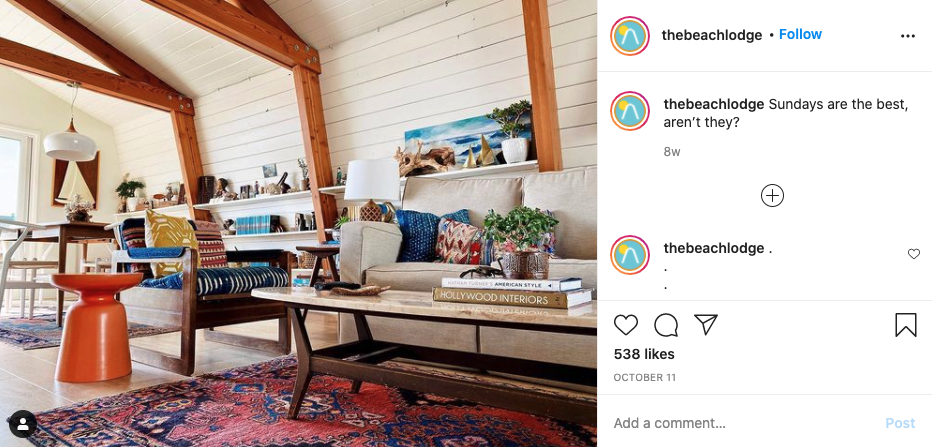 In this post by popular interior design bloggers '1ChicRetreat', we're given a great overview of how The Beach Lodge is nailing their social promotion on Instagram.
Be sure to check out 1ChicRetreat's Instagram for some inspiration, too. Designer and blogger Karen regularly posts her interior design tips for vacation rentals, and the fresh, colourful and simple images she uses ensures the profile stands out.
For some further reading on setting up and running an Instagram account, check out this informative article for some comprehensive tips and tricks.
Automate your social media marketing
No matter how many properties you have to promote, and how many incoming enquiries you receive each week, some of the work on social can be done in advance each week (or month) through setting up batches of social posts for each platform.
To do this, you're best to use a social media management tool – and luckily, there are many to choose from.
Here are a few suggestions, which you can take a look at and research further:
By using a tool like one of the above, you're able to better control and 'centralise' all of your social marketing content in one place. Not only can this be useful for reminding yourself about what's been recently posted, but by setting aside a bit of dedicated time each week to do this work upfront, you'll find that it allows you more time to concentrate on those really important social interactions – such as incoming comments and direct message enquiries.
In summary
It's important to remember (and accept) that not all of your social media posts are going to generate views, likes, comments and not all of your special offers will generate bookings.
Building up a strong social media presence takes time to achieve, and so you'll need to keep your marketing efforts up over a sustained period.
However, in the meantime, if you're executing your social media marketing strategy well, you'll be interacting and building relationships with potential bookers, recent guests and local businesses. All of these interactions can mean increased confidence in your brand from your audience and extra credibility gained through the conversations you're having with bookers and potential guests.
Don't forget that today's traveller researches everything online before they book – including investigating your business pages on social media. So, when potential guests visit your page and see all of your 5*reviews and pictures from happy guests, this can provide them with the confidence and reassurances they need to finally go ahead and book a stay with you.
Helpful articles/resources for further reading