Top Tips to Convert Holiday Rental Enquiries Into Bookings
Reading Time:
7
minutes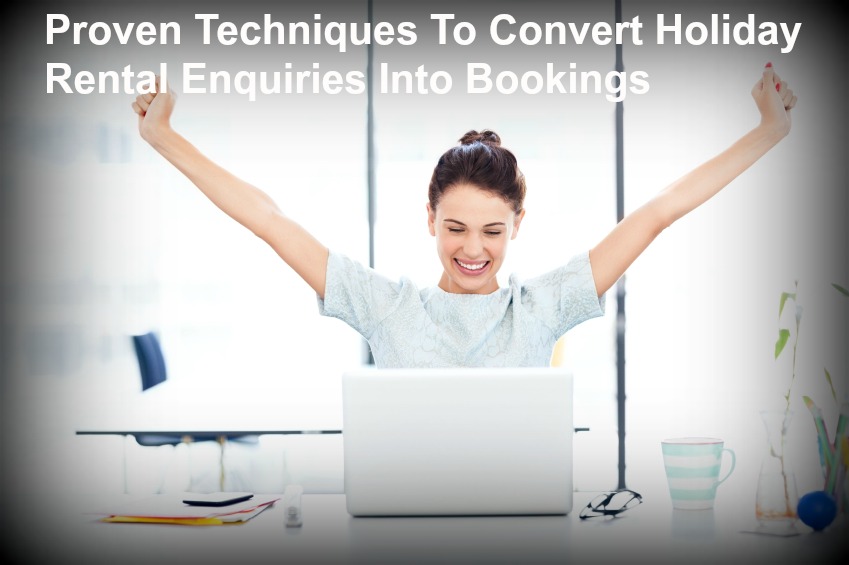 As any holiday property owner knows, holiday letting is a very competitive business and the gap between the number of enquiries you receive and the bookings secured is getting wider each year.
The race to get firm bookings starts the moment you get an enquiry and doesn't end until you've received a deposit and confirmed the dates on your booking calendar. The good news is that if you get off the blocks first with the right reply, you'll stand a far better chance of winning the race. The early bird catches the worm.
Here we provide some tips for responding quickly and effectively to holiday rental enquiries, giving you the best chance of converting a prospect into a confirmed client.
Act fast to increase your conversion rate
Time is the essence here – holidaymakers usually contact several holiday lets at once to see who's available for their chosen dates. So you need to try to be first to reply and that means getting in there sooner rather than later.
But how soon is soon? Well if you can, you should reply as soon as you receive the enquiry – getting back to the guest within an hour shows you're professional, keen for the business and is one of the easiest ways to increase your conversion rate.
Research conducted by HomeAway found that owners that respond within the first three hours of receiving an enquiry are about 2.5 times more likely to get the booking than those that wait 24 hours or more.
If you can't reply immediately then you should make every effort to reply within the next few hours and definitely within 24. Leave it any longer and you risk losing the guest to the competitor down the road who replied to the enquiry straight away. This is especially true if you're dealing with last-minute bookings when a delayed reply will almost definitely lose you the booking.
Your response score
Many of the holiday rental listing sites also reward owners who reply quickly with a higher ranked listing, your response time is also show on the advert. Another incentive to reply quickly.

Recommended similar properties could steal the booking
Have you ever sent a dummy enquiry to yourself? Did you know that on some of the sites where you advertise holidaymakers are shown other similar rentals after they send you an enquiry, and more recommended holiday rentals via an email over the next few days. If you leave it too late to reply these competing rentals could clinch the booking.
Set up alerts to never miss an enquiry
It's unlikely you are sitting by your computer all day waiting for an enquiry.
Knowledge is power – it's pretty easy to miss an enquiry, know you've got an enquiry as soon as it happens by:
Email checks: Check your emails regularly and keep an eye open for new mail. Don't forget to check your spam folder regularly too.
Gmail/iPhone tip: One problem for many owners is how to respond when receiving an enquiry on your iPhone or iPad. If you reply from your device using the native APP, the email address and signature might be different to the one you usually use to run your rental business. I know a lot of owners would prefer to wait until they are back at the computer so they can reply with the right account, signature etc and this can cause a delay. So instead of using the proprietary email app, try this Gmail APP that allows you to switch to up to 5 different accounts, so you really can deal with enquiries on the go.
Auto-reply set-up: Most email accounts allow you to set up an automated reply so all potential guests receive an answer from you immediately telling them you'll be in touch shortly. But if you use this, don't forget to reply in person as soon as possible.
Text alerts: Many holiday letting portals give you the option of setting up a text alert on your mobile phone every time a guest sends you an enquiry. Software is also available to set up this option from private websites too.
How to reply to enquiries and get the booking
Pick up the phone
The quickest and best way to reply is to phone the guest directly, especially when the renter is asking a multitude of specific questions. This provides a personal touch and gives you the chance to build up a rapport, give a more detailed response and set yourself apart from the competition. Before you dial be prepared – find out what the guest wants to know and if your holiday let is available for their dates.
Phoning guests is also a good way to screen out phishing emails that you can then flag as Spam in your holiday lettings enquiry system. This will get those enquiries removed from your list – the benefit being that they will not affect your quality scores on those sites that give preference to 100% enquiry response rates.
Email tips to increase bookings
It might not be practical/convenient to call, or guests may prefer to correspond by email so be prepared to send an email.
Don't waste time retyping the same basic message over and over. Take advantage of email templates and Gmail canned responses, but also tailor a reply to each guests' individual requirements.
Give your email a personal touch by rewriting the subject line. For example, "Reply to booking enquiry for Rose Cottage 1-10 June; addressing the guest on first name terms if you know it, and sign off with your first name too, but keep the tone professional – after all, this is a business communication.
Keep your email short and to the point. Your guest will probably be reading your reply on a mobile device (66 percent of emails are opened on either a Smartphone or tablet) so avoid long-winded correspondence. Make paragraphs shorter, digestible, use bullets and link to your website for further in-depth information. Assume your enquirer hasn't actually read your full listing description so promote your USPs.
Emphasize your property's USPs (unique selling points) as it relates to them specifically (do they have children? Extended family that would love the open plan social layout?) This will be a helpful reminder to the guest as to why they chose to send you the initial enquiry. A view or location isn't necessarily a usp if your neighbours' share it. Maybe it's your price, toys for kids, a private pool, free wifi or welcome pack upon arrival.
Ask a relevant question to build the rapport and get them to reply – the first step in converting an enquiry to a booking is to begin a dialogue, so ask them something that will encourage them to reply. Travelling with children – ask them what their interests are, suggest a visit to the theme park near you. Walkers – ask them if they have done a specific local walk, suggest a few linking to walking maps on your website.
When the time is right to talk about price, be especially clear on what it includes. Be as transparent as possible, quote a fully inclusive rate without hidden extras. 53% abandon travel sites when shown the total price, maybe due to additional fees and charges. Here are some pricing tips for holiday lets.
You could also offer an incentive to book with you (e.g. a free welcome pack) if they book within 48 hours. Be careful with discounting though, here are a few tips on dealing with renters who ask for a discount.
Be flexible and try to help the guest out if you're booked up on their requested dates. Offer them alternative dates or suggest a holiday let that you know which is just as good as yours.
Use your email signature to point them to reviews of your property and your website with more details/photos/video. Include your phone number, just knowing they can call you creates trust.
End your email offering more help and information. Take time to create an email signature that includes your telephone number and link to your property's website or listing, as well as any Social Media accounts or Trip Adviser page if these are worth showing off – social proof can be key to securing bookings.
Make sure you're organised – keep your correspondence ordered (create a separate email file for each client, take a note of any phone conversations) and keep your booking calendar up to date at all times.
Follow up all enquiries you haven't heard back from to simply make sure the guest received your quote and offer to answer any further questions. You'd be surprised how many bookings this can lead to from guests who didn't get your original response or enquired for so many properties they forgot which – and just need a gentle nudge towards yours!
Have a call to action – a technique to prompt a traveler to make a booking e.g. you can book here… or, if you have any questions, give us a call at….
And lastly, provide social proof of the popularity of your rental – when it was last booked, or create a sense of urgency to book by showing how few dates you have left. Here are a few examples from travel sites that do this to convert browsers into buyers.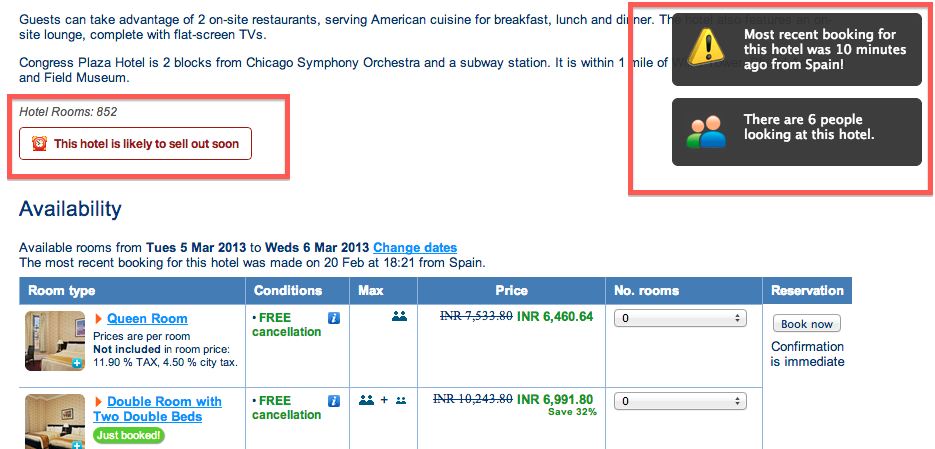 Don't ignore enquiries
For many travelers renting a holiday home is a new experience. Don't do the industry a disservice by ignoring enquiries. Even if you are fully booked make alternative suggestions. Be helpful and remind them to contact you in the future if they are looking for a rental in your area. Many travelers go back to the same 'familiar' destination time after time and they might come back to you later on when you are actually available.
Keep in touch
A large percentage of enquiries will not end up actually booking, however these have the potential to become future bookings if nurtured properly. Take advantage of email marketing newsletters, special promotions, and social media.
Create fascinating newsworthy articles about your region e.g.
-10 breathtaking walks to take in (your location)
-Awesome things to do in (your location)
-14 insanely delicious restaurants to try in (your location)
Become the go to destination on your area and cross promote your rental.
Typically the first enquiry response, provided it's informative, personal, and sells the emotional benefits of the rental usually the day.
Please share your tips for converting rental enquiries in the comments…