14 proven ways to boost your low-season holiday let bookings
Reading Time:
8
minutes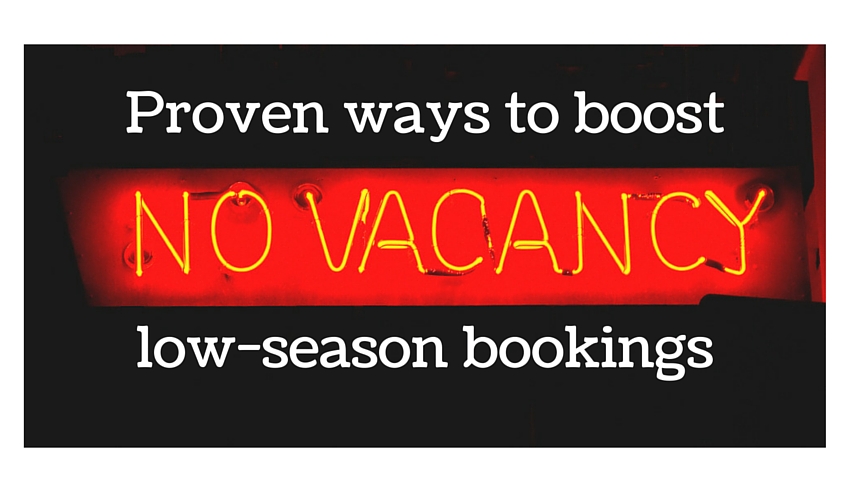 November to February is typically a quiet period for holiday rentals. At this time of the year, the availability calendar can look depressingly empty. Although there are fewer people looking to go on holiday during this period, there are still lots off-season bookings you can achieve with a little creativity.
Check out these tips to boost those all-important bookings in the low season.
1, Define your low season
Take a look at your bookings over the last couple of years and work out when your low season is. If you're a new owner and don't have this information, look at the availability of other holiday lets in your area or pick the brains of a local letting agency. Ask yourself why bookings are low? Is it school term time, because of cooler/wetter weather, infrequent flights etc. Once you've identified when and why it's time to turn this around.
2, Build a profile of your typical low season guest
Although families might be your typical holiday rental guests during the peak season, are you sure they visit in the shoulder season as well?
Analyse your previous booking data for shoulder season bookings. Build a profile of your typical low season guests and what they look for in a holiday. You might find it's retirees who want to avoid the high-season crowds, couples looking for a cosy autumnal weekend away or business travellers coming for conferences.
Also, look through both yours and competitors reviews from guests who visited in the low season. What did they like and do? Crisp winter walks, snuggling by the fire, soak in the hot tub after a day walking?
Once you know who your off-peak target market is and what they look for in a holiday, you now have to tailor your marketing to attract them.
3, Price realistically
Make your low-season prices attractive and affordable. Low enough to appeal at lean times of the year (e.g. just after or before Christmas) but high enough to cover your costs and make a profit. Take a look at your direct competitors (including hotels) and see how they are setting their low-season prices.
Avoid under-pricing dates that are in high demand e.g. Christmas & New Year.
4, Offer incentives
In off-peak seasons most holidaymakers will be seeking a deal. The best way to entice people to book your rental is to offer an incentive.
Some ideas:
Offer a discount. Research found that hotels who offered a 5% or 10% discount rather than no discount, increased their conversion rate by over 10%.
Three nights for the price of two, or a week for the price of four nights.
Don't ask for a damage deposit – this reduces the perception of the overall cost. Most cottage owners don't deduct from damage deposits anyway.
Each one of these incentives have the potential to increase your bookings. They differentiate your property and show that your rental is value for money and a better offer than competing properties.
5, Add extras and upgrades to make your rental more appealing
Boost the appeal of your holiday cottage by adding some worthwhile extras. What can you provide that your competitors can't?
Think about the market you're trying to attract and cater to them. It could spare pairs of boots/wellies for walkers, high-speed wifi, a well stocked kitchen, chocolates, fizz, the latest games console, big-screen TV with DVDs of recent box office hits, unlimited logs for the fire, free airport transfers, doggy treats, discounts at local businesses such as the nice spa near your rental or at your favourite restaurant in town. Make it a real treat to stay at your holiday cottage in low season.
How can you improve your property features to make it more appealing to winter guests? Install a log burner, everyone wants to enjoy that cosy feeling, sitting in front of a warm fire with a hot chocolate in their hands. Underfloor heating and a large dryer for wet walking clothes are nice additions. Could you add a hot tub? (few things are more relaxing than hot tub under the stars).
6, Be flexible
In the quieter winter months, you may find that being flexible with your arrival/departure days generates more bookings than fixed days. Let guests stay for shorter periods and check out late. Consider how guests travel to your property. If flights are limited to certain days, then you will have to adapt.
7, Update your seasonal photos
Autumn/winter can be just as, if not more picturesque as summer. Consider hiring a professional photographer to take amazing photos that you can show on your website, listing ads and social media.
Capture images that set the scene for out-of-season guests. Such as. outdoor photos that show golden autumn leaves on a crisp winter morning, mountains capped with a light dusting of snow or the local Christmas markets. Indoor photos showing mugs of hot chocolate and homemade cookies by a cosy log fire. Have a hot tub? Then show how it can be a soothing retreat after a busy day. Conveying your holiday home as a homely, warm and cosy place to retreat to will be a huge incentive.
Don't forget to change the photos on your marketing according to the different seasons. Those looking to book their summer holiday won't want to see wintery images, they want to see your cottage bathed in sunshine.
8, Tweak your copy
To attract guests looking for a break in the low-season, whether it's a post-Christmas break or a valentine's day treat, you need to make sure your accommodation stands out from the competition.
What do guests want from a holiday? What problems can you solve for them?
Update your property description to highlight why the off-season is a good a time to get away. Having "lounge on the sand in the glorious sunshine" in your description won't be relevant to those looking for a winter break.
Perhaps create an itinerary or blog post on how to spend the perfect day, or list 10 things visitors must do during December. There are a surprising number of events that occur in winter to keep guests entertained. Christmas markets, sporting events, concerts and food festivals, to name a few. Use this to your advantage by promoting such events. If people find out about these events from your blog, they're more likely to remember you and maybe book your rental.
Emphasize how your rental can keep the kids entertained, for example, board games for the whole family, a games console, a heated hot tub, cooking books and baking utensils.
Some guests simply want to get away without having to queue, cram, or plan. It's about getting some much-needed rest and relaxation. Set the scene so potential guests can picture themselves lounging by your log burner or unwinding in the local cosy pub.
Your social media accounts are also the perfect platform for sharing content and images that appeal to potential guests. Feature photos of special winter menus at the local pub, scenic views or a dog curled by the fire.
If you struggle with creative writing, then hiring a travel copywriter to write enticing copy could be a wise investment.
9, Make booking easy
A spontaneous getaway in winter is a growing trend, so you need to be capable of pulling off a quick turnaround. Make it easy for travellers to book at the last minute. Your property should be bookable online with an option to pay via credit card – 24/7.
Also, make sure your availability calendar shows 12+ months ahead to encourage early bookers to book your low season in advance.
10, Reward loyalty
Offering past guests a discount, incentive and rewards is an easy way to encourage repeat bookings.  Because they know what to expect when staying with you, an exclusive, tailored offer can be enough to get the booking. This could be a discount when they stay in the low season or something free such as a luxury welcome pack. Another idea is to send a discount voucher on their birthday or on the anniversary of their booking.
Your loyalty scheme is not only for your past guests, but their friends and family also.
11, Target your email list
When the low season is on the horizon, send out emails to your previous guests. Let them know about your winter special offers and remind them of their loyalty discount. Add an incentive by offering an extra discount for the first 5 guests who book, telling them that this offer is exclusive to them as a valued past guest.
A 'black Friday' offer sent before Christmas could help those of us who struggle for present ideas – a winter weekend away in a cosy cottage sounds perfect.
Also, let them know about any improvements you have done at your cottage and focus on the various local events taking place. Such as Halloween, Bonfire Night, Christmas markets, Eid, Diwali etc.
12, Widen your market
Take a look at your past bookings and your website traffic to find out if your holiday let appeals to a range of nationalities. If it does, consider making your marketing multi-lingual. This could range from a full translation of your website/listing adverts to posts on social media. If you aren't fluent in the language, outsource to someone who can help you translate and reply to enquiries.
For those who don't allow pets, you might consider changing this for the winter period. With a longer gap in between guests, you will be able to carry out extensive deep cleans without causing any inconvenience.
Is there a market for people who are looking for long-term stays? Can you advertise your property on niche holiday rental sites which have a different target audience?
13, Show off your winter reviews
Endorsements from past guests who stayed in the low season help get bookings. They show why your property is a desirable destination in the winter and what made their stay special. Did they enjoy the local markets, your cosy log burner, the welcome pack on arrival, crisp morning walks from your doorstep or the winter menu at your local pub?
If you find that some travellers ask the same questions before booking e.g. what's the weather like, can you still get there if it snows? Make sure any reviews that address these queries are on display. For example: "The sunny terrace is the perfect spot to gaze at the mountains in the distance" or "We arrived during heavy snow but all the paths had been cleared for us, the kids enjoyed a day of sledging and building a snowman".
Feature winter testimonials on your website, emails and social media so guests can visualise what to expect.
14, Promote Christmas and New Year
Although your Christmas and New Year dates are likely to book up, there are still lots of people looking to get away both before and after Christmas. Your rental rates in December and early January are probably a fraction of the cost compared to the festive holidays, but guests can still experience the festive activities.
How can you make your property appealing?
Decorate for Christmas to make your holiday home cosy, with a small tree, wreaths and fairy lights.
Include tableware – table coverings, plates, cutlery, napkins, a centrepiece etc.
Christmas C.D's – there's nothing better than getting down and enjoying a dance to Wizard or relaxing to the smooth sounds of Bing Crosby.
Consider placing some classic holiday movies near the TV to help your guests get in the holiday mood.
The Christmas smell – some smells are designed for certain seasons. Cinnamon, pine, candy and even orange peel are all festive scents. You can either get some potpourri or plug-ins to get the festive smell flowing.
Christmas holiday welcome pack ideas
Providing special Christmas treats creates a welcoming ambience to wow your guests. Mince pies, candy canes, hot chocolate, mulled wine, Christmas cookies, crackers and toiletries that feature Christmas smells. If children are staying then include a small cuddly toy off Santa, e.g. a Rudolph, snowman or elf.
Also, include Christmas recipes so guests can bake biscuits, a yule log etc.
Don't forget to add all your Christmas photos to your ads, website and social media accounts, highlight the 'experience' of Christmas in your rental.
By making guests festive stay memorable, it will encourage them to leave a good review, recommend your property and potentially return for future stays.
Here are some more tips on how to create a Christmas cottage guests will love.
Finally, don't fret about the low season
Holiday letting is competitive and you need to stand out amongst the competition, even more so when targeting low season travellers. Hopefully, these tips will help you get more low season bookings.
However, don't obsess over filling winter months if it doesn't make sense financially or if there simply isn't enough demand. Use this time efficiently to undertake essential maintenance, create next years marketing strategy or simply enjoy the time off.
If you have any tips to boost bookings please share them in the comments so other holiday rental owners can benefit.