How to Increase Your Bookings With Video & Virtual Tours
Reading Time:
8
minutes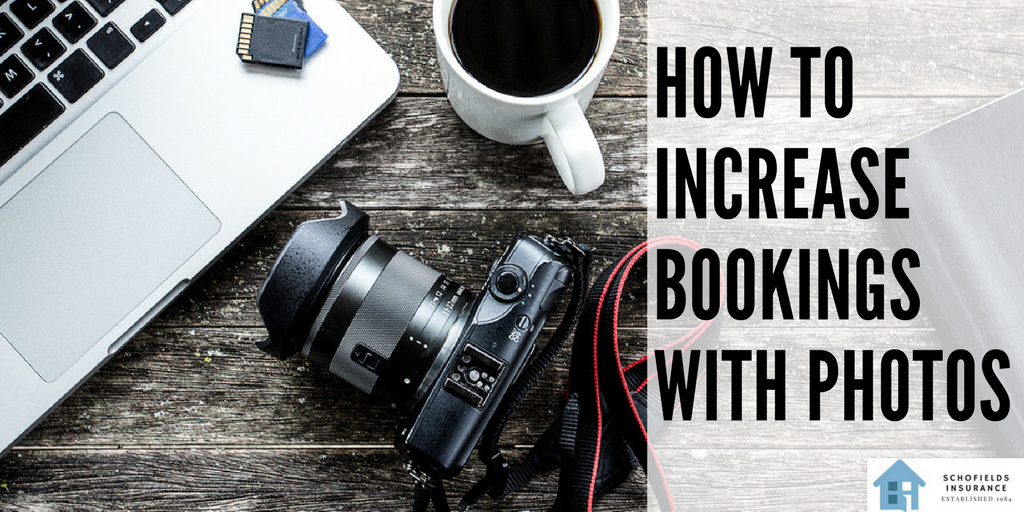 As the saying goes, a photo paints a thousand words especially when it comes travel. As a holiday rental owner, it's imperative that you showcase the best attributes of your property and its location. Unsurprisingly, your images will be the focal point of a holiday maker's decision making on where to stay.
For an individual holiday rental, there is a lot of competition and standing out can be a difficult feat. However, with a creative approach and the use of the many tools available you can devise a strong marketing campaign using images so your property stands out from the crowd.
Picture This
With images being such an incentive to holidaymakers it's essential that you produce high-quality content. A blurred, dark, off centre or 'amature' photo will more than likely put people off choosing your rental.
Thankfully, the digital age allows people to take quality photos right from their smartphone. Gone are the days of forking out for expensive cameras and equipment. Nowadays a phone will do just as good of a job and they can be easily uploaded and edited once taken.
To take a good photo you need plenty of lighting in the rooms to make the room seem brighter.
You want to take it in a corner where the entire room is in one image. If the property has a unique or picturesque feature, then capture it. Try taking pictures that showcase the surrounding views, this can be done from a bedroom window.
You may have to get creative and take artsy images of flowers, books on a sun lounger by the pool or cooking utensils in the kitchen for added effect.
If you don't think your photography skills do your property justice then hire a pro. To make your photo's even more engaging check out the section below on video slideshows.
Sometimes photos can be deceiving. Staged photos can make rooms appear larger than they actually are and objects that block views (such as trees and buildings) can be hidden. Travellers are aware of these 'tricks', so an interactive floor plan is a creative way for them to quickly visualise and explore your rental.
Interactive Floor Plans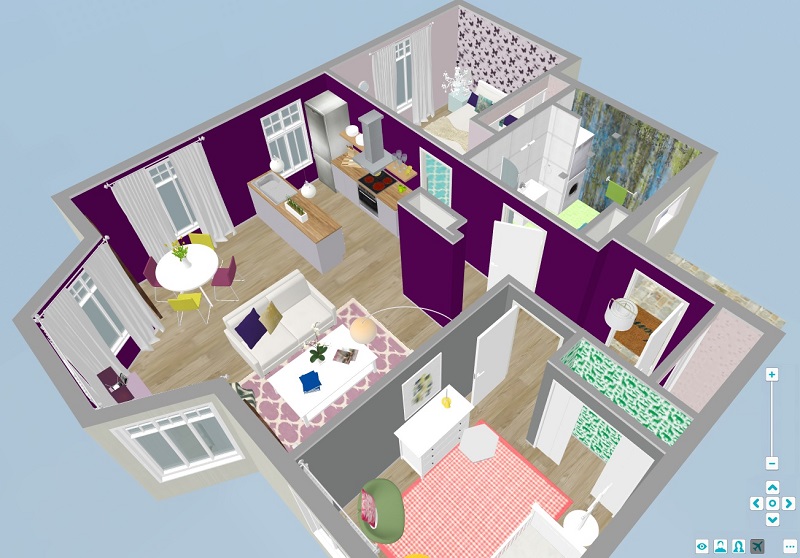 Image taken from Roomsketcher
Floor plans have increasingly become popular with guests wanting to know the exact layout of a property before booking. For example, families want to know how close the children's bedroom is to the master. Is the kitchen big enough to prepare family meals and lounge in? Is there enough space for the children to play, and for grandad to have an afternoon snooze in peace.
Until recently, floor plans had to be hand-drawn either by yourself or a professional. Thanks to the digital age such tasks can be done via an app on your smartphone. Guests can click on the floor plan to see an image of a room and even scan around from different angles to get a feel for space. You can display the layout on your website, listing advert or social media accounts.
Many companies provide interactive floor plans, with the likes of…
Unlike the apps listed above, the companies Truplace and Planomatic have a unique process when creating a floor plan. Both companies send a professional photographer to a person's property for accurate images that can then be transformed into a floor plan.
Video Slideshows
Another way to capture your property and holidaymakers attention is by using rotating images with captions and 'chilled' music. These can easily be added to your website, Facebook and Twitter profiles as an eye-catching feature.
These images can also be integrated into your holiday home advertising in order to showcase your property. Unlike an album, the rotating images automatically can identify all the key aspects of the holiday home without holidaymakers having to do anything.
Adding such content is relatively easy with guides provided by Facebook, Twitter and Instagram. 
Sally's Cottages is a prime example of using video to market a property, with the Facebook page primarily using video slideshows. The effective approach has enabled the page to attract over 400,000 likes.
Note how the page incorporates the surrounding area and uses images that focus on the main rooms in the property. Each gives an overview of the property in pictures that emphasise the property and the views. The description provided covers the essential information but mainly allows the images to speak for themselves.
There are also special sites set up for creating slideshows, Cincopa is a website dedicated to creating free slideshows for websites. It's easy to use with walkthrough guides available. Plus it is compatible with most website providers including WordPress, Weebly, Bebo and Wix.
Video slideshows add flair to your marketing and enable you to convey much more without overloading holidaymakers with too much information. For more information on what tools are available to create slideshows, click this link.
Virtual 3D Tours & Drone Video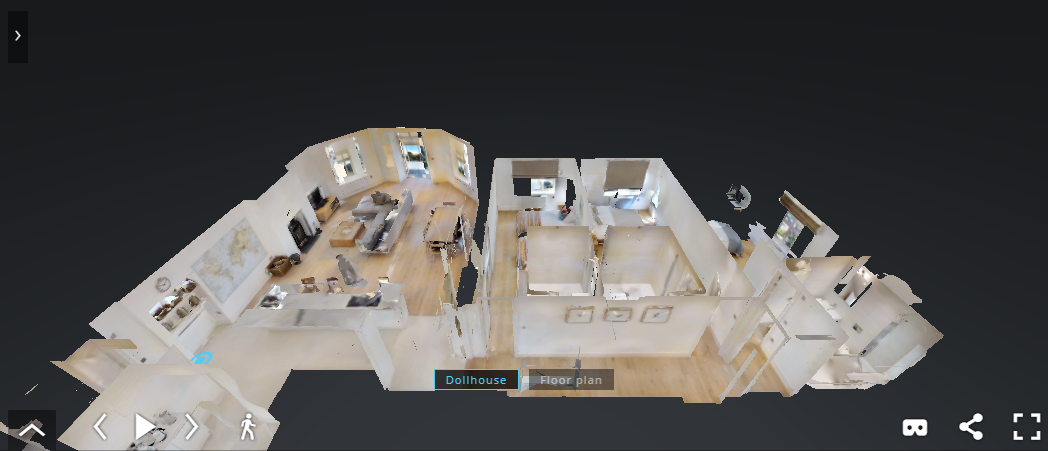 Image taken from ACT
A video or interactive 3D virtual tour is a creative and engaging way to allow holidaymakers to view your property and its surroundings without having to step inside. Guests can navigate effortlessly through your property, looking around bedrooms, the lounge and even peeking out of windows to check out the view.
Given the growing number of holiday lets on offer, showing your property in this unique way enables your rental to stand out, increase your bookings and in turn, your revenue.
3D Showcase offers such services for accommodation providers. Using both 2D and 3D sensors to capture a virtual experience that holidaymakers can indulge in. The end product shows a dollhouse structure that gives holidaymakers an idea of the layout. From there they can click on a room and be transported into a 3D. It's an easy to use system that can be accessed from all devices.
Another option is http://www.act-studios.com/ who work with several of the UK's leading holiday cottage letting agencies.
Drones are another way to capture your property and its surroundings, especially if your property has a unique view e.g. on a golf course or lake. Airborne Visuals is a UK videography business with state of the art equipment. All of the videoing is carried out by a team of CAA approved pilots who deliver "amazing" aerial images. The highly skilled team offers a quality service that accurately portrays your property. Prices for this service start at £199 subject to what you want doing. They only cover certain locations, mainly in the South, but it gives an idea of what can be achieved with a drone and the cost.
Using Photos For Special Offers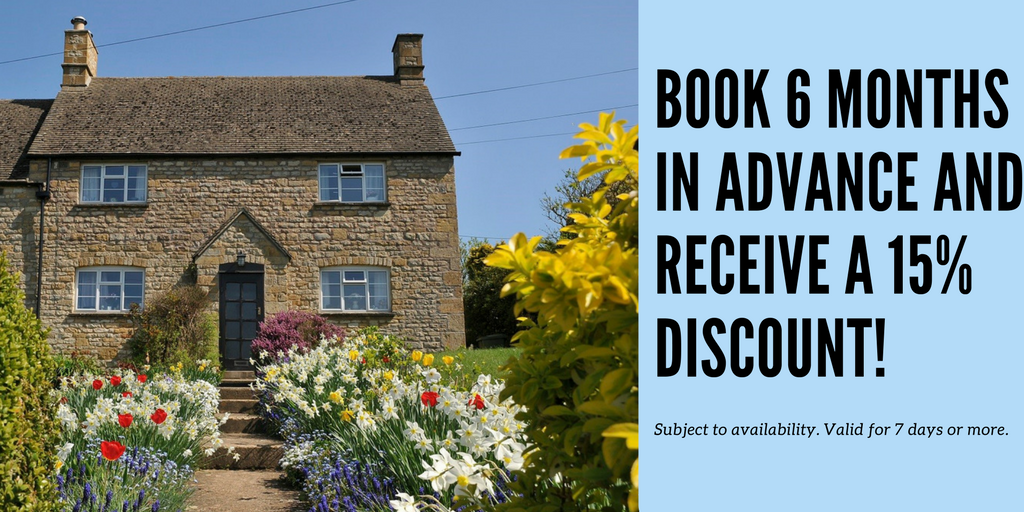 A huge incentive for many holidaymakers are discounts and reduced rates. Naturally, these need to be financially viable. However, you might want to consider discounts for returning guests or a late deal to shift a vacant week. Whether that be 5% upon return, 10% if they refer a friend or 7 nights for the price of 6.
Such offers could be made via social media postcards. These can easily be designed on Canva. The website enables you to create a variety of online cards with great ease. It's free and has plenty of options that will allow you to create a postcard that looks good and provides all the necessary information. Images, shapes, lettering and designs are all available on Canva. The cards themselves take minimum effort and time, yet have the ability to increase your bookings and revenue.
It's worthwhile researching other advert styles and getting inspiration for the design from special offers that hotels run. As for images, you may want to focus on those you've taken of your property or location for authenticity. Never copy images and use them as your own, unless they've been acquired via Shutterstock or iStock with the correct licence. Without proper accreditation or permission to use images, you could be at risk of copyright infringement.
Ultimately, discounts will engage your followers and encourage holidaymakers to return to your property especially if the offer includes breathtaking images of your rental or a gift.
Guest Competitions     
The majority of people on holiday tend to document moments with images. Whether that's having fun in the holiday home, enjoying the local sites or visiting parks and beaches, each gives a reminder of that holiday.
So why not use them to your advantage? These pictures are a perfect marketing tool that you can use for free. Naturally, some guests may be reserved about their holiday photo's being shared but others won't.
Running a competition for guests such as "Funniest Holiday Moment" that then links back to your social media account can increase traffic to your page. A simple tag can be a huge boost to your page, all of which can be accomplished with a competition.
In exchange for the free marketing, holidaymakers may be in with winning local produce, tickets for a local attraction or a discounted holiday. The prizes don't have to be overly expensive or massively cut into your revenue. Something simple could be enough of a draw.
For extra exposure, you may want to consider curating a specific hashtag for your property i.e. #LakesideAdventures. This could become an iconic hashtag that directly links to the properties social media account.
Competitions don't have to be excessive either, having them sparingly keeps your followers interested and on the lookout for competitions.
Photo Savvy Success
Not only is it important to take good photo's it's imperative that you use them to their maximum potential to market your rental.
Travellers want to visualise where they will sleep, eat, and relax on holiday and it's difficult to do your property justice with static photos. Allowing travellers to step inside your self-catering cottage and experience it for themselves with interactive virtual tours and floor plans is a savvy way to convert lookers into bookers.