9 Free email templates for holiday rental owners
Reading Time:
9
minutes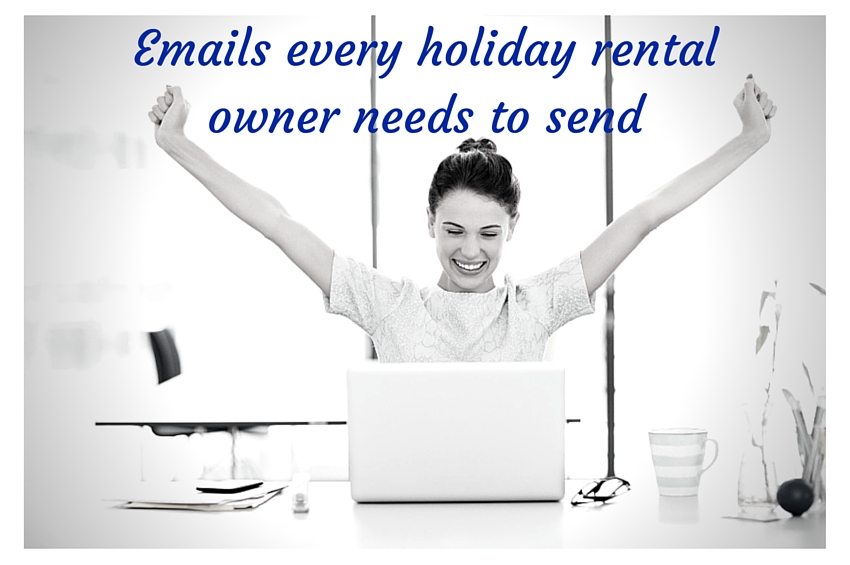 Emails are a vital way of communicating with your holiday let guests, both potential and confirmed. Not only can emails help you convert a tentative enquiry into a firm booking, they can build trust and confidence as well as keeping the booking process crystal clear for you and your guests. Here are our top tips for writing perfect holiday rental emails and some sample templates I have used for many years. You are welcome to use them.
Personalised email templates
The email process is similar for every booking so it makes sense to create a template for each email. This saves you time and effort, but don't forget that guests rarely make exactly the same enquiry so make sure the email template includes answers to any specific questions asked. Add your email signature and telephone number to the end of all emails so guests can easily contact you if necessary.
Top tip: If you're replying to an automatic enquiry sent via a holiday letting booking portal, change the subject line in your reply for a more personalised touch. For example;
Standard Homeaway reply:
Re: Enquiry from Joe Bloggs: Oct 14 to 28 – HomeAway.co.uk (your property number)
To:
Hi Joe Bloggs, Beach View Cottage is available: Oct 14 to 28
Which stands out the most? Bearing in mind the holidaymaker is likely to receive several emails from the listing site with the same standard heading.
The enquiry reply email
This is your first email contact with potential holiday let guests and the one that has the potential to convert the enquiry into a booking. Send this as soon as possible after you receive the enquiry – the quicker off the mark you are, the more likely you are to bag the booking.

Top tip: Make sure your email and SMS notifications are turned on and working so you know instantly when someone makes an enquiry. Try to reply within an hour or so.
What to include…
This email should confirm that your property is available for the requested dates – include the dates specifically in the email (and the number of nights) so there's no room for confusion. Confirm your rates, ideally a fully inclusive rate, if not then breakdown any extra charges.
It's also a good idea to list your property's unique selling points and show the extra value you provide over your competitors. For example special offers, wifi, heated pool, welcome pack, discounts at local attractions/golf courses.
Include a link to your holiday rental website where you can convince holidaymakers that your rental is the right one for them. Your website reinforces the information guests saw on your advert and builds trust.
Have a clear call to action – tell them how to book. Whether it's via your website, email or returning a booking form. Make it clear and easy. Create a sense of urgency to convert the booking, these can seal the booking and are used with great success on travel sites e.g.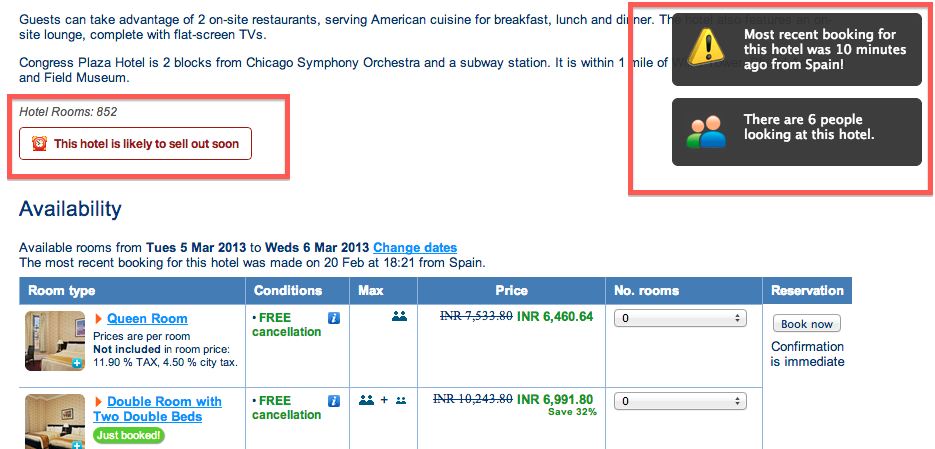 Top tip: If the holidaymaker uses their first name in their enquiry then use it in your replies, make it personal. Ask a question in your reply to prompt further communication e.g. would you like a suggestion for car hire or do you know the area or would you like me to recommend some great days out? Don't forget to include a link to your terms and conditions. Here are some more tips when replying to guest enquiries.
Sample enquiry reply email (insert as necessary)
Dear (guest name)
Thank you for your enquiry about (property name).
I am pleased to confirm that the property is currently available from (dates) (x nights) and the rental cost is (£x)
Why choose us? (benefits e.g.)
Free wifi in the property, free local telephone calls & multi room sky TV
Discounts
Your property usp (unique selling proposition)
Please visit our website (website address) for more information on our rental, the location and what previous guests have said about their visit. Hopefully the website will answer your questions but if you need more information, then please don't hesitate to get in touch on (your phone number).
(Include details on how to book your property e.g.) We would be delighted for you to stay at our rental, booking is straightforward. You can book on our website and pay the 25% deposit via credit card, bank transfer or cheque. We will contact you 6 weeks before your holiday begins for the balance, then send the arrival details. For bookings within 6 weeks of arrival we will require full payment on booking.
(create urgency) We get a steady stream of enquiries for this fabulous property so recommend that if you are interested in staying you book as soon as possible to avoid disappointment.
I look forward to hearing from you and thank you for your interest. Do let me know if you have any other questions.
Regards
(your name)
(signature with website address and phone number)
Booking chaser
Emails sometimes goes astray or into spam folders. I you don't hear back within a couple of days then follow-up to make sure the traveller received your reply, and offer to answer any further questions. A simple chaser email can securing a booking, but only chase once, move on if you don't receive a reply.
Top tip: If you have a contact number you could also give the enquirer a call. Some owners prefer talking to guests over the phone as it gives them the opportunity to discuss the property and answer questions.
Sample booking chaser email
Dear (guest name)
You recently enquired about staying at (property name and website where they found you).
Since email sometimes goes astray, I'm writing again . . . Have you already found a rental?
If not, please let me know if you have any additional questions.
If you have already completed your accommodation arrangements, please accept our best wishes for your upcoming travels!
Regards
(your name)
(signature with website address and phone number)
Not available
Don't simply delete enquiries if you are already booked for the requested dates. If your property isn't available then offer alternative dates. The enquirer may be flexible or bookmark your property for a future stay.
Top tip: Suggest similar properties in your area if you have a referral arrangement with local owners.
Sample unavailable email
Dear (guest name),
Thank you for enquiring about (property name). Unfortunately, our rental is booked during the period you requested. Are your dates flexible by any chance? I keep an up-to-date calendar on my website (link to availability calendar).
If you're flexible, please let me know – or feel free to resubmit your request on (website).
Regards,
(your name)
(signature with website address and phone number)
The booking confirmation email
This is probably the most important holiday let email because it contains all the information you and the guest need to be clear about:
Dates – confirm the date of arrival/departure and number of nights.
Number of guests – confirm the number of people who will be staying.
Rates – confirm the exact payment required for the stay including all extras such as the security deposit, welcome pack and cleaning fee.
Payment schedule – list the dates when payment(s) are due. Include your bank details if the guest is paying via bank transfer.
Top tip: Think of this email almost as a contract – make sure all the details are crystal-clear with a copy of your terms and conditions.
Sample booking confirmation email
Dear (customer name),
This is to let you know that I have received your booking deposit of (deposit amount) and can confirm that you have been booked to stay at our (property name) from (holiday dates).
The total price for this booking is (total) and the balance of (balance amount) is due no later than (date balance due). I will send you a reminder a few days before.
When I receive your full payment I will send you the directions and welcome arrangements.
(Insert details of any extra requests or answer questions e.g. car hire)
We are looking forward to welcoming you and are sure you will have a great holiday!
Regards,
(your name)
(signature with website address and phone number)
Request for Balance
This is a quick reminder to be sent a week or before the balance is due. Again, include your bank details if the guest is paying via bank transfer. Once the balance payment has cleared, send a confirmation and outline what will happen next.
Sample request for balance and confirmation emails
Dear (guest name),
You are due to arrive at (property name) for your holiday on (arrival date) and we hope you are looking forward to your stay.
You have already paid a booking deposit of (deposit paid) and I would be grateful if you could arrange to pay (balance amount due) for the balance of the rental which is due by (due date).
(add payment details)
Upon receipt I will send you directions to (property name).
Regards,
(your name)
(signature with website address and phone number)
Confirmation
Dear (guest name),
Thank you for your balance payment.
I will send the arrival information one month before your stay. It will detail everything you need to know including directions, the arrival time, collection of keys and other useful information.
Regards,
(your name)
(signature with website address and phone number)
Key collection and directions
Provide your guests with all the information they need to arrive at and enjoy your property. Provide them with:
Information on your check-in and check-out times.
Directions to your property (include a GPS reference and/or Google map coordinates).
Instructions about how to get the keys to the property.
Top tip: Schedule this email (or create a reminder) and send it 3 to 4 weeks before your guests are due to arrive. This shows you're attentive and well aware of their booking.
Along with this email send a link to/attach a pdf copy of your guestbook.
This email gives you the chance to go that extra mile with your guests and score lots of 'best holiday let owner' points. Your guestbook should include useful information such as:
A reminder of what you provide in the house and instructions.
Ideas for what to do during their stay.
Top tip: Include links to local weather forecasts and webcams.
Sample key collection and directions email
Dear (guest name)
This is to let you know the final arrangements for your stay at (property name) from (holiday dates).
(insert key collection details and an emergency contact number)
(add check in/out details)
Guest information
There is a guest book in the property with appliance instructions, useful information, directions and tips. Please take a few minutes to read this as it contains essential information to make your stay an enjoyable one – and feel free to contribute to the guestbook.
This information can also be viewed (insert link to your guest information or attach it to your email). If you haven't done already, please take some time to read this information before you arrive. It will help you make the most of your stay.
Directions
(Either give detailed directions or attach the details with maps etc).
We hope you have a fantastic holiday.
Regards,
(your name)
(signature with website address and phone number)
The follow up email
Within days of your guests' departure, send an email thanking them for being your guests. You can also use this email to:
Offer a repeat booking discount.
Ask for a review of the property. Make it easy for your guests and give them a quick link to wherever you want the review posted.
Communicate details of the security deposit – when you're returning it, and how much.
Top tip: Don't forget to add the email address to your mailing list so you can send guests special offers and updates about your property in the future.
Sample follow up email
Dear (guest name)
We do hope you enjoyed your holiday in (property name) and that you have happy memories of your stay.
If you have any comments about our holiday home, or suggestions about how we could improve it, we would love to hear them.
We hope that we may be welcoming you back to our holiday rental in the future. As an extra way to say 'thank you' for choosing us, if you or your friends wish to book again you are entitled to X% off the rental rates.
Finally, please could you take a few seconds to write a review about our (property name) at: (insert website where they can write a review, e.g. your website or the site where they found you/booked).
It only takes a few minutes and helps other guests benefit from your experience and advice.
Regards,
(your name)
(signature with website address and phone number)
Booking cancellations
Hopefully booking cancellations will be rare. It's a difficult situation to deal with and each owner deals with cancellations differently depending on the reason for cancelling. Recommend that guests takeout travel insurance in your booking terms. It's not your responsibility to refund if they choose not to take out insurance.
The following email may be useful, but tailor it the circumstances and whether you are able to re-advertising the dates or not.
Sample booking cancellation email
Dear (guest name)
We are very sorry to hear that due to (the reason) you have decided to cancel your holiday at (your property name) from (holiday dates).
We have re-advertised the dates and hopefully we will find someone to stay. In the event that we can re-let the dates we will refund (the amount paid) less a £30.00 administration charge and any costs incurred in re-advertising the holiday.
In the event that we are unable to re-let the dates, we will refund any costs which we will not incur due to your cancellation, being (the cleaning and estimated utility costs).
If you would like us to supply any paperwork to support a travel insurance claim then please let us know.
We will let you know if we manage to re-let the dates and confirm any refund due.
Regards,
(your name)
(signature with website address and phone number)
Email templates can make you more efficient as a holiday let owner and secure bookings, but you still need to schedule these emails. There are several holiday let management software options available that can automate these emails, simplify bookings and save time – but that's a post for another day.
I hope these templates make your life easier as a holiday home owner.