How to Avoid Uncomfy Bed Complaints
Reading Time:
4
minutes
If you have a holiday rental, you'll know just how hard you need to work to consistently delight your guests.
You work to provide them with an arresting slice of homely tranquillity from which to explore the sights and sounds of the local area and, with any luck, they will leave rested and full of praise for what was a memorable stay in your property. If you've done it right, then you'll quickly know about it via positive online reviews.
However, making your property stand out in an intensely competitive online marketplace is tough. In reality, great customer experience will always be key. Those who focus on making their guests feel at home, going the extra mile to make their stay a more enjoyable, are still the most successful. This is especially true when it comes to helping your guests get a great night's sleep.
On the other hand, the consequences of providing guests with a poor night's sleep, from a holiday let owner's perspective, are complaints, less-than-glowing reviews, guests not returning for further stays, or even early check-outs if the sleeping conditions are really unbearable.
In this area, the little things are as important as the big things when it comes to turning a positive review into a glowing one, and it's glowing reviews which will see your holiday home excel against the competition.
The Power of a Good Night's Sleep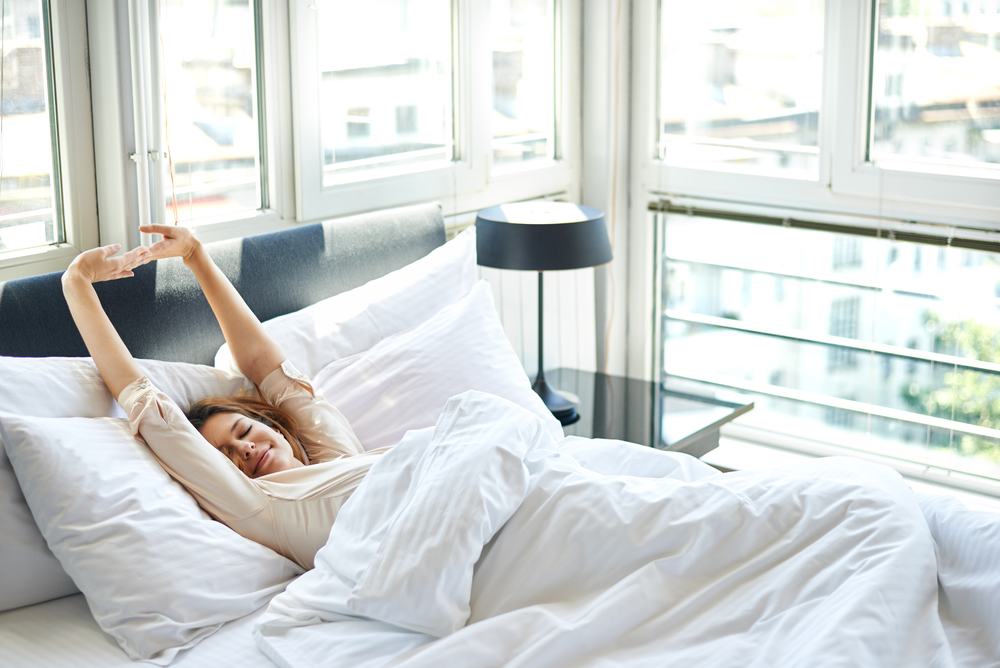 Sleep is perhaps the most important element of any stay and something for rental owners to focus on. Feeling comfortable in the bedroom that you will be sleeping in for a week or longer is vital, and aside from ensuring the room is spotless, remember:
A quality bed and mattress
There's nothing worse than laying down for that first night's sleep on holiday to find that any movement is punctuated by the loud creaks of a rickety bed. Tightening fittings regularly and, for metal beds, having some WD40 handy to stamp out any creaking as it develops is a simple way to make guests feel more comfortable rather than on edge!
Beds and bedding are the perhaps the single most important investment when it comes to guest comfort. In 2017, the Sleep Council performed a survey of the most important factors in getting a good night's sleep, and a comfortable bed came top by some margin, with 38% of participants agreeing it was the most important factor. It's easy to see then, that beds and mattresses are a valuable investment when it comes to overall guest satisfaction. Generally, guests will prefer a medium-to-firm mattress, and of course, a sturdy, quality bed.
One size doesn't fit all
Can you offer your guests different comfort options? Accommodating more choice in this area can enhance guests' experience. For example, providing a variety of different firmnesses and thicknesses of pillow, or offering a memory foam mattress topper depending on guests' firmness preferences.
Letting guests know about all the different options available to them before they book is important – sometimes, just knowing they have the choice, and that you are able to accommodate their needs, is enough to make them feel completely at ease in your property.
Quality linen
Well-worn bedsheets, although seemingly economical and perfectly clean, could be losing you favour with your guests. Performing regular checks for wear and tear and replacing bed linen which is past its best will allow you to show your bedrooms in the best light. Guests may not always comment, but they are far more likely to say something about threadbare bedding!
Be mindful of the season
No matter what time of year you're accepting guests, you can offer something to cater to the season. For example, provide extra cosy blankets for late autumn and winter stays and allow your guest to hunker down against the cold outside, and in the summer, provide a couple of extra sheets – they come in handy instead of a thick duvet when temperatures rise.
Conveniently placed plug sockets
Ensuring there are sockets near to the bed means your guests will be able to charge their tech within reaching distance, allowing them to check the time during the night and rely on their smartphones for their morning alarm.
Blackout blinds or curtains
Some don't mind (or even prefer) waking up at the crack of dawn when on holiday, but the other 99.9% of us thank the proprietors of our holiday rentals for blocking out most of the sunlight until we're good and ready. In fact, 17% of people cited blackout blinds or curtains as the most important sleep factor in the Sleep Council's 2017 survey.
Ear plugs
If your holiday rental is in the city (or even if it's not!) it can be a great idea to provide guests with earplugs to block out any excess noise. When doing so, however, ensure they are safe for sleeping, i.e. made of soft foam and allow guests to sleep on their sides without impediment.
The Value in Investing in Sleep
When it comes to making guests happy, getting great reviews and showing your holiday home to be an ideal choice for prospective visitors, making sure guests get a good night's sleep is vital.
Although bedroom furnishings can be a significant investment, they are certainly worth it. As well as this, there are many cost-effective things rental property owners can do to make the difference between good and great. Make sure your property caters to the comfort needs of your guests, give them a seriously good night's sleep, and reap the rewards.