Spring maintenance checklist for holiday let homes
Now is the perfect time to spring clean your holiday home. Not only do you have a duty of care to keep your property in good order, you also have to ensure your guests' have a safe and disasters free holiday.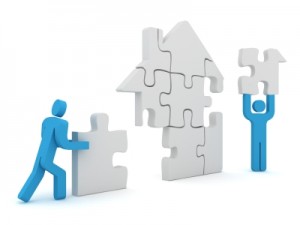 This post is inspired after three days spring cleaning our holiday home. I recently bought a steam cleaner to give our holiday property a 'deep clean' (warning – once you start steam cleaning you can't stop!) which I recommend.
Also, it's important that you stay in your holiday home 'as a holidaymaker' to identify problem areas that can be resolved before the busy letting season commences.
A checklist of spring maintenance tasks for your holiday home
Rather than duplicate our winter maintenance checklist here, I suggest you also consult the tips highlighted in that post as there are many winter maintenance tasks that also apply to spring. Pay particular attention to storm damage to roofs, blocked drains/gutters and leaking pipes.
Kitchen
Re-seal around worktops, clean tiles and re-grout
Replace dishes, glasses, and mugs that are chipped or mismatched
Clean the cooker hood extractor
Sanitise the refrigerator and defrost freezer
Clean oven
Descale kettle
Check appliances are working
Bathroom
Remove mouldy silicone and re-seal
Clean tiles and re-grout
Plunge drains
Are your towels looking tired, stained? Buy some new towels (guests love soft and fluffy towels)
Bedroom
Upgrade tired linens and pillows
Turn your mattresses, check for stains and hoover them
Loft
Check the loft for signs of moisture and burst pipes
Look for indications of a pest infestation
Other interior/exterior
Test and replace the batteries in your smoke detectors and carbon monoxide alarm
Test the fire extinguisher
Annual safety checks – ensure gas, oil and electrical appliances are serviced by qualified engineers
Get your chimney swept to reduce the risk of fire in the flue and carbon monoxide fumes
Check walls for patches of mould or damp that may have appeared due to poor ventilation. If you have a damp problem consider a dehumidifier
Give your home a deep clean – steam clean the floors, tiles, carpets and curtains
Clean air-conditioning units
Inspect your furniture to ensure that it is safe and fit for purpose
Repaint or do some touch-ups in the most used and/or visible areas
Clean the BBQ and check the gas level
Some of these should be checked during each changeover, so it's useful to have an inventory/cleaning list that your housekeeper can cross-check after each rental.
You can't claim if you don't maintain
Regular maintenance will keep your property in good order for holidaymakers and can save on expensive repair bills. As a policyholder the insured has a duty to prevent loss or damage. Remember, insurance is not a maintenance contract – wear and tear is not covered.