Fire risk assessments for holiday lets & cottages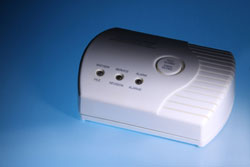 Firstly some facts:
It is a legal requirement to have a Fire Risk Assessment
There is no official form or template for Fire Risk Assessments
You don't need to be qualified to conduct a Fire Risk Assessment
Your responsibilities
As the owner of a holiday let, you have a duty of care to guests staying in the property.  You should ensure that you have appropriate insurance, that all appliances are functioning correctly and the property is cleaned and ready for their arrival.
In terms of fire safety, as an owner you provide a fire blanket or extinguisher, and ensure the smoke alarms all work.  But there is slightly more to it…
What is a Fire Risk Assessment?
Put simply, it is a document which assesses the risk of fire in a property.  For guests, it is a document which should be easily available to them, for example in the welcome pack, informing them:
Where the fire blanket and/or fire extinguisher are.
Where smoke alarms are and how to test them.
What are the fire risks / sources of ignition in the property.
Where are the escape routes.
In Detail
To complete the fire risk assessment, information recorded includes the like of:
Listing electrical goods in the property.
The smoking policy, if there are designated smoking areas and disposal of cigarette ends.
Any candles in the property, their use and location of candle holders, matches.
A description of heating in the property, including the location and instructions for a boiler and electric fires.
A note that about the furniture's compliance with Fire Safety Regulations.
Appliance electrical safety (a good opportunity to ask guests to unplug items at night?)
Exit points and the evacuation procedure, including the important advice to ensure everyone leaves the property quickly and call 999.
What next?
The completed Fire Risk Assessment should be placed in the property for incoming guests to read.  This is the fundamental purpose of the assessment – it is there to inform guests and help prevent fires during their stay.
A second copy of the Fire Risk Assessment should be kept off-site.  If there is an investigation into a fire, this document will need to be produced.
Who can produce my Fire Risk Assessment?
There are plenty of fire professionals who will carry out the assessment for you, at a cost of between £100 and £200.  As mentioned above however, an owner or their property manager/cleaner can complete the document themselves.  As a responsible owner, it would be diligent to check the Fire Risk Assessment thoroughly if it has been completed by another person.
Still unsure?  If there are any elements of the Fire Risk Assessment you are unsure about, contact the local authority fire safety officer.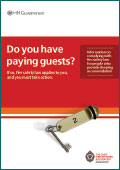 Further reading
This Government PDF booklet 'Do you have paying guests?' gives practical advice on reducing fire risks in self catering properties.
Need more advice? We recommended that you contact your local fire safety officer.