How to Create a Festive Christmas Cottage
Reading Time:
4
minutes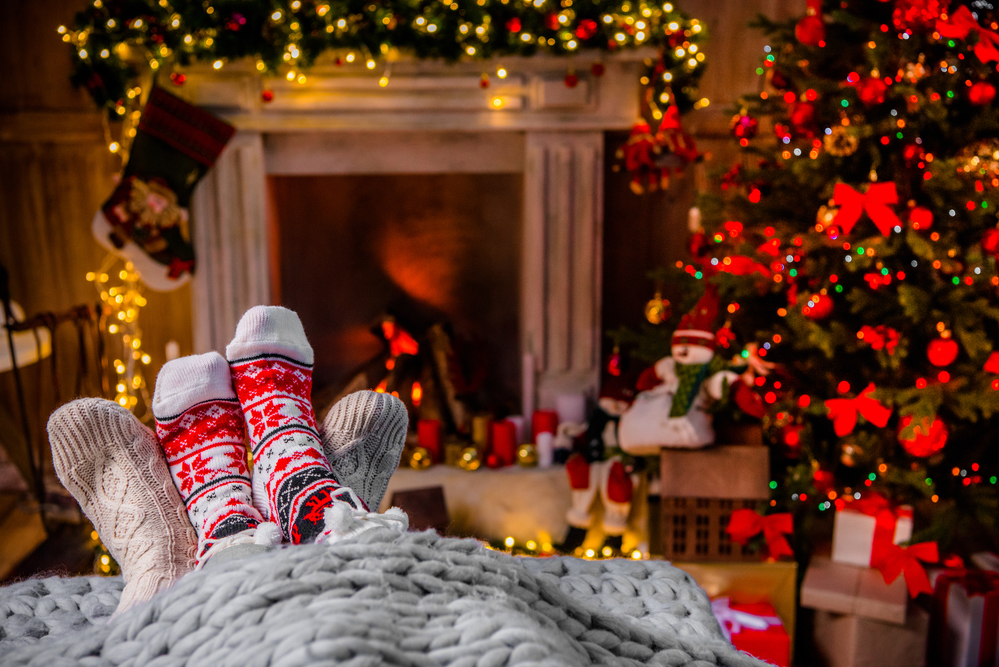 Tis' the season to be jolly and there's no better way to celebrate the festive holidays than in a cosy holiday cottage.
Depending on where your holiday property is located, the COVID-19 travel restrictions might mean this year's festivities won't be the same. However, there are still numerous ways for families to celebrate while still respecting safety guidelines.
With a little imagination, you can create a memorable Christmas and New Year getaway your guests will love. By implementing the ideas below, you may earn yourself a five-star review, a few referrals, or even persuade your visitors to come back again.
Provide a scrumptious Christmas hamper
The holidays are known for relishing tasty treats and beverages which evoke the feelings of cosiness and nostalgia. Surprise your guests upon arrival with an extra special Christmas welcome pack filled with festive goodies.
To get guests in the Christmas spirit, include some firm festive favourites, such as:
A bottle of mulled wine or some ingredients to make their own
Hot chocolate and all the trimmings – squirty cream, marshmallows and cinnamon
Mince pies
An assortment of cheeses
Christmas pudding
Christmas marmalade & chutneys
Ingredients for Christmas cooking – cookie's, yule log cake, gingerbread house kit
Toiletries that feature Christmas smells like cinnamon, orange, cranberry
Christmas DVDs & C.Ds
Provide some Northern Lights Colour Fire Cones for your open fire (they change the colour of flames to replicate the Northern Lights)
Party hats, crackers and balloons
Leaving a Christmas card for your guests is a nice personal touch that'll leave them feeling welcome
For families travelling with children, include items for the youngsters to enjoy:
Sweet treats – chocolates, candy canes & selection boxes
A small toy off Santa – Rudolph, Snowman or an Elf
A book (the snowman) to read on Christmas eve
Reindeer dust for the children to sprinkle – and a carrot of course!
Before you fill your Christmas hamper, check if any guests have allergies or if anyone is vegan. Be creative with your selection – what would make you feel touched if you were the guest?
Consider purchasing pre-packed items in advance and quarantine the goods for 3 days before guest arrive.
Deck the halls
Invest in some decorations for your holiday cottage to leave a lasting impression on your guests.
Here are our top choices for every Christmas cottage:
Christmas tree: In addition to one in the main living area, why not get a few smaller trees that can be placed around the house for added cheer.
Decorating the Christmas tree is a tradition all the family can enjoy, but maybe your guests didn't get a tree at home in anticipation of being away for the holidays? Leave a bare tree, ornaments and lights in your living room, so they can decorate it as a family – creating lasting memories.
Wreath: A pretty wreath of holly, mistletoe and other festive foliage on the front door is another easy way to welcome your guests as they arrive.
Fairy lights: Fairy lights makes for a cosy atmosphere.
Tableware: Include table coverings, napkins and crackers.
Stockings: Whether hung on the mantelpiece or by the tree, Christmas stockings are a lovely touch for families spending Christmas day in your cottage.
Make sure your kitchen is fully stocked
Family, comfort, and food are among some of the most important things during the festive holiday. Guests will have booked your holiday cottage (over a hotel) so they can cook and enjoy delicious meals. Make sure guests have everything they need to cook hassle-free festive meals, so they don't have to buy or bring everything with them. It's also a nice touch to have the dining table dressed and prepared for guests.
Offer grocery services
Guests will likely have travelled from out of town, so they'll need to buy groceries required for meals. Save them time and offer to pre-order groceries for them, even a turkey!
If they prefer to do their shopping themselves, provide a list of local suppliers. Lots of restaurants that have been forced to close are offering prepared meal boxes or a private chef to cook in your home. This is something you could also offer your guests.
Include fun activities
Christmas is a time when families and close friends reunite and celebrate. The winter weather means guests are likely to spend time indoors, so include fun games and activities that families can enjoy together.
Provide a selection of board games, such as Scrabble, Monopoly, Jenga or karaoke. Arts and crafts are a great idea for children.
 Provide a what's on guide
With all the Christmas chaos, it's likely your guests will have left the planning to the last minute. Make their lives easier by creating a 'what's on guide' so they can have a memorable stay.
Let them know:
Where to enjoy a walk on a crisp and sunny winter morning
The best pubs with cosy fires
The best Christmas light switch-ons and markets featuring local produce and a warm welcome
Make a list of your favourite local shops for some last minute gifts. Try and negotiate an exclusive discount just for your renters
The best place to celebrate New Year's Eve
Recommend somewhere they should book for their Christmas Day meal
Help minimise travel stress
To help ensure their holiday gets off to the perfect start, try to minimise travel stress.
Be flexible with your arrival/departure days. Avoid peak dates such as Christmas Eve, Boxing Day and New Year's Eve, so guests can avoid congestion on the roads.
At this time of year, there's an increase in adverse weather. If there are travel warnings in place, contact your guests so they know the local weather conditions and if there are any problems reaching your property. Work together to resolve the situation safely. Provide shovels to clear the driveway should they be snowed in and make sure they have access to rock salt to prevent falls on slippery surfaces.
Christmas cleaning
In line with your coronavirus cleaning procedures, you might consider minimising the level of decorations and objects that guests touch. Use plug timers on fairy lights so guests don't have to unplug them. Christmas decorations should be cleaned and disinfected between guests, or possibly rotated and quarantined.
It's the little gestures that matter
Let guests know that you are available to help with any questions or emergencies over Christmas and ask whether they will be needing anything specific during their festive trip.
For such a small investment, I can't stress enough how much guests appreciate these thoughtful gestures and attention to detail. They show guests that you care about their Christmas holiday and make your holiday cottage stand out from the competition.
Finally – make sure you enjoy your Christmas break just as much as your guests!