Top Tips to Protect Your Holiday Cottage This Winter
Reading Time:
4
minutes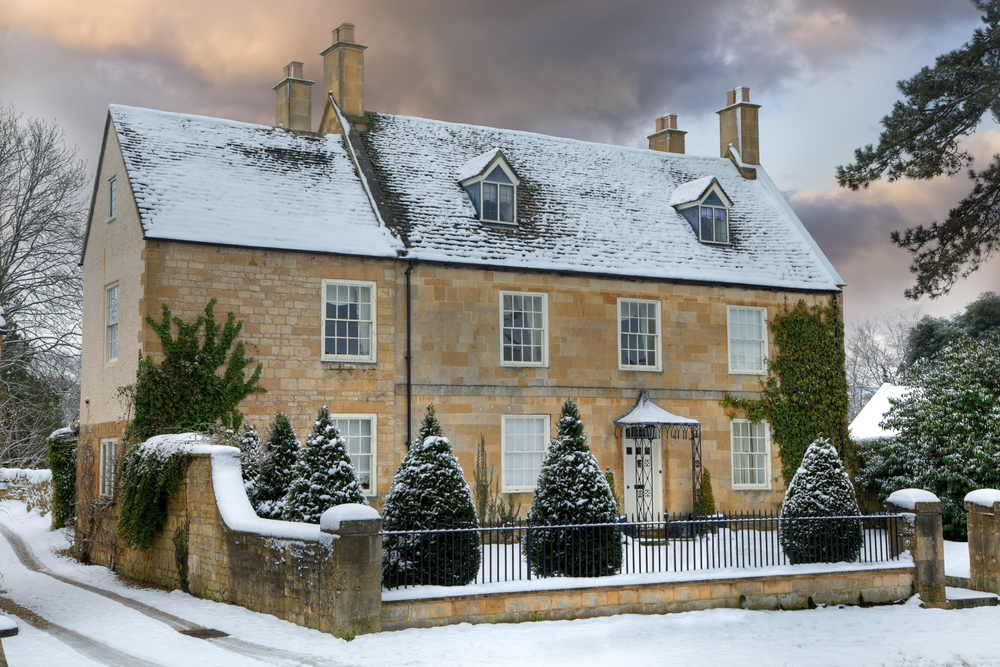 Not only is the harsh cold and stormy weather more likely to cause damage to holiday homes over the winter months, the risk of burglary increases.
A little time and effort now can save a lot of hassle (and money) further down the line. Here are several preventive measures you can take to protect your holiday cottage during the harsh winter weather.
Appliances, utilities and plumbing
When the temperature drops in winter, there is an increased risk of frozen pipes which can burst in unoccupied homes. A burst pipe can be catastrophic, causing thousands of pounds worth of damage and major inconvenience. Escape of water is one of the most common home insurance claims.
To reduce the risk of an escape of water claim, drain down the heating system and shut off the water supply so that there is no water in the pipes which could freeze. Turning off the water is not enough – you need to drain down to remove the threat of burst pipes and water damage entirely.
Insulate pipes and water tanks.
Drain the toilet cisterns by flushing, then pour a cup of salt down the toilets and plug holes to prevent residual water freezing.
Putting neat bleach in the toilet and cover the toilet with cling film. This slows down evaporation and keeps it clean.
If you need to leave the power on, then unplug all unused electronic equipment to avoid the risk of fire and power surges.
Empty and clean the fridge/freezer, turn off and leave the doors open.
Also, remember to turn the gas off during long absences.
If your property is heated by oil, your supplier should also be able to tell you what additional precautions you should take during very cold weather to prevent oil gelling/freezing and blockages.
Avoiding damp
Interior mould is not only a health hazard but can also ruin soft furnishings and leave unsightly marks and mould on the walls. To reduce the risk of returning in the spring to surface mould, try these tips:
Electric dehumidifiers are ideal. Use one that automatically switches off when it needs emptying, or one that allows the water to flow into a shower tray, sink etc.
Alternatively, leave portable dehumidifier boxes around the As a cheaper alternative put bowls of salt around the house or cat litter in a tray. This soaks up excess moisture in the air to reduce damp.
Ventilation is one of the best ways to prevent excessive moisture from building up and avoiding damp. Leave doors open so air can circulate between rooms. Ideally, every month, open the doors and windows for an hour or so to let some fresh air in on a dry day.
Buy some cheap bed sheets and lay them over furniture and furnishings to prevent mould.
Pull your furniture away from walls and damp windows to let air circulate.
Use vacuum bags to store bedding, cushions etc.
How to keep your property secure over winter
Burglaries typically spike by a third after the clocks go back and the winter nights become darker. Unoccupied holiday homes are easy to target. However, these preventative steps can help reduce the likelihood of break-ins and burglaries.
Securely store outdoor furniture and loose items in the garden in a garage or shed. Leave nothing outdoors that can be blown about by strong winds or be stolen.
Check that all your windows and doors are locked when you leave to prevent unauthorised access. Five lever mortice deadlocks are usually recommended.
Ensure that garages, sheds and gates are secured with padlocks.
Install smart devices such as CCTV cameras, motion sensors, heat/flood detectors and thermostats that can be managed remotely to monitor risks.
Have interior lights on a timer to make it look like someone is home. Also, install motion-triggered lighting for the exterior of the house as a deterrent.
Having valuables on show can be enough to entice opportunistic criminals – keep them out of sight.
A burglar alarm deters most opportunist thieves and if triggered, it can notify neighbours that the property may have been broken into.
Ask a neighbour or a property manager to inspect your empty holiday home for damage at least once a week.
You can find even more security tips in this guide.
More tips:
Food attracts vermin. Any food that is left in the property should be locked in metal containers with tight lids. Inspect the loft and look out for droppings, smells, evidence of gnawing or chewing.
Even if you are only leaving your holiday home unoccupied for a short period during winter, you should read our advice on how to prevent frozen pipes and bursts.
You can never rule out the chance of damage completely, but you can take steps to reduce the likelihood of it happening. Here is a checklist of essential winter maintenance tasks holiday home owners should do.
Make a checklist of all the things you've done, so when you return, you'll remember all the things that have to be "undone".
Check your insurance cover
More than half of Britons fail to read the terms and conditions of their insurance policy. Your holiday home is at the most risk when it's left empty – that's a fact.
If you are leaving your holiday home unattended for a long time over winter, you should check your insurance for unoccupancy restrictions and winter warranties.
Do you have to:
-Drain down the heating system
-Maintain a minimum temperature
-Increase security
-Inspect the holiday home regularly
These clauses could void your insurance coverage if you don't fulfil your obligations.
You should also be aware that Insurers are unlikely to pay for claims that are as a result of poor maintenance and wear and tear.
By keeping your holiday home well maintained when you lock it up for winter, you are reducing the risk of damage. After all, "prevention is the best cure"!
To summarise
Keeping your holiday cottage safe when you lock it up over winter is about getting the basics right and following a few simple rules. Hopefully, this will reduce the odds of needing to make a claim for loss or damage this winter.