Prevent carbon monoxide risks at holiday lets & cottages
Carbon monoxide poisoning can be lethal. There have been a number of tragedies in this country and abroad in recent years. Most notably the tragic story of the two children who inhaled lethal levels of carbon monoxide in their holiday apartment on Corfu.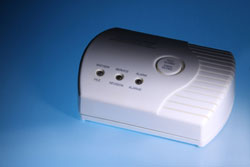 Carbon monoxide (CO) is a colourless, odourless, tasteless and highly poisonous gas that can kill quickly without warning. Early symptoms include: headaches, dizziness, nausea, vomiting, tiredness and drowsiness. CO poisoning can be caused by incorrectly installed, poorly maintained or poorly ventilated cooking and heating appliances.
Those who rent holiday accommodation such as cottages, lodges, apartments and villas, should understand their obligations with regards to carbon monoxide safety.
In the UK, holiday let landlords have a legal duty to maintain, and have an annual safety check on all gas appliances and flues by a Gas Safe Registered engineer. Also, overseas holiday home owners shouldn't neglect their duties to provide safe accommodation. As the owner you could be liable for injury whilst holiday letting.
The Health and Safety Executive strongly recommends the use of audible carbon monoxide (CO) alarms as a useful back-up precaution, but they must not be regarded as a substitute for proper installation and maintenance of gas appliances by a Gas Safe Registered engineer. Before purchasing a CO alarm, always ensure it complies with British Standard EN 50291 and carries a British or European approval mark, such as a Kitemark.
Audible carbon monoxide alarms can be purchased comparatively cheaply from most hardware stores.
Don't ignore the risks. An audible carbon monoxide alarm used in conjunction with regular servicing and maintenance of gas appliances is the most reliable way of keeping your holiday home, family and guests safe.
Should a third party take legal action against you relating to carbon monoxide, ensure your holiday letting insurance will indemnify you as the owner for any amounts you become legally liable to pay as damages for bodily injury at your premises.