Insuring Valuables In Holiday Homes
Following on from our last post on checking holiday home security requirements in case of burglary, there is also the issue of whether valuables are covered by holiday home house insurance.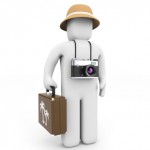 Burglars are twice as likely to break into a holiday property when it is occupied, as owners and holidaymakers arrive with cash, jewellery and an array of electronic devices such as phones, laptops and ipods. The majority of burglaries are opportunistic, as thieves take advantage of people in 'holiday mode' who leave doors unlocked and windows open whilst at the pool or beach.
Valuables are unlikely to be insured
Unlike main residences, holiday homes do not usually contain a lot of valuables, as they are often left empty for long periods or holiday let to strangers. Consequently, second home policies do not normally include cover for personal possessions and valuables.

So how do you insure them? If you want to take valuables to your holiday home, these should be covered by your main residence 'all risks' contents insurance for theft, loss or accidental damage outside your home. Holiday rental guests should arrange the same cover for their valuables.
Travel insurance may also provide some cover, but it is unlikely to be as comprehensive as 'all risks' provided by home insurance.