How to calculate buildings insurance rebuild cost
Reading Time:
3
minutes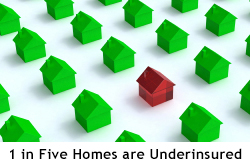 Your holiday home is likely to be one of the largest financial investments you will make in your lifetime, therefore it is extremely important that your holiday home buildings sum insured is accurate.
Astonishingly, research shows that as many as one in five households could be underinsured, risking a major financial loss should a disaster affect their home.
Ultimately, it is you the property owner who is responsible for making sure that the "sum insured" is accurate.
The rebuild value
Your holiday home buildings sum insured should represent the present day total cost of rebuilding your holiday home including debris removal, architects', surveyors', consultants' and legal fees and VAT and the additional cost of complying with government or local authority requirements.
It's important that you only insure for the rebuild value, not the market value (how much you would get if you sold your property).
If you are unsure of what constitutes buildings, see our previous post for advice on what buildings insurance covers.
How to calculate holiday home buildings sum insured
If you had a survey done on your holiday home when you purchased, it (or your mortgage agreement) should indicate a "minimum reinstatement costs" or "rebuild value" for insurance purposes. This figure should be a useful guideline for the sum insured.
Alternatively, there are two main ways to find your holiday home rebuild cost: hire a surveyor or use a rebuild calculator.
For UK homes, the best way to get an accurate rebuild cost is to instruct a chartered surveyor (who is a member of the Royal Institution of Chartered Surveyors) to prepare a professional rebuilding cost assessment for buildings insurance purposes. This is essential if your home has unusual features or is listed.
You will have to pay for a survey but the cost is insignificant compared the amount you would be out of pocket as a result of being underinsured.
The RICS web site can be used to search for a Chartered Surveyor in your area.
If your holiday home is overseas, your lawyer should be able to advise on where to locate a qualified surveyor.
The second option is to use The Association of British Insurers buildings rebuild cost calculator to help you assess the rebuilding cost of your property. To use the calculator you'll need to measure your homes external floor area for both upstairs and downstairs. After entering this information the calculator will produce an approximate rebuild cost.
Although free to use (registration required), the problem here is that you only get a rough idea of your holiday homes rebuild cost. The most accurate way is to hire a professional surveyor to prepare a rebuilding cost assessment for insurance purposes.
Keeping your buildings sum insured up to date
Check if your insurer 'index links' your policy. This means that your buildings sum insured is altered automatically in line with fluctuations in rebuild costs. Usually this is done each year at renewal.
If they don't, and the rebuild cost increases without your buildings insurance sum insured increasing to match, you could end up underinsured. It's important to note that index linking only works properly if your sum insured was correct at outset.
Also, periodically check that your buildings insurance amount still reflects the actual rebuild cost. It is likely that it will need to be increased to reflect any improvements that you make to your holiday home – an extension or new kitchen for example.
Don't under-insure
Under-insuring a holiday home, whether deliberately to reduce the premium or by negligence, could mean the insurer will reduce claims payment by the percentage that your property is underinsured by.
For example, if the actual rebuild cost is £200,000 but you are only insured for £150,000 – you are underinsured by 25%. Therefore any claim you then make under the buildings section could be reduced by 25% depending on the insurer.
Likewise, you don't want to over-insure.
To summarise;
It is you the property owner who is responsible for making sure that the "rebuild value" is accurate to cover risks.
For peace of mind hire a qualified Surveyor to prepare a Rebuilding Cost Assessment for insurance purposes.
Under-insuring a holiday home could mean your insurer will reduce claims payment and apply average.
We constantly stress the importance that property owners ensure they choose holiday home insurance that gives maximum cover with minimal exclusions, rather than deciding based on price alone. However, in addition to the cover, it's essential the rebuilding cost is accurate.
If you need any advice on insuring a holiday home please get in touch or get a quote.