Why a holiday rental property is a good investment
Reading Time:
4
minutes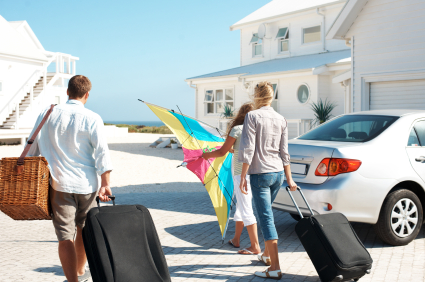 Whether your holiday home is bought for pleasure or business, it will add to your overall sense of wellbeing and can be a shrewd investment. According to research by the London School of Economics for HomeAway, the gross income of all holiday rental owners in the UK is as much as £950 million a year.
Plus, more holidaymakers are now choosing private self-catering homes as their travel accommodation choice. For comfort, flexibility, space and a home-from-home environment. Holiday rentals are especially popular with families, who don't want to feel restricted by mealtimes and choice of meals, and don't want to be cooped up in a hotel room for a week.
If you're thinking about investing in a holiday home, it would seem that now is a good time to do it. Or is it? Owning a holiday let can be rewarding and enriching, but it will only be profitable if you treat it like you would any other successful business.
Over the coming weeks we'll be examining the pros and cons of investing in a holiday home to let out. In this first article we're looking at the reasons why a holiday rental is a GOOD investment and why now is a good time to buy.
Return on investment (ROI)
In an era of financial scandals, low interest rates and volatile stock markets, property investment is relatively low risk compared to other investments.

Many people choose to invest in a holiday home, over a long-term let property. The biggest motivator being that you can combine owning your dream holiday home, with a higher rental yield and less punitive taxation.
With an average around 30 weeks occupancy a holiday rental property can produce a very healthy return on investment. Cottages in popular locations can pull in as much over the six week school summer holiday period as a traditional buy to let property would pull in over six months.
A HomeAway report suggested that UK holiday rental owners earn an average of £12,750 in gross annual income per unit, with total expenditures of just £6,000. That's an immediate 100% gross profit! Many owners exceed this but you have to work hard and market your holiday let the right way.
In addition to capital appreciation, you can sell your holiday let as a business.
If you are serious about creating an independent income source with your holiday rental, you'll need to do your research and pick the right property and location. And you'll have to be prepared to give up your holiday home during most of the high summer season, Christmas and school holiday periods, as this is when guests are prepared to pay high rental rates for well-presented accommodation in a sought-after location.
Cover your holiday home expenses – and more
Many landlords struggle to keep up with annual expenses on a property that lies empty for periods during the year. Renting it out to holiday guests can help pay off those expenses and take the pressure off a luxury that you might not otherwise be able to afford.

Attractive tax relief (compared to buy-to-lets)
After a raft of tax and regulation changes affecting buy-to-lets (restricted mortgage-interest tax relief, it's harder to offset wear-and-tear repairs against tax) you might be forgiven for thinking there is a war on property investors.
However, the scaling back of tax relief on buy-to-lets does not apply to furnished holiday lets. You can still offset your full mortgage interest against any rental income and wear-and-tear as before. You may also be able to claim entrepreneur tax relief when you finally sell your home.
The tax advantages for holiday let investors are certainly more attractive.
Flexibility to be your own boss
The flexibility of owning a holiday let is a big draw for many owners. You can rent it out when it suits you, and during peak periods, when it's not booked you can use it yourself for family weekend breaks or a cheap week away. As a holiday let investor you are the boss. 

You might want to generate income on the property now, but many owners objective is for their holiday home to be their principal residence in the future: a home to retire to, or to pass on to their children. At least for now, it's paying your expenses, saving you money on alternative holidays and earning you an extra income.
Rise of business travellers



Business travellers are increasingly choosing holiday let accommodation during business trips. Corporate companies are used to booking executive self-catering accommodation and short-term rentals for their employees.
Now with the rise of sites like Airbnb, individual business travellers – tired of staring at the four walls of a hotel room every few weeks, are also turning to private holiday lets. They have the comfort of their own home, which they may be away from frequently; can hold meetings in a relaxed environment, and entertain clients during their stay.
Giving back to the community
There's been a lot of research on how holiday rentals contribute to the local economy. Statistics show that travellers staying in holiday rental accommodation spend more in the local community than hotel dwellers. That means as an owner you're giving something back to your community and the local economy, as you can recommend local shops, supermarkets, bars, restaurants, activities and employ locals.

Sit back and let someone else do the work
If you don't have time to manage a holiday let yourself, there are professional managers and holiday cottage agencies that will manage it for you. They can advise you on the right marketing, organize changeovers, cleaning and maintenance. You'll need to weigh up the extra expense with the freedom it gives you, especially if you have a full-time career.

To summarise
Whether it's a house by the sea, a quaint country pile, a chic town apartment or a place in the sun, holiday homes provide a sense of fulfilment that your main home can't. Many of us long for a bolt hole.
With mortgage rates at record lows and more holidaymakers choosing private self-catering homes as their travel accommodation choice, a holiday let can be both a shrewd financial and lifestyle investment.
But overall, holiday lets are a "lifestyle business". Something you do because you enjoy making guests holidays a memorable one, and that they appreciate what you're doing. Plus there will be times when you can sit back and enjoy your 'dream home' – with a sense of achievement.
The more you put in, the more you get out!
And now for the cons…
Not convinced a holiday home is the best investment for you? You may be right. Why holiday homes don't make profitable property investments.