Tree damage: Does insurance cover a fallen tree?
Reading Time:
2
minutes
Following the recent powerful winds sweeping through the country, we have had a number of enquiries from customers who are unsure as to what their home insurance for second homes does and does not cover in relation to fallen trees.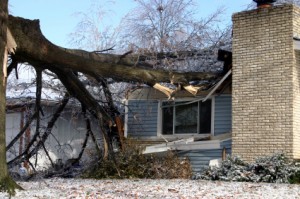 As the great storm of 1987 demonstrated, falling trees can cause widespread disruption and damage.
Fallen trees are a bit of an insurance grey area, but generally speaking insurers will deal with a claim as follows.
A tree has fallen in my garden – will my insurance pay for damage and for it to be removed?
Typically, with an insurance policy, you may find that a policy covers only the damage caused by trees, and not the trees themselves. This is because trees are not 'part of the buildings' in the terms of the policy. This means that simply removing a fallen tree is not covered.
However, damage caused to the buildings by falling trees is covered and often the removal of the tree if it's required to carry out repairs to the building. But pay particular attention to the 'storm' section in your insurance policy as there are usually exclusions for storm damage (by falling trees) to gates and fences etc.
What about those with property insurance abroad?
This depends on the insurer and country. For example, in France, insurance companies each have their own definition of what they consider to be a storm, based on wind speed readings taken at a nearby weather station. So, damage caused by falling trees that have toppled due to high winds may not be considered storm damage if the recorded winds weren't strong enough. Therefore, damage wouldn't be covered.
I cut back a tree in my garden and have caused some damage to my property – am I covered?
Most insurance policies exclude loss or damage caused by trees being cut down or cut back within the premises. Ideally you should employ a qualified tree surgeon who has their own insurance that covers damage.
A tree has fallen from my neighbour's garden in to mine. Who pays for the damage and removal of the tree?
If a tree from your neighbour's garden falls in yours (or vice versa), causing damage to fences, again, it is unlikely you can claim on your neighbour's insurance. Your neighbours policy covers their property not yours. You may, however, be able to claim for damages against you if you can prove a case of negligence.
Otherwise, it may typically be your responsibility to remove or chop up the tree for firewood and repair any damage – though one would hope that your neighbour would offer to help with costs.
How insurers deal with fallen trees varies from policy to policy. If you have trees that could potentially cause damage you should get clarification from your insurer on what's covered.