Coronavirus (Covid-19) Update
Reading Time:
3
minutes
Last updated: 25 March 2020
UK and Overseas Holiday Home Insurance policies
Following the Government "lockdown" restrictions now in place for an initial 3-week period, we provide the following update:
The policy provides cover under Sections five: Loss of use and denial of access as follows: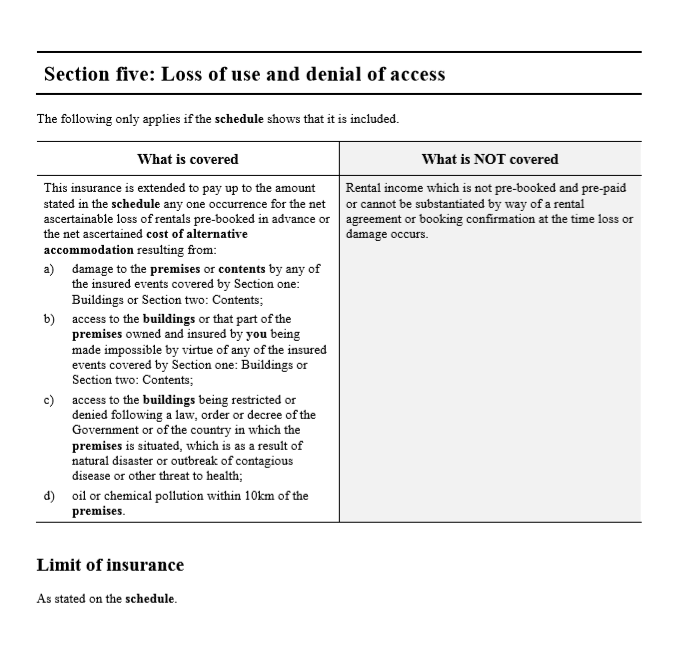 Your policy schedule will detail the sum insured being either £0 or a value.
How to make a claim
Firstly, we ask for your co-operation, patience and compassion during these unprecedented times.
Claims handlers are working under huge volumes of enquiries, therefore we cannot guarantee the usual high level of service. There is no urgency to notify of any potential claim as we currently do not know the extent of any lockdown period.
To notify a claim please use the following procedure:-
Ensure your policy provides cover by referring to your policy schedule section 5: Loss of use and denial of access to ascertain a value is provided under the "Sum insured" column.
It is requested that claims are reported by email to claims handlers Adjusting Associates LLP.

Please do not report a claim by telephone unless you have no means to contact via email.
To initiate a claim you must email: claims@adjustingassociates.com
1. Your policy number.
2. The full name of the policyholder.
3. Your correspondence address.
4. The risk address.
5. A contact telephone number.
Claims handlers will acknowledge receipt of your email as soon as they can. Please do however be patient for a reply due to the volume of claims enquiries. Please do not send multiple duplicate emails.
Claims in writing should be directed to:
Adjusting Associates LLP
Unit 2, Sovereign Court
Sterling Drive
Llantrisant
Rhondda Cynon Taff
CF72 8YX
Please do not contact Schofields directly to report claims, as you will only be provided with the instructions above and to contact the claims handlers directly.
Service update
As the world reacts and we all must adapt to the coronavirus (Covid-19) outbreak, we are working around the clock along with our associated claims handlers to make sure services run as smoothly as is possible.
Unfortunately, virus quarantine measures and social distancing have affected how operations are run not only for us but companies worldwide. This is having a big impact on our customers' waiting times, for which we are truly sorry.
Calls, emails and enquiries will be answered as soon as we can but it's incredibly busy, and growing daily.
We are therefore asking that our customers work with us and only call if you have an urgent query that can't wait. Preferably contact us by email. Response times will however be delayed, therefore we ask for your patience and request that you do not send multiple duplicate emails.
Being primarily an online business, please use our website where possible. Customers can apply for UK holiday home insurance online and renew online.
We continue to actively monitor the evolving situation and will be following the latest Government advice and recommendations.
This is hard for us, and frustrating for you, we are all experiencing challenging times. When you communicate with Schofields or Adjusting Associates, please respect our teams. Treat them with care – we will not allow our teams to be treated in an incorrect manner. We appreciate your patience and understanding during this difficult time for all of us.
In the meantime, Schofields wish you all the best and sincerely hope you and your families stay healthy and support each other.
UK holiday cancellation insurance customers

If you have holiday cancellation insurance policy for an upcoming holiday, unfortunately any illness categorised as a pandemic by the World Health Organisation is excluded.

Please refer to the exclusions on page 2 of the policy wording:

(j) The Underwriters shall not be liable for any claim arising directly or indirectly from any injury, illness, death, loss, expense or other liability attributable to Human Immunodeficiency Virus (HIV) and/or any HIV related illness including Acquired Immune Deficiency Syndrome (AIDS) and/or any mutant derivative or variations thereof however caused; and/or any illness categorised as a pandemic by the World Health Organisation.

Amend dates

We are aware that many owners and holiday cottage agencies are allowing guests to change their upcoming holidays. If your holiday dates have been changed, we can amend the dates. Please click here for further information.

/*