Why a holiday home is a better option than a hotel
Reading Time:
5
minutes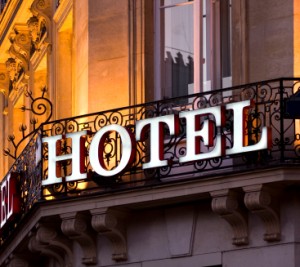 Hardly a month goes by without news of a new holiday rental website being launched, or reports of increasing numbers of properties being listed with the big portals.  It seems that more and more owners are realising the benefits of earning a second income from their holiday homes, or even creating a main source of business.
Not only this, but considering the state of the economy and families having to do more with less, many are now choosing to book a holiday rental in place of a comparatively expensive hotel.
However, price is only one reason why a holiday home is better than a hotel, because behind this are many other benefits that mean holiday rentals come up trumps.  Keeping these factors in mind can be a great tactic in attracting guests away from those hotel competitors, so here is why we believe a holiday home has such an advantage over hotels…
Privacy and space
When we compare the standard 20m2 hotel room/cubicle/box with a private apartment or house, it's easy to see why guests might prefer the space that a holiday rental offers. But perhaps even more compelling than the extra space, is the added privacy you get with a holiday home rental; No worrying about the maid coming round when you are otherwise engaged, no shushing a crying child in the night for fear of disturbing neighbours behind mere centimetres of flimsy partition wall, and complete freedom to pad around all day in your PJ´s if you so wish.  It's often not that hard to find a private rental that even the most devout naturists would be pleased with, now that´s privacy you won't find anywhere else!
Live by your own rules
It's all very nice being in a hotel and waited on hand and foot, but after a few days doesn't it just get a little tiring? Setting the alarm early to beat the breakfast queues, making yourself vacant right when you fancy a siesta because your maid needs to come in, or suffering the music man blaring out The Macarena until you can finally get some sleep at midnight? In a private holiday home on the other hand, nobody cares if you want to eat breakfast at midday, or if you choose to be the one serenading by the pool at midnight (so long as there are no neighbours in earshot!) …and the sun beds certainly won´t all have been reserved by 8am. Bliss.
Authentic Travel
Guests who choose to stay in private holiday homes are likely to be naturally more adventurous than those who prefer the safety and familiarity of a hotel complex.  Hotels may have everything under one roof and make it easy, but holiday homes can represent a far richer travel experience because guests really do have to go out and experience local life – even if it just means popping to the local shops for groceries.
If a holiday property owner lives by the concept of authentic travel and makes an effort to help his guests "live like a local", then it will be a truly enriching stay.  So think about those special insider tips you can share about local places to visit, where to get the best local goodies, people to meet and things to do.  You can begin engaging with your guests even before they arrive to share what it is that makes this holiday so special, and leaving lots of local information inside the property, not to mention sharing regular tips via social media and your blog, is a great customer service tool too.
Food, glorious food (that you actually want to eat)
Holiday rental guests have little choice but to go out and buy food, be it at the weekly market, supermarket or by trying some of the different local restaurants, and in this way food can greatly enrich their stay.  Of course one of the best things about self catering is being able to eat what you want, when you want, and not suffer the same repetitive hotel buffet night after night.  A popular choice is to have a local chef come in and cook up a feast based on local cuisine, a far more intimate and authentic way of learning more about the gourmet side to a destination.
Foodie guests will also really appreciate a well equipped kitchen, a nicely considered stock cupboard, perhaps some local cookery books and above all, recommendations for those unknown places to eat that they might not otherwise have found.  An extra special touch is when the owners leave something local and seasonal in their welcome pack, along with recommendations of where to go to buy the local delicacies at non-touristy prices.
Home comforts that don't cost the earth
No matter how luxurious a hotel, there are only so many "creature comforts" that they can offer – once you have oo´d and aa´d over the fluffy robe and pillow menu, there is little left that can really wow you and make the place feel like home.  Not so in a private holiday rental.
Whether it is having a "normal" TV with just one step to find the channel you want, the chance to put on the kid´s favourite DVD in the afternoon, a proper bowl to eat your cereal out of, or a washer to do some quick laundry without paying 3 pounds per sock, there are many reasons why people prefer the home comforts of a private rental over a hotel.
Be more like a hotel
A great tip for owners though is to think and act like a 5 star hotel, and aim to provide the same level of service, quality and indeed little extras that those frequent travellers have come to expect in hotels – they won't be expecting it in a rental and they will most certainly appreciate it.
Provide day passes to local gyms, complimentary toiletries and towels, accept credit cards and streamline your booking process.
Exceeding expectations
Now this is where a private holiday rental can really come into its own.  Hotels by nature need to cater for a mass audience, albeit with a different slant perhaps towards business travellers or sun seekers, but a holiday rental can be set up and tailored towards a very specific type of guest.
As a guest, knowing that the owner really has your needs and wants in mind can be incredibly valuable – where in a hotel is there room to store mountain bikes and muddy shoes? Where is there space to put a cupboard bursting with toys and entertainment for families? How can you create a beautiful chef´s kitchen fit for gourmet travellers?  Understanding and marketing to a niche audience can offer so many opportunities to exceed guest's expectations that hotels just cannot match.
To summarise – the top reasons to choose a self catering holiday home over a hotel
Privacy & space – Renting a holiday home gives everyone the option to spread out for privacy or to get together and socialise under one roof.
Affordability – Holiday homes are often better value than hotels, especially when there's more than two staying. Hotel meals, extra wifi, parking and mini bar charges can cost a fortune.
Facilities & entertainment – Forget paying extra for in-room movies or wifi. Most holiday rentals offer free wifi, multi room tv's, dvd's, games, books, and rainy day items to keep everyone entertained. You can also do your laundry on holiday, which can cut down on luggage costs.
Noise – You don't have to worry about hearing the TV, screaming kids, foot traffic, early morning showers or noisy lifts through paper thin walls.
Bring the pets – Many pet friendly holiday rentals not only let you bring your fury friend along, they often provide amenities for animals.
Food, glorious food – With a fully fitted kitchen to hand, preparing family meals with local produce and alfresco dining is part of the holiday experience. Avoid the lukewarm repetitive buffets in hotels.
Live like a local – One of the main reasons travellers stay in holiday homes is to experience the local neighbourhood and culture. To shop where the locals shop and dine at local restaurants.
So there you have it, some of the reasons why we think holiday homes have a real advantage over hotels – would you agree, and what other reasons might you add?