Risks when renting your holiday home to friends
Reading Time:
3
minutes
If you have a holiday home sometimes even your best intentions can cause you grief.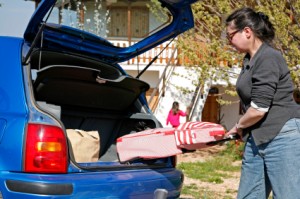 Discovery of old friends
A recent survey highlighted that a very high percentage of second home owners have been subjected by family or friends to a request (directly or more subtly) for a free or cheap holiday. No-doubt the credit crunch, weak pound and 'staycation' trend are all contributing factors.
Just about anyone that owns a holiday rental will, at some time or another, have suddenly found they have friends and even family coming out of the woodwork. It can be amazing how quickly the conversation will be steered around to that holiday property they've just heard you have.
Some people seem to find it hard to grasp that if you're letting them have your property then it is costing you money – particularly if that's in peak season periods where you have your running costs, wear and tear, plus the loss of rental income.
So, the difficult explanations start and you may find that suddenly your friends and distant family members suddenly fade back into the background!
Your responsibilities as the owner
If you do weaken or just spontaneously offer your property for free (or at 'mates rates') to family and friends as a gesture, remember a few sobering facts of life:
if they have an accident on your property (for example, a slip on the floor tiles or a balcony fall), or in your swimming pool, you may have a legal liability for any costs involved in defending an injury claim and subsequent compensation – even if they're not actually paying to rent your property;
they are just as likely as any other person to accidentally damage your property, or worse still, cause a fire/flood that damages surrounding property – and they may be less than keen to pay for it;
it can make sense to ensure you have adequate second home property insurance to cover these and other eventualities.
Holiday home property insurance
The combination of circumstances surrounding the use of your second home can be complicated and varied. It is important to understand that some insurance policies for second homes provide limited, if any, cover when letting out.
Some areas to check…
Many insurers offer limited protection for public liability insurance (some foreign policies only up to £100,000 indemnity and often exclude swimming pool related incidents).
Some policies provide no accidental damage cover when the property is lent to friends or relatives and certainly not when let out commercially.
The good news is that at Schofields, our holiday property insurance provides comprehensive cover regardless of whether your property is used for holiday lettings or just private usage.
Benefits include:
£5m public liability insurance should someone injure themselves on your property and take legal proceedings against you;
this also covers liability claims arising from the usage of swimming pools for both UK and overseas property – such as slips and trips, or cuts from broken tiles. (Some insurers exclude liability for swimming pool usage leaving you potentially exposed to legal action following injury to third parties);
public liability insurance is included as standard when you choose buildings or contents insurance;
the option to extend your holiday home contents insurance to include accidental damage by guests. Broken TV's, jammed DVD players, spillages and burns on carpets are all too common at holiday homes.
Friends and family
You probably don't want to seem like an ogre and may even wish to do what you can to help genuine friends and family to enjoy your property. In fact, they can help 'air' the property during the winter months when it would be otherwise empty.
Just remember though that legally and in insurance terms, when they're in your property they're probably no different to a conventional renter.
It might also be worth making sure that they understand that before you actually hand over the keys to your precious second home.
A policy from Schofields covers you whether you use your holiday home yourself, let to friends & family or rent it as a commercial holiday let.