What insurance do you need for a UK holiday?
The recent BA and planned train strikes (which were due to take place over the Easter weekend but could still happen in the future), highlighted the need to take out UK holiday cancellation insurance which covers cancellation of rail and aircraft journeys due to industrial action.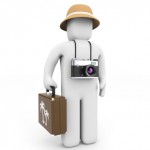 Due to the fact that cancellation and curtailment (cutting a holiday short) being the most common claims made on UK holidays – holidaymakers are urged not to overlook cancellation cover when taking a holiday in the UK.
What does holiday cancellation insurance cover?
Cancellation and curtailment cover typically enables customers to claim refunds on their holiday accommodation charges and associated costs should they have to cancel due to illness of the policyholder or a close family member, jury service or redundancy.
When booking a UK holiday in a hotel or holiday cottage, it is common practice for accommodation providers to charge for cancelled holidays. This may be just the deposit or the full cost of the holiday – an average of over £1000.
Considering that a single-trip policy covering a UK holiday costs as little as £17, it's a small expense considering the cost of a holiday which could be lost.

What about valuables and medical cover?
Check if your home contents insurance covers personal possessions under the all risks section. This should cover your valuables (up to a limit) should they be lost or stolen whilst you are on holiday.
If you're travelling within the UK, you will have access to NHS hospital treatment, therefore medical cover is usually unnecessary.
Compared to the cost of an average UK holiday, cancellation insurance is a small expense that could save you having to lose your holiday costs. So if you are planning a 'staycation' this year – get protected.
Check the terms
Most policies will exclude claims arising from pre-existing medical conditions, have age restrictions and exclude adverse weather claims. If you specifically require such cover, then you should check with the insurer if these are covered before you take out insurance.
Schofields offer a holiday cancellation incurance policy that is tailored for UK breaks.