Water leak from apartment above: who pays?
Reading Time:
2
minutes
If you own a flat in France an apartment in Spain or Portugal then no doubt you will have concerns about who is liable should the apartment above have a water leak, from a washing machine or leaking pipe for example – which causes water damage to your apartment below.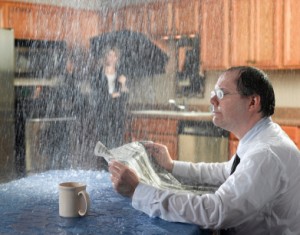 This is how most holiday apartment insurance companies in the UK would deal with the claim (note: foreign insurers may deal with it differently, which often complicates matters. See below).
Any water damage to your property from the apartment above would have to be claimed for under your insurance policy and you would have to pay any policy excess, which would be deducted from the claim payout.
This is regardless of where the incident originated from as the damage is to your property. The neighbours policy (where the damage originated from) will only cover their property, not yours.
However, the exception to the rule is when the other apartment owner is deemed "liable" for the damage to your property through negligence. In this scenario you can claim against their apartment insurance policy and they would be covered under their third party liability section.
If this is the case then your insurer will usually assist with making a claim against the "liable" party's insurance.
The problem is that most of the time, proving the other apartment owner is "liable" for the damage is difficult. If a pipe bursts or leaks it's usually an accident and through no fault of the holiday apartment owner.
When could they be deemed liable?
Very rarely, but if the bath overflowed or if you notified the property owner (maybe by registered letter) of a leak and they failed to act, causing further damage, then they may be deemed liable if it could be proved they were negligent.
What happens if you cause water damage to the apartment below?
Simply pass any bills or correspondence on to your insurers to deal with. If it's an accident then it's unlikely you are liable. Your insurer will usually write an official letter to your neighbour explaining this.
What if your holiday apartment is covered under the communal buildings insurance?
As we have discussed previously, communal buildings insurance and block policies often only insure communal areas, not fixtures and fittings in individual apartments. With this in mind, there could be a shortfall in cover if a leak from the apartment above damaged your kitchen units which weren't covered under the block policy.
If you aren't covered, you would have to pay out of own pocket or pursue a claim with the owner above. It's difficult proving who is liable in the UK, never mind abroad.
For this reason, it's advisable to obtain apartment insurance Spain through a UK based insurer.