Guide to Buying Overseas Property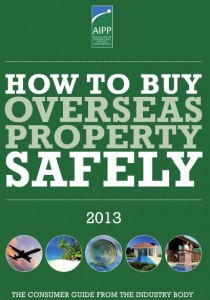 The Association of International Property Professionals –AIPP (the industry body for the international property market) has released the 2013 edition of its annual guide, "How To Buy Overseas Property Safely – The Consumer Guide from the Industry Body".
With the amount of contradicting advice out there, combined with horror stories of developers going bust and leaving investors out of pocket, buying property abroad can be a complex process. The guide outlines common pitfalls to avoid and how to buy overseas property safely. It's a useful guide which potential property buyers should read before they purchase property abroad.
A hard copy of the guide can be ordered from the AIPP direct by emailing enquiries@aipp.org.uk The guide is also available as an online digital version.
One area the guide doesn't cover in details is insurance. It's usually an afterthought when buying property abroad, but one of the most important aspects to protect your investment.
To understand what insurance you need when buying property abroad, read our guides:
Choosing house insurance in France
A guide to home insurance in Spain
If you are looking to buy a holiday home you may also find our advice useful – top tips for buying a holiday home.