A Guide to Covid-19 Travel Restrictions Lifting: UK Staycations
Reading Time:
4
minutes
The news we've all been waiting for has finally arrived: the government has announced a proposed timeline of lockdown and Covid restrictions beginning to gradually lift. But what does this mean for travel, particularly staycations, in the near future?
Last year, we reported that the majority of people were wary of booking holidays for 2021 because they were worried that the travel firm would go bust as a result of economic effects from Covid-19. Now people's opinions have changed; they feel reassured by travel companies who have willingly moved bookings and issued refunds to tourists having to cancel their holidays in the past year. Instead, the focus of people's worries for travel in 2021 is risk to their health.
We again surveyed 1,000 people aged over 18 in the UK and found that 61% of people will not book holidays abroad until the UK's vaccine roll-out programme is complete. 37% of people would also prefer to wait until they themselves have received at least their first dose of the vaccine before visiting a local tourist attraction while on staycation.
At the current time, the government anticipates that everyone over the age of 50 will have been invited to receive their first dose of the vaccine by the end of April, and that every adult in the UK by the end of July. This, combined with the proposed timeline of travel reopenings, means that the summer holidays we've all been dreaming of are finally in sight.
The Timeline of Travel Reopenings
The government has outlined the following dates as the earliest times that various forms of travel and tourism will be reopened: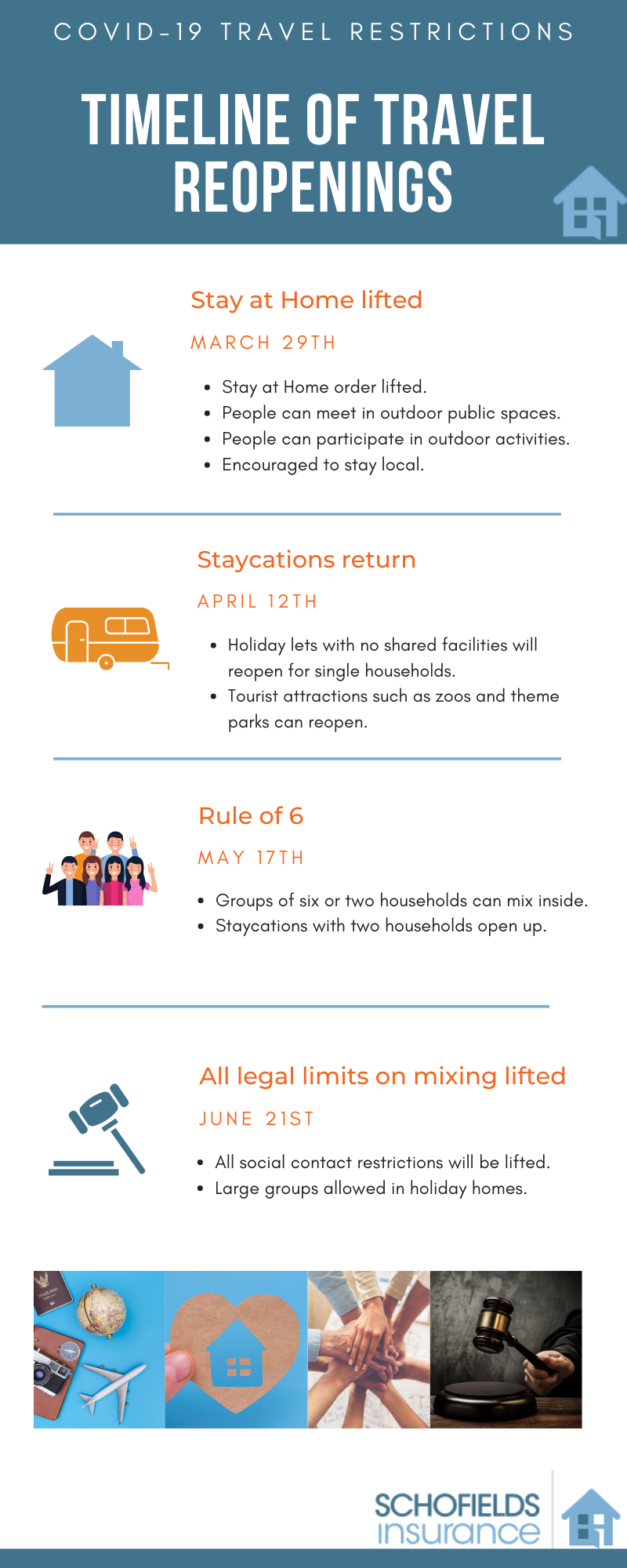 29th March: The official Stay at Home order will be lifted. It will be possible to visit public outdoor spaces and participate in outdoor activities, but encouraged to stay local.
12th April: Staycations return! Holiday lets with no shared facilities to reopen for single households. Tourist attractions such as zoos and theme parks to reopen.
17th May: Rule of 6 for indoor mixing or 2 households, meaning you may be able to staycation with another household or up to 6 people. International holidays may resume.
21st June: All legal limits on mixing lifted. Large groups allowed in holiday homes.
FAQ
When can we go on staycations again?
It will be possible to take a staycation within the UK starting no earlier than the 12th April. At this point, holiday lets with no shared facilities can reopen for one household. After the 17th May, the rule of 6 will resume, meaning that you can book a staycation with another household or up to 6 people.
Should I book a staycation now?
Yes. With travel restrictions preventing overseas holidays, many holiday cottages in 'honeypot locations' are already booked up – so be quick. Demand outstrips supply as many of those who where prevented from taking their holidays last year due to lockdowns, transferred to this year.
There is no reason that you can't book a staycation for 2021 after the 12th April, however you need to be mindful that households may not mix on staycations until after the 17th May at the earliest.
What happens if I need to cancel my staycation?
There may be the possibility that you need to cancel or postpone your trip if you develop symptoms or you come into contact with someone who has tested positive for Covid-19. There's also always a chance the Government roadmap for lifting lockdown could change and that bookings will subsequently have to be cancelled.
Book with a private owner or agency who will allow the dates to be amended, provide a refund or booking credit. Most have adapted to flexible cancellation policies during the pandemic.
Will I need the vaccine to travel in the UK?
There is no requirement for tourists travelling within the UK to have received the vaccine in order to book or travel on a staycation.
Will I need the vaccine to travel abroad?
Though nothing has been officially announced, in order to prevent continued travel bans, travel corridors or quarantines, it is likely that some airlines and travel companies will require customers to have received the Covid-19 vaccination in order to travel. This is unlikely to be the case for short-haul travel, but for long-haul holidays, there may be vaccine checks at borders, similar to current rapid testing checks.
As a holiday home owner, how can I protect myself right now?
The biggest worry for holiday home owners who let out their properties is that guests will cancel their stay, whether in advance or at the last minute. You can read our full advice here on considering a more relaxed cancellation policy for guests allowing for last minute cancellations.
Those that make it clear that guests can cancel, get a refund, credit or re-book due to lockdowns, will increase guest loyalty and re-bookings.
Phil Schofield from Schofields Insurance, commented:
"It's fantastic news for both holidaymakers and holiday let owners that staycations are just on the horizon for us again. People's appetite for travel now is huge; after being stuck at home for so long, we're longing for new travel experiences.
Holiday home owners have carried out risk assessments and have the required processes in place to safely welcome guests. The hospitality sector has been one of the worst affected by the pandemic, so let's hope for a quick recovery. Once lockdown restrictions are eased there's likely to be record levels of bookings due to the pent up demand to travel and reconnect with friends and family.
Don't forget that just because the restrictions are being lifted, we're not completely out of the woods. It's possible that tourists may come into contact with someone who tests positive for Covid-19, or holiday home owners may have guests who develop symptoms while staying in their holiday let.
For this reason, it's very important that while travelling you should continue to follow all the current guidelines set out around maintaining proper social distancing, wearing face coverings and staying on top of personal hygiene. Holiday let owners are responsible for continuing to maintain an especially high standard of cleanliness at their properties, so we'd recommend a deep clean after every check-out, providing guests with plenty of soap and other hygiene items such as disposable masks and gloves, hand sanitiser and disinfectant wipes, and reducing contact by using key safes or smart locks allowing self check-in and check-out."
Note: This is not official advice from Schofields, but is intended to provide guidance which may help. Official advice is being updated constantly and can be different for England, Scotland and Wales, so check the recent government guidance.