8 Bridgerton Style Houses You Can Stay In
Reading Time:
4
minutes
The ever so popular show Bridgerton has become an international hit on Netflix ever since Christmas 2020. Bridgerton season two was viewed almost 200 million times in the first 3 days of its release, so this season looks like it could top the ever so popular first! Set during the Regency period, the show is equal parts flamboyant and extravagant, in both costumes and sets.
Viewers have fallen in love with the show, with its brilliantly unique love story and modern twists. The "old" takes on new music is a highlight that has really captured the audience, along with the beautiful homes and interiors showcased.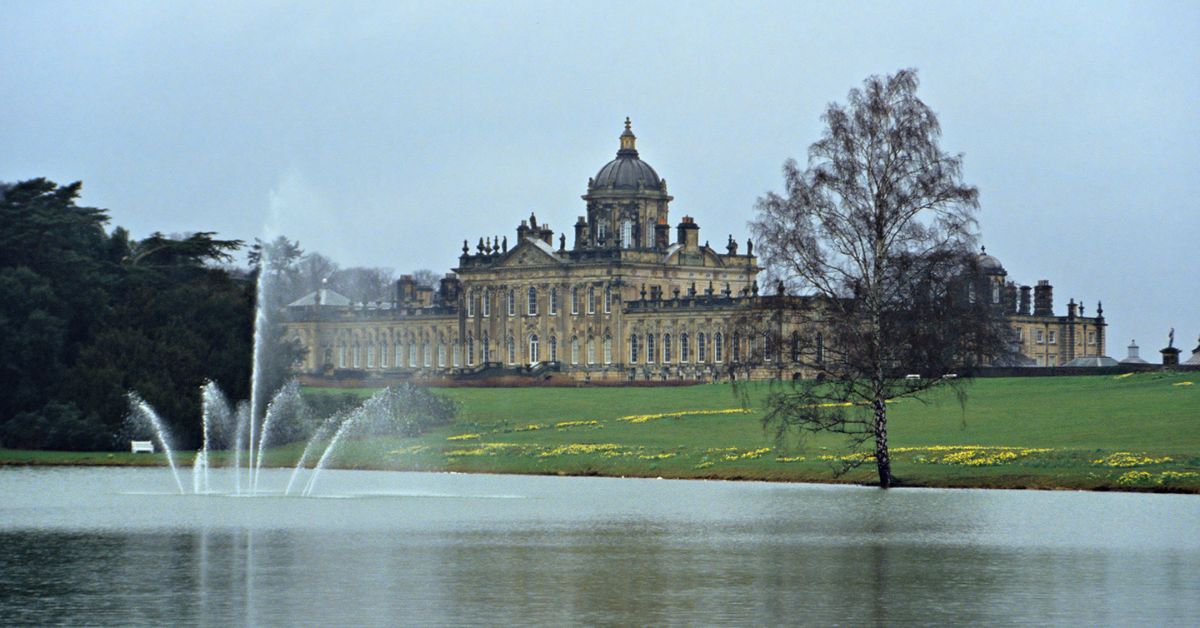 We've rounded up a selection of properties where you can stay in Bridgerton style, that includes modern guest rooms in country manors to real life castles so you can live like Daphne and Simon for a night – although you should probably bear in mind that there are other members of the public around too *wink*!
If you're looking for the ultimate staycation experience, and wanting to dine in royalty, checkout our comparisons below!
1. The Bridgerton's House – 'Hambleton Hall'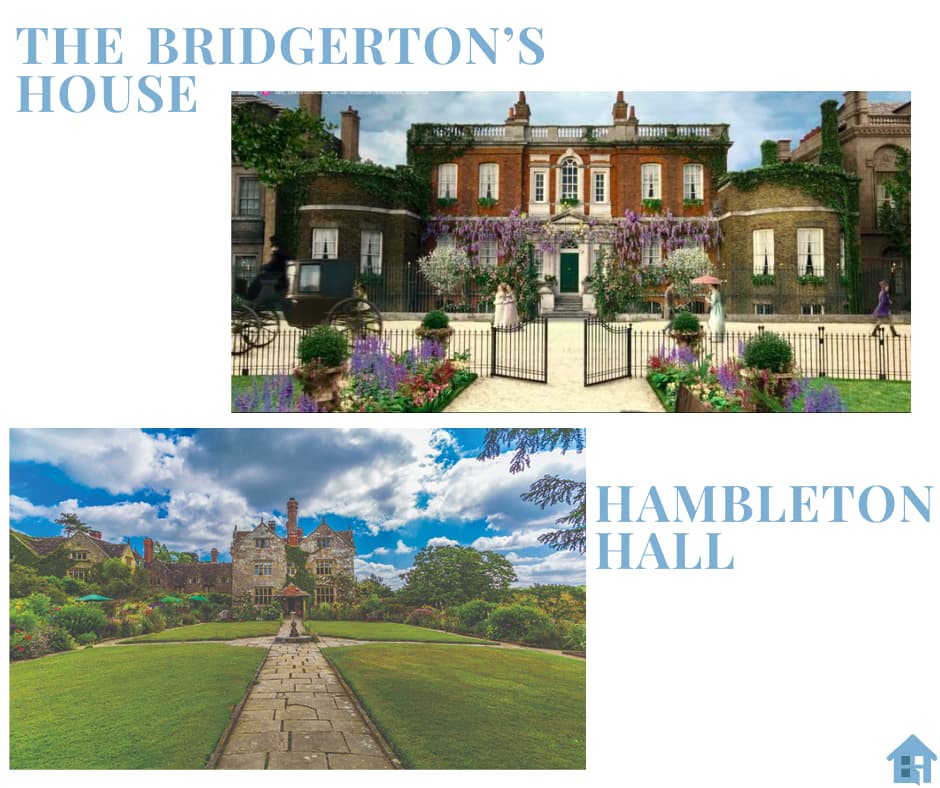 The property used to film Bridgerton House in the series, Ranger House, needs to portray the hustle and bustle of being a family home in the heart of Mayfair, and the Georgian villa was perfect for it. Hambleton Hall, located in Rutland in the East Midlands, makes the perfect comparison to the Bridgerton's family home and as the Pride of Britain's Hotel of the Year for 2016 with gorgeous interiors and regal rooms made to impress, it fits perfectly to get your Bridgerton fix.
2. The Featherington House – 'The Grove'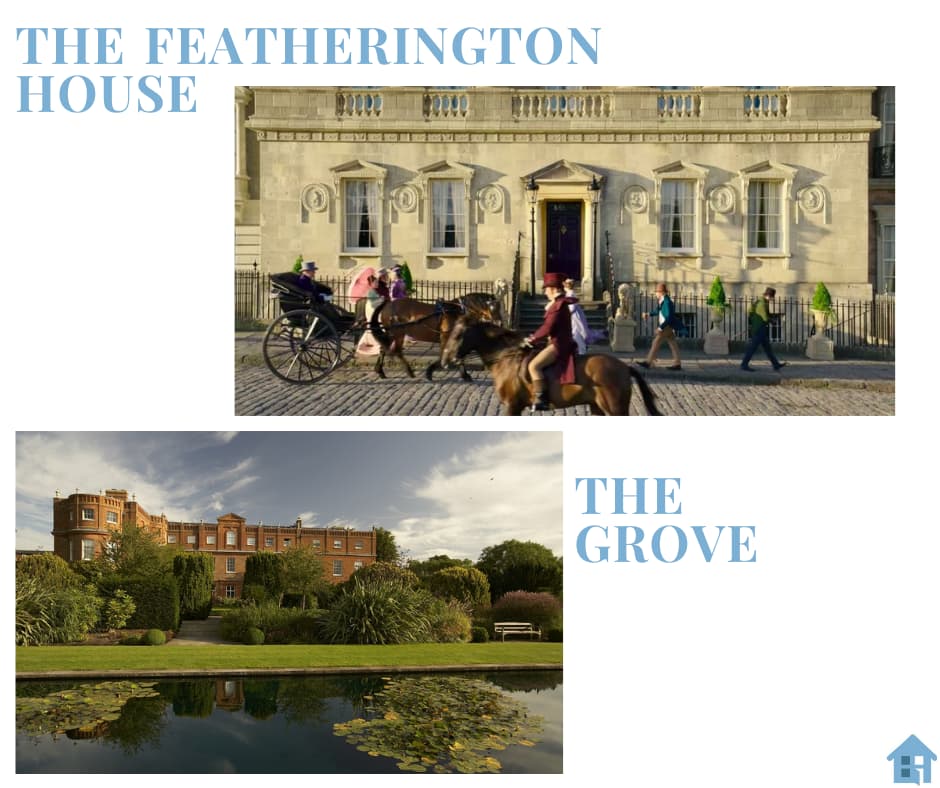 The Featherington's home is certainly impressive to look at from the outside, but it's the more bold and flamboyant interiors that really make it a feast for the eyes. The Grove is an 18th century mansion that is available to the public as a hotel located in Hertfordshire, and is certainly a rival for the Featherington's interiors. The recently redecorated Lounges have kept original features such as their fireplaces, architraves and cornices, but the added vibrant upholstery and hand painted wall coverings will make you feel as if you've stepped straight into Penelope's drawing room.
3. The Duke's House – 'Luton Hoo'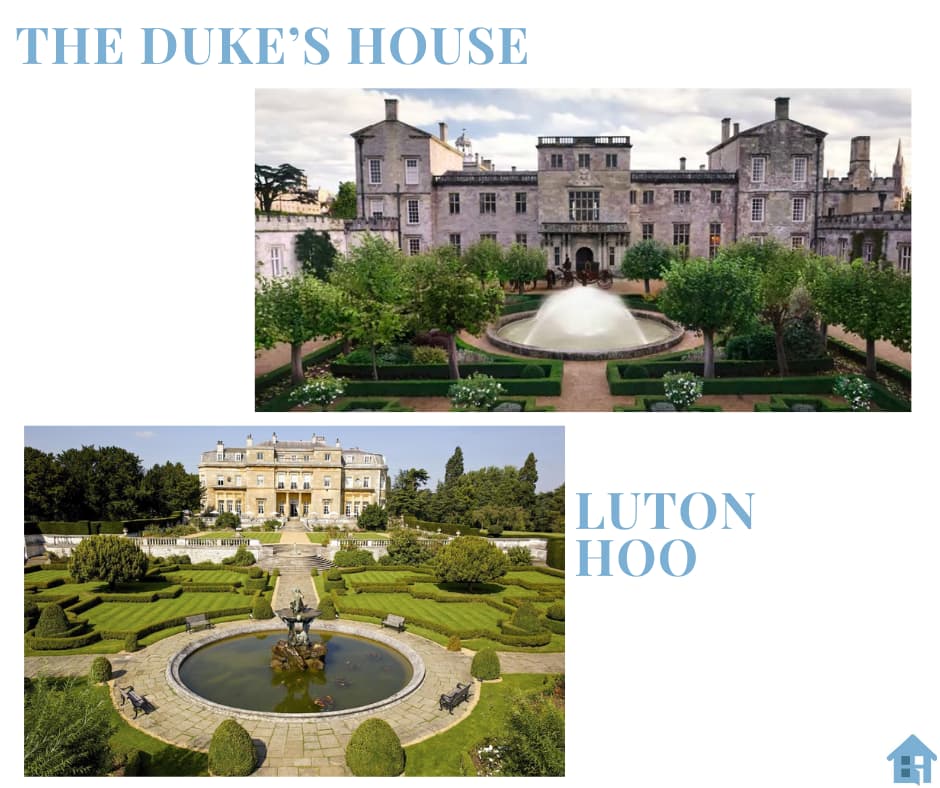 The filming location for the Duke of Hasting's residence is Wilton House, a property gifted by Henry VIII to Sir William Herbert.
The Luton Hoo is a stunning hotel located in Bedfordshire where it is advertised that you can stay in 'glorious splendour'. This hotel has royal roots too, known for being the location of the Queen and Prince Philip's honeymoon. If your other half isn't a Bridgerton fan, this property might still win them over as a filming location for movies such as James Bond – Never Say Never Again and Four Weddings and a Funeral.
4. Clyvedon Castle (The Duke & Duchess' Honeymoon) – 'Cliveden House'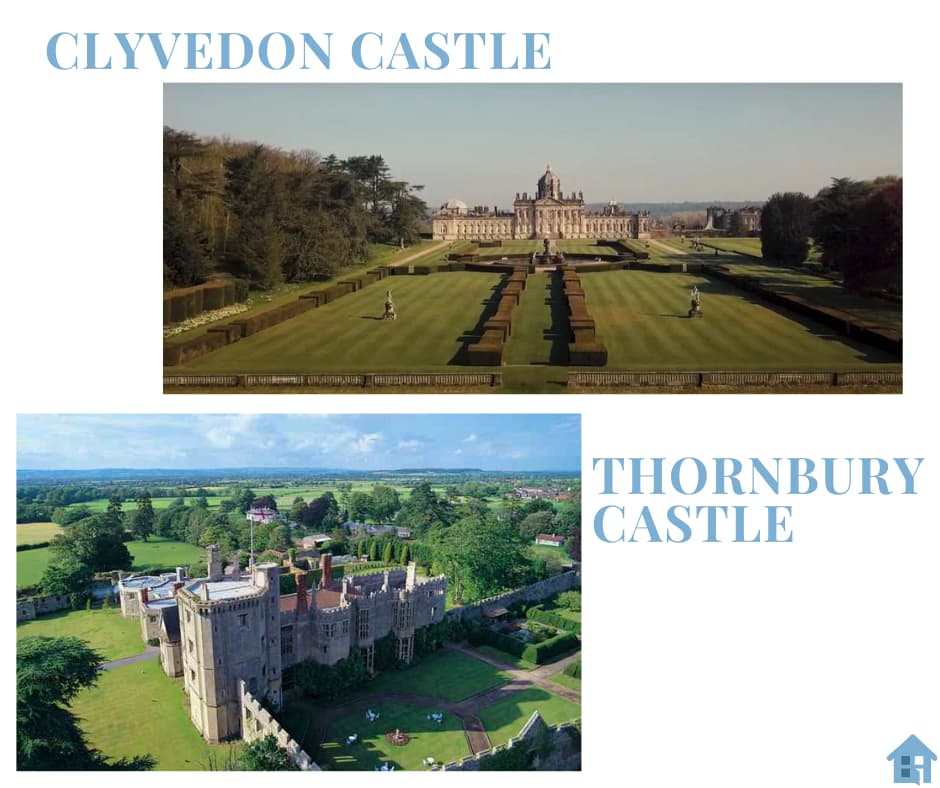 Clyvedon Castle, the location of Daphne and Simon's honeymoon is certainly iconic now, and what could give the utterly grand Castle Howard and its now infamous grounds a run for its money?
Cliveden House, built on the banks of the Thames with a similarly stunning facade, certainly does that, but it also has the added benefits of being open to the public to book for overnight stays.
5. Lady Danbury's House – 'Bowood House'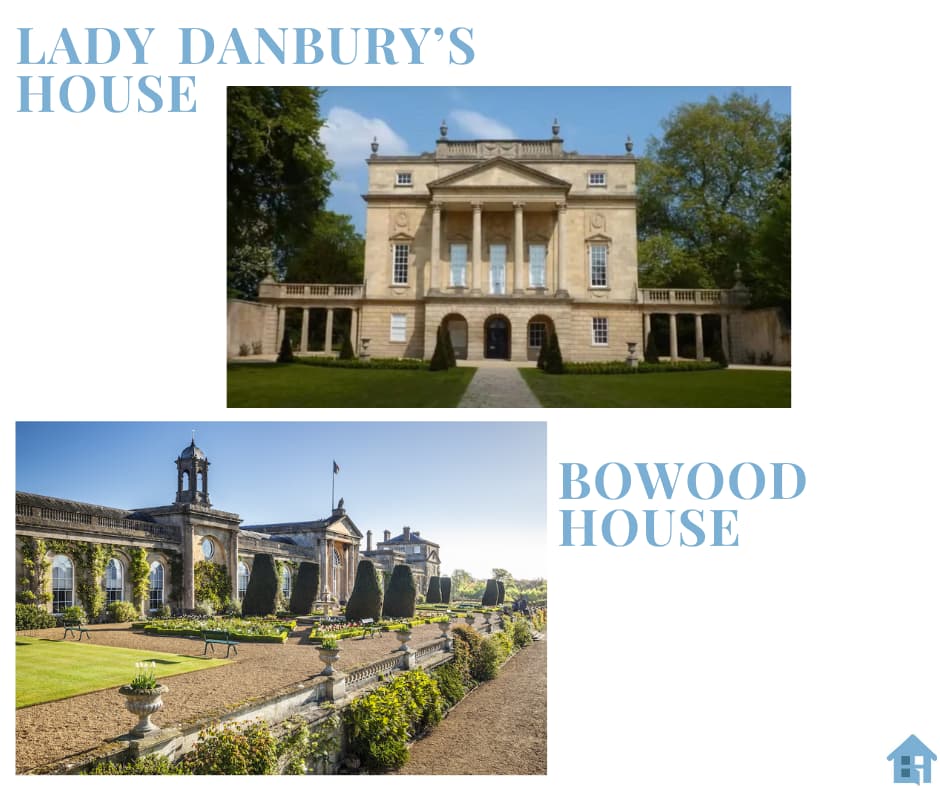 The imposing stone facade of Lady Danbury's house's exterior is portrayed by the Holburne Museum in Bath, but Bowood House has a similarly stunning frontage as well as private walled gardens, terraced gardens (perfect for a chaperoned rendez-vous between dances!) and wooded grounds. Once home to the Marquis and Marchioness of Lansdowne, this hotel, spa and golf resort is certainly fit for the noblemen and women of Bridgerton.
6. Hastings House – 'Highfield Park'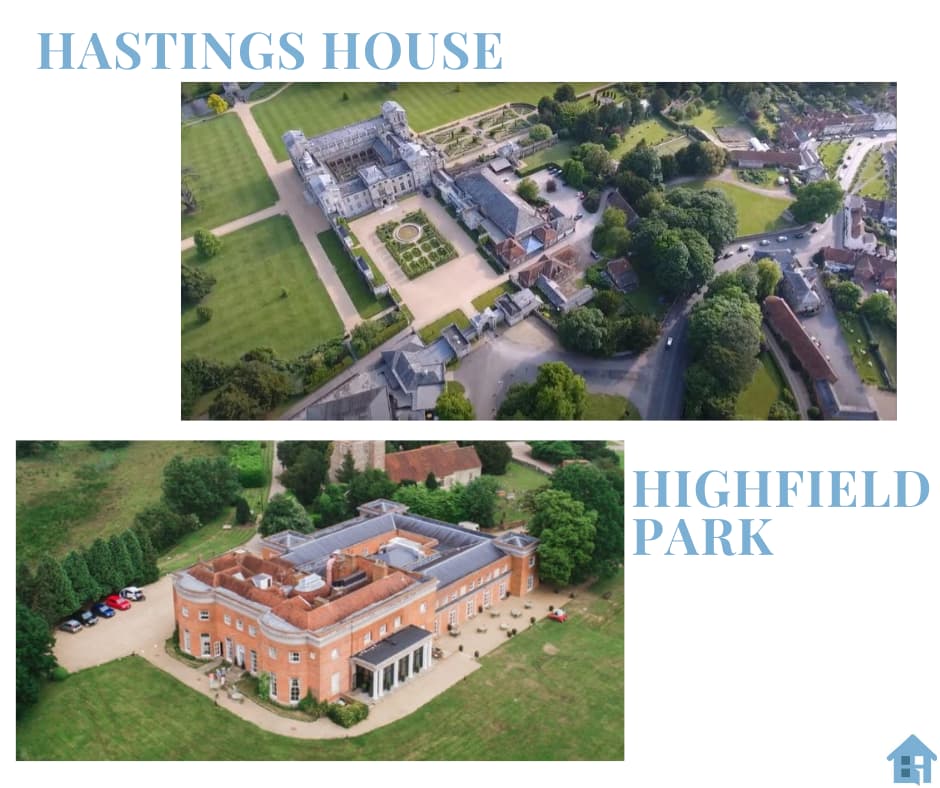 Highfield Park is certainly a home fit for a Duke, and with 86 modern guest rooms available to book in this elegant 17th century country house, you too can live like royalty – for a night or two. You can even say "I do" at this independent hotel, whether in an outdoor ceremony in the sprawling grounds or an exquisite indoors reception.
7. Ballroom – Leigh Court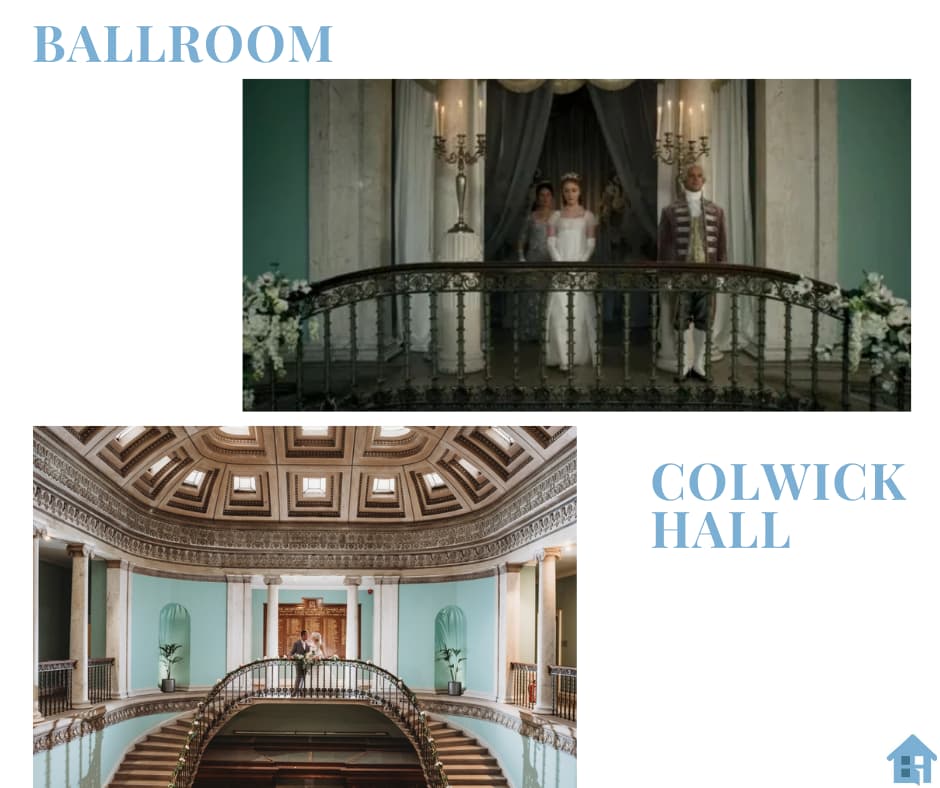 If you're looking to get your groove on just like in the show with Bridgerton's ballroom scenes, you can experience the real thing at Leigh Court. This location was actually used in several of Bridgerton's ballroom scenes, including Daphne's striking entrance before she dances with Prince Friederich. While you can't actually stay here, you can hire this room for weddings, meaning you can make your own Regency style entrance on your big day.
8. The Queen's Residence – 'Amberley Castle'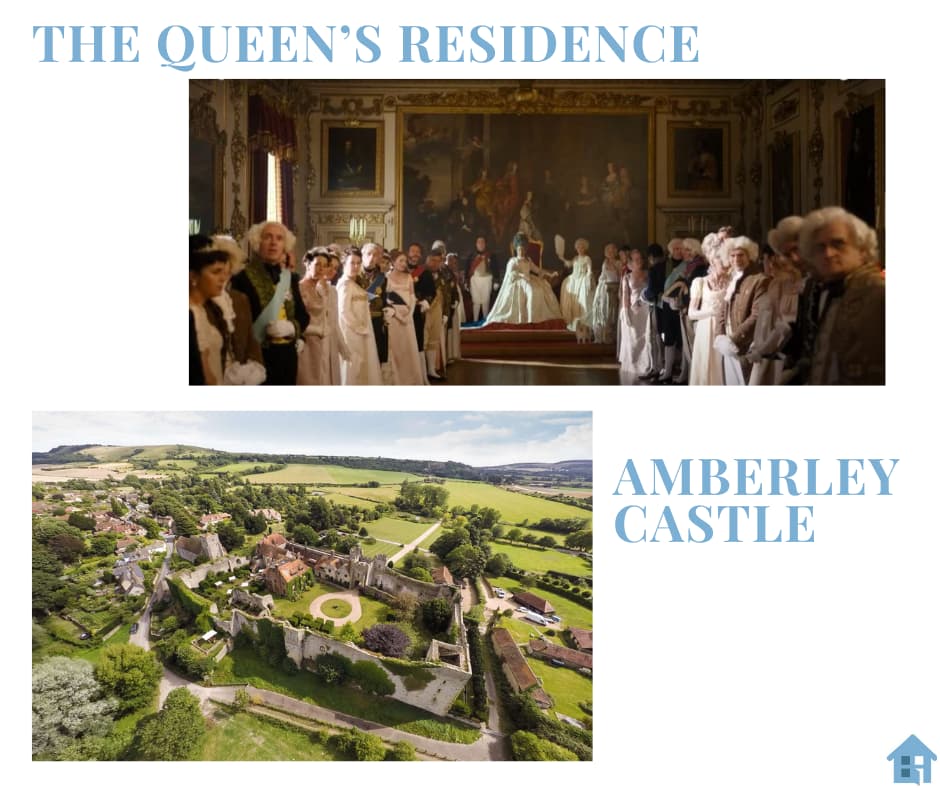 In Bridgerton, Queen Charlotte splits her time between Buckingham House (now Palace) and St. James Palace. Amberley Castle certainly delivers on the royal appearance with beautiful interiors and country hilltop views. Located in Sussex, this magnificent hotel offers majestic hotel rooms so you can live like a Queen, or simply just swan like a debutante around its halls.