Wales is the Top Holiday Home Location for 2020/21
Reading Time:
6
minutes
In a recent survey we ran, travellers expressed their concerns for holiday companies not being financially sound, worried that their bookings would be lost or cancelled if they went bust, and their concerns for their own personal health. Nevertheless, our data reveals that even amidst a global pandemic, people still want hope for the future. People are still renewing their insurance contracts on holiday homes and new contracts are rolling in.
Today we're revealing the top holiday home locations in the UK for 2020 and the most up and coming holiday home locations, places where the most holiday homes are owned and where people would most like to visit once we are able to travel again.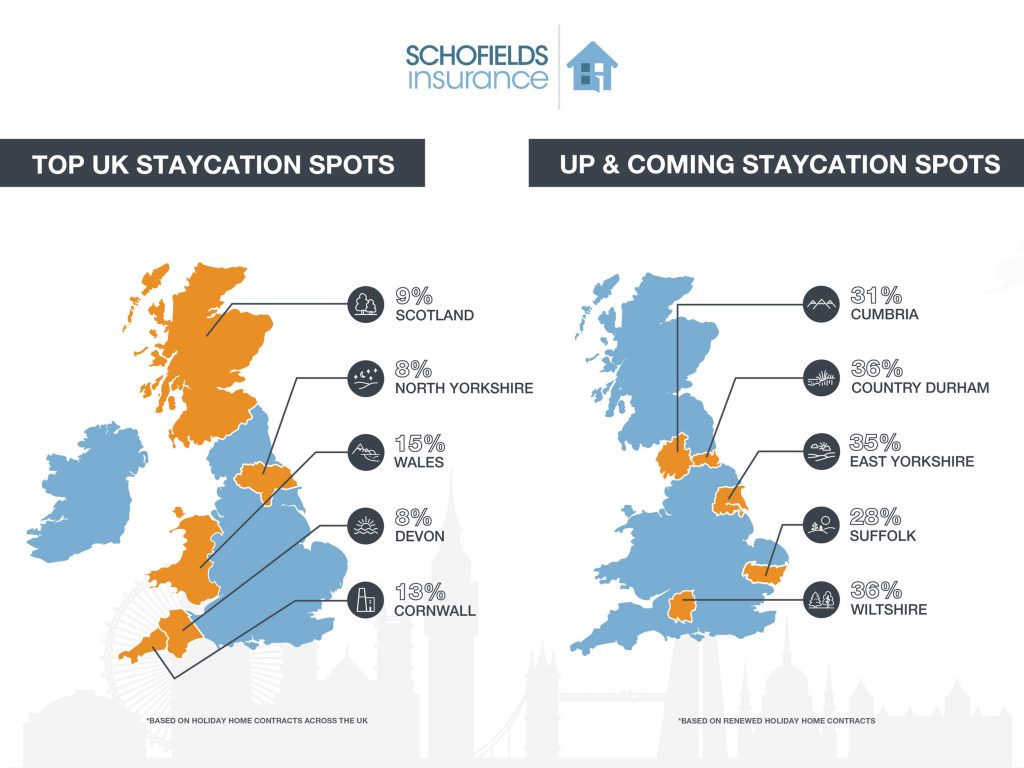 The Top Holiday Home Locations in the UK

 Wales 
It's not surprising that, with stunning mountainscapes of snow-capped peaks, rugged coastlines and a veritable feast of culture and history, Wales tops the list of holiday home locations in the UK in 2020. Getting outdoors and into the fresh air is a priority in 2020 and heading into 2021, it will continue to be important. Wales is perfectly situated for those wanting a weekend away from home no matter where you live in the UK – only 2 hours from London, and just a quick journey from cities like Manchester, Birmingham and Liverpool.

 Cornwall
Sometimes known as the English Riviera, tourists flock to Cornwall to get a taste of a getaway without even leaving the country – sunshine, blue skies and seas, and beautiful beaches. The only reason Cornwall comes second to Wales in terms of holiday home locations is its slightly more distant location from the northern parts of the UK. #

 Scotland
Scotland may be a surprising addition to this list as it seems remote and less popular for travel than the others, however its many opportunities for outdoor pursuits and stunning remote accommodation make it perfect for travel in 2020 and 2021. 
Devon
Like Cornwall, Devon is renowned for stunning beaches and even its own version of the iconic cream tea. It's easy to understand why Devon is favoured location for holiday homes in 2020.
North Yorkshire
Perfectly situated right in the middle of the UK, North Yorkshire can offer everything from stunning rolling moorlands to traditional seaside resorts in Whitby and Scarborough. The ancient centre, York, with a history that dates back millennia to Roman and Viking times, is a hub for the rest of the UK, with easy access to the rest of the country.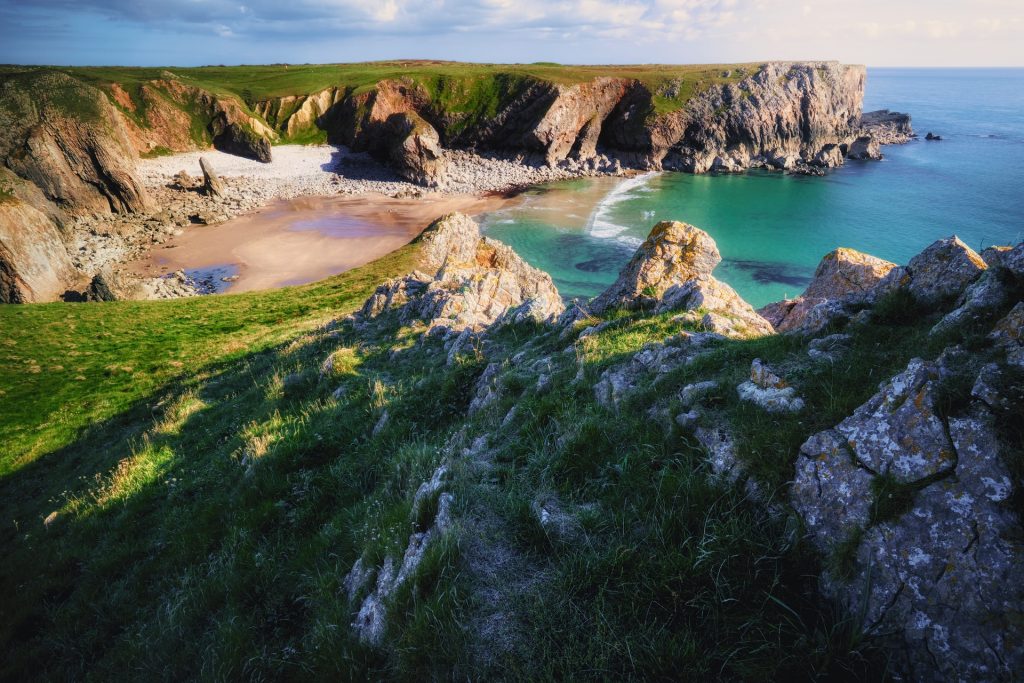 The full breakdown of the top 10 holiday home locations in the UK based on renewed and new contracts in January to June 2020 is below:
| | |
| --- | --- |
| Location | % of holiday homes in the UK |
| Wales | 15.35 |
| Cornwall | 12.82 |
| Scotland (other) | 9.30 |
| Devon | 8.39 |
| North Yorkshire | 8.13 |
| Norfolk | 6.12 |
| Highlands | 5.34 |
| Cumbria | 5.01 |
| Dorset | 3.19 |
| Northumberland | 2.86 |
The Most Up & Coming Holiday Home Locations in the UK
In 2020 and 2021, it will be more important than ever for people to get away from home to take a break, but many of us are nervous about personal health concerns so want to stay away from the crowds. 
We've compared the data of renewed holiday home contracts to new contracts taken out between January and June 2020. These locations are likely to be less crowded than other more popular resorts but are rising through the charts.
1. County Durham
With a 36% increase in the number of contracts in early 2020, County Durham is the top up and coming location in the UK. This northern county has been a place of great historic importance for thousands of years and it named 2020 as its Year of Pilgrimage, making itself a destination for journeys for wellness, events, festivals and more. While the pandemic has put a stopper in this, County Durham is clearly still regarded as a new exciting destination in the near future. Interesting visits for newcomers to this county include Durham Cathedral, the open air historic village museum of Beamish and High Force Waterfalls.
2. Wiltshire
It's a surprise that Wiltshire isn't already topping the list of the best holiday home locations in the UK thanks to its vast range of tourist attractions, from Stonehenge and Longleat to the historic centre of Salisbury and the multitude of tiny, pretty villages. It's also perfectly located between the metropolitan areas of London, Bath and Bristol making it easy to access while still being a quiet countryside location.
3. East Yorkshire
North Yorkshire has been renowned as a holiday destination for many years, but now East Yorkshire, including the East Riding, is rising through the charts too. Hull was named as the UK City of Culture in 2017 so saw tourists flocking there, and clearly people are continuing to see this area as a rising star. Bridlington is a traditional seaside resort that doesn't draw quite the same crowd level as other popular towns like Scarborough, so will be popular for tourists wanting a quieter seaside break in 2020 and 2021.
4. Cumbria
The Lake District has always been a popular tourist destination, however its popularity looks set to increase in the next couple of years. Due to the open spaces of countryside and opportunities for outdoor activities, no matter the weather, people will be keen to visit this area and find self-catering holiday cottages to stay away from crowded cities.
5. Suffolk
Suffolk is known for its gorgeous countryside and seaside towns. Being the closest coast to London, it's popular amongst those wanting a quick break from the city, so it's easy to see why people are looking to purchase holiday home contracts here this year.
The full breakdown of the top 10 holiday home locations in the UK based on renewed and new contracts in January to June 2020 is below: 
| | |
| --- | --- |
| Location | Increase in Number of Contracts |
| County Durham | 36% |
| Wiltshire | 36% |
| East Yorkshire | 35% |
| Cumbria | 31% |
| Suffolk | 28% |
| Kent | 27% |
| West Yorkshire | 27% |
| Somerset | 27% |
| Hampshire | 26% |
| East Sussex | 25% |
*Locations with under 10 total contracts have been removed from percentage calculations to avoid skewed data.
Phil Schofield, Head of Inbound Marketing, commented on the top holiday home locations:
"Getting away from home safely once restrictions have been lifted is something that's on everyone's minds. Holiday homes and holiday cottages are top of people's lists due to their privacy and ease. Data suggests that people in the UK take breaks of 2-3 days more frequently than any other length of holiday, so being able to make a short journey with less stress to a holiday cottage or holiday home is really important.
"The top locations for holiday homes in 2020 aren't a surprise to us, but the up and coming locations are interesting. It seems that people are wanting to find destinations that are off the usual beaten track in the UK and won't be quite so crowded as the hotspots. Hopefully our data will help tourists choose destinations for short breaks in the UK where they can easily find holiday cottage accommodation but will have plenty to see and do."
Methodology
This data has been compiled using our figures for UK holiday home insurance contracts renewed and purchased in January 2020 to June 2020.