How to prevent frozen water pipes at your holiday cottage
There is no denying it, winters in the UK have been consistently extreme in recent years. Snow fall in October, sub zero temperatures from November to January – the unusual occurrence has become more usual and this winter is expected to be the same.
'Big freeze' insurance claims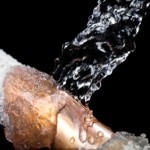 Insurers paid out £1.4bn in 'big freeze' insurance claims in the UK between 24 November to 31 December 2010 – the coldest December on record;
During this period 103,000 property damage claims were for burst pipe damage, at a cost of £680m;
Nearly one in five claims made on buildings and contents insurance is for damage caused by escape of water.
Due to holiday homes being 'empty' during the winter, they are likely to suffer frozen pipes which subsequently burst. Holiday cottage and second home owners have a responsibility to prevent burst pipes and avoidable insurance claims.
It's never too early to start preparing for the impact of sub-zero temperatures, frozen pipes and bursts.
5 tips to prevent frozen water pipes at your holiday home
Prepare your pipes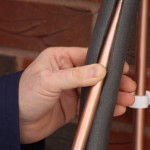 If you have experienced frozen water pipes over the past couple of cold winters, or if your property is in an area that is exposed to freezing, then resolve to rectify the problem before this winter.
Internal pipes located in cold areas (in attics, basements, or fixed to the inside of external walls) should be lagged using insulating foam sleeving.
The same applies to external pipes located in outbuildings that are likely freeze in cold spells, but lagging may not be enough – see trace heating below.
One solution is to re-route pipe work that is vulnerable to freezing to a less exposed position.
Outside taps
Outside taps and associated pipe work are always a problem in freezing weather. A good solution is to have the facility to isolate the water supply to the outside tap with an internal shut-off valve.
Check your boiler
Unheated homes are a major contributing factor to water pipes freezing. Service your heating system/boiler regularly to prevent boiler breakdowns during cold spells and to ensure it's running efficiently.
If you have a condensing boiler take steps to prevent it breaking down in cold weather. In cold weather, the pipe that takes waste water from the back of the condensing boiler can freeze solid, shutting down the system. Lagging this pipe can solve the problem.
Trace heating
Lagging outside pipes on its own is not always enough. Fitting additional trace heating, where a low voltage electrical cable with frost thermostat is wrapped around the pipe under lagging, helps prevent water pipes freezing.
Insulating
Insulating loft areas (above pipes) can not only help prevent frozen water pipes, but insulating your holiday home has the added benefit of saving on your energy bill. It may not even cost you as subsidies are available from both energy providers and local authorities.
Although all new water storage tanks must be insulated, older ones will benefit from a hot water jacket.
What else can you do?
During winter, keep the holiday home temperature maintained at a minimum 13C, especially if it is forecast to freeze.
If you leave a second home empty in winter, ensure the water supply has been turned off at the stop cock within the property. This limits the amount of water that can escape. Most heating systems that are common in holiday cottages can still run with the water off. Keeping the heating on will help prevent the water still in the pipes from freezing.
If you neglect to heat the holiday property then drain the plumbing system.
Install an approved device that shuts of your water if a burst pipe is detected, such as www.floodcheck.co.uk
Not only are these sensible precautions, but they are likely to be a condition of your holiday home house insurance.
A leaking pipe can spill about 2,200 gallons of water a day! – take precautions.
For more up to date information and facts on Burst Pipes please see our Burst Pipe Infographic.