What to do when pipes freeze or burst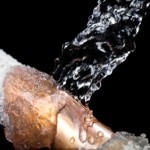 If you discover frozen pipes in your holiday home, there is a significant danger that thawing pipes could burst if preventative steps are not taken. Cracks in pipes and plumbing joints may not be noticeable because frozen water is keeping them sealed, but as water thaws and expands, it could cause leaks and internal flooding. These may start slowly at first, almost unseen – but could lead to devastating damage and disruption.
If you discover frozen pipes
Try the following, but if in doubt, always consult a registered plumbing and heating engineer for assistance.
turn off the water supply at the stop tap to limit the amount that could escape in the event of a burst
if you have a stopcock on your water header tank, turn this off to stop water leaving the tank
turn off the central heating system or immersion heater
open the taps nearest to the frozen pipe, so the when the frozen water thaws the water flow will release pressure and help melt the ice
check pipes for damage or evidence of freezing
have some buckets and towels on hand to deal with water in case pipes burst
try to thaw the frozen pipe slowly and cautiously with a hot water bottle, or hairdryer. Never use a naked flame such as a blowtorch or heat gun
once you have thawed your pipes and are satisfied that there are no leaks, close the open taps and turn on the water supply– then insulate unprotected pipes
check and double check your pipes again for leaks and turn on the central heating system
If you fail to un-thaw the frozen pipes or notice signs of splitting or cracks, consult a registered plumbing and heating engineer for assistance.
What to do when pipes burst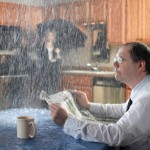 Unfortunately, if you experience a burst pipe in your holiday home or cottage you may be faced with collapsed ceilings, water damaged beds, sofas, carpets and even kitchen units. Hopefully, early discovery of a burst will reduce the extent of damage.
If you discover a water leak or burst pipe, it's important that you stop the flow of water as soon as possible.
If a pipe has burst:
turn off the water supply at the mains stopcock
turn off your central heating system
drain the water system by opening all your taps and flush the toilet – making sure the bath and sinks don't overflow
don't touch any electrics that may have been affected – if in doubt, turn off the mains electricity
call a plumber immediately – to find an approved plumber use the Chartered Institute of Plumbing and Heating Engineering's website
do what you can to protect or remove anything which might get damaged by the burst
if possible, collect dripping water in buckets
if the ceiling starts to bulge, pierce a hole to let water out
after the leak has been fixed, air the affected areas – do not overheat affected rooms
Contact your holiday home insurer, the claims department should advise on the claims procedure and the next steps to repair the damage caused by the escape of water.
The cost of repairing the damaged pipes is unlikely to covered by holiday home house insurance, but you will need to get the leak repaired to minimise further damage.
Disclaimer: We cannot be held responsible for any damage to pipework as a result of this advice. Always consult a qualified plumbing and heating engineer for assistance.
For more up to date information and facts on Burst Pipes please see our Infographic.