How to sue deceptive holiday rental owners
Reading Time:
2
minutes
(Update. Looking to make a complaint about a holiday rental? Read this post).
Do you mislead holidaymakers who rent your holiday home about the distance to the beach, the "views", the building site next door, the incomplete swimming pool or broken air conditioning?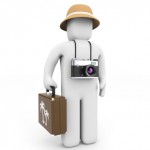 Then be warned, you could be sued. A new type of insurance has been launched by Insure and Go which covers "holiday disputes" and enables holidaymakers to pursue a breach of contract claim with property owners.
In past instances where holidaymakers have had disputes with holiday let owners and requested compensation, whether any refund is given has been up to the owner. Often, complaints have been unsuccessful, leaving holidaymakers with the option of expensive legal fees by pursuing the dispute in the small claims court.
Holidaymakers will now be able to take legal action against holiday property owners for breach of contract without worrying about the legal fees. The holiday disputes policy will cover legal fees of up to £25,000 in compensation battles.
Research from Insure and Go reveals that one in four British adults (24%), over 11 million people, have suffered from breaches of contract, yet only 5 per cent of these people took legal action against the offending companies in order to claim compensation.
Perry Wilson, founder of Insure and Go, commented:
"Holidaymakers are potentially losing out on a lot of money by not pursuing their holiday complaints. At least 12 per cent of breaches of contract that occur are estimated to be worth over £1,000, yet a lot of us either don't complain at all, or let ourselves be fobbed off by the offending company because we are scared of how much it will cost to pursue our complaint in the courts.
Our research shows that of those people that do take legal action, 95 per cent received compensation and the average amount won was over £1,500"
The most common perceived breaches of contract include:
Misleading description of location or accommodation
Non-functioning or faulty facilities
View not as described in brochure
No air conditioning in accommodation
Accommodation not fully built
Accidents/injuries caused by unsafe/dangerous facilities or equipment
No water in swimming pool
Should holiday rental owners be worried? Only the ones who mislead in their advertising. However, it is worth checking over your website and adverts to see if anything could be misinterpreted.
If you do have disputes, try to resolve them with holidaymakers. Consider offering a refund or a discount off a future booking, if you are at fault. But don't be 'conned' into a refund if you feel it's unjust.