Home Improvement Tips That Add Value to Your Holiday Home
Reading Time:
5
minutes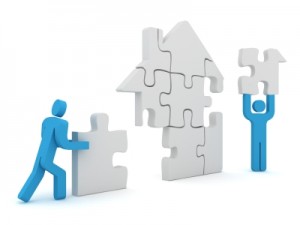 One way of breaking free from the price war in the holiday letting industry is by adding more value to your rental than your competitors are offering, therefore helping yours to stand out from the crowd.
Adding value to your holiday home means you can ask for higher rental rates, attract more guests and get a better selling price for the property in the longer term.
There are many ways of adding value to your guest offering, and also of improving your home's capital appreciation. Choosing the ones best suited to your property will depend on your time, budget and the market.
Bigger may be better
Extra space in a home always adds value and experts generally agree that the best bet is a loft conversion or extension to add an extra bedroom and bathroom. People would rather have a three-bedroom house with two bathrooms, than a four-bedroom house with one bathroom.
Work on lofts is usually not too disruptive, but you need to think about access and ceiling heights.
Before you embark on an extension project:
Do your maths to work out how much more your property will be worth afterwards. There is no point overspending and doing more to the house than you'll get back in rent or resale. Before doing any expensive extension work, consult a local estate agent.  Remember to factor in loss of rental income while the building work is going on.
Use professionals – more expensive than DIY, but more than worth the extra in terms of good workmanship and durability.
Decide exactly what you want and take expert advice as to how feasible this is. Be realistic in your expectations and know exactly what you're going to end up with.
Get the right permits and be prepared for the paperwork to take months.
Going up a grade
Aside from extension, many home improvements will make a noticeable difference to your property's value and what it's like to live there. Bear in mind:
Budget – Don't overspend because you may not get your money back, but don't under spend because cheap jobs are glaringly obvious and never last. Set your benchmark by asking yourself "Would I like to live here?" Many holiday home owners end up living permanently in the property when they retire.
Basics – Don't scrimp on insulation, roofing, plumbing and electricity. These are basics and going cheap here is a false economy and one you'll pay for later. Energy efficiency is one of the most important improvements you'll ever make, especially if you holiday let. Reducing your heating bills and costs means more profit. Don't forget to insulate all the pipes at the same time – burst pipes are a major threat to holiday homes.
Essentials – The kitchen and bathroom are showpieces and as such, a priority for improvement. A big, open-plan kitchen is one of the best assets a holiday home can have – the social hub of the home. Give them both a facelift and you make your property more attractive to guests. It needn't be costly if you shop around and compare prices.
Renew countertops, old fashioned cupboard doors, and the backsplash in your kitchen, and invest in some quality energy-saving appliances.  If you don't already have a dishwasher then that will be one welcome addition for your guests or potential buyers.
Try to create a separate laundry room/drying room, especially if you attract walkers who are likely to get wet.
In the bathroom, functional suites (in white only, not avocado!) a power shower and a roll top bath make their mark, but you can also add a luxury touch with heated towel rails or under floor heating, as well as good vanity lighting around mirrors and dressing areas. Carpeted bathrooms are a major turn off.
Standing out from the crowd – What can you add that will get bookings? Hot tubs and wood burning stoves are amongst the most requested features in a holiday let. If you have the space a recreational area (play/games/media room) adds value.
Work out who is your market and present the property accordingly.
Light-up – Skylights and larger windows turn a dingy space into a welcoming area. They're not cheap, but the instant lift is more than worth it.
And while you're thinking about windows, make sure they're all double-glazed to cut down on noise and energy consumption.
Instant improvements
As well as the more costly and time-consuming upgrades, why not try these to increase your home's value quickly and cheaply?
Keep it neutral: Paint walls in plain, light colours because they make the room bigger and brighter, and appeal to everyone.  These can easily be repainted and colour can then be added with the right accessories.
Add a splash of colour: Bring life to a room with cushions, throws, lamps and art work to add a splash of colour and individuality that can be easily changed between seasons.
Put in a mirror: Especially effective in hallways, mirrors also work wonders in small rooms and corridors.  If there is no space in bedrooms for a mirror then add one to the back of wardrobe doors for your guests to use.
Clean up: Guests' standards for cleanliness in holiday lets are always high so make sure your property is squeaky-clean by doing a thorough deep-clean at the start and finish of each season.  And while you're at it, make sure all your annual maintenance jobs are done ahead of guests arriving.
Make sure you keep a tight rein on the cleaning and maintenance schedule during the season so your September guests are treated to the same high standards as your May guests enjoyed.
De-clutter: Store (or throw away) ornaments and nick-nacks to create a sensation of space. This is especially important in small rooms and in the kitchen, or where you have bought a holiday property and inherited all of the previous owner's collection of paintings and vases!
Get gardening: Tidy up your outdoor areas. Cut the grass, sweep the patio/ terrace/ deck areas, and keep your pots shiny and new.
One key area to invest in (especially for overseas properties) is good quality outdoor furniture. Nothing will devalue a holiday home faster than grey mildew on cheap white plastic patio furniture, so go for the best quality you can afford to make the place look smart and provide comfort for your guests.
Keep it quality
And finally, invest in the best when it comes to equipping your rental, because here is where quality really matters.
Mattresses, pillows, household linen (bedding and towels) and kitchen equipment should be the best you can afford.  Descriptions that include words like Nespresso, Egyptian Cotton and Memory Foam all help a property to have a better perceived value to potential guests who are considering where to book.
Consider also adding modern technological touches such as wifi, smart TVs and even a laptop or iPad to loan to guest.  Apple TV with Netflix is a great feature to offer, as are things like Sonos sound systems or names like Bang and Olufsen when it comes to tech that appeals.
Another easy way to add value to your rental is to give each party a free Satellite Navigation system to use, that's been pre-loaded with all your favourite places to eat and visit, helping holidaymakers to get around with ease.
Quality finishes like these speak volumes for your house and will encourage guests them to return and recommend your holiday let – repeat booking is the cheapest and best added value of all!