What does community building insurance cover?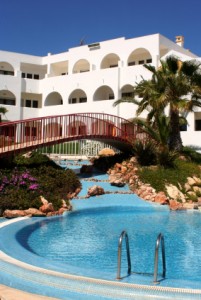 If you own a holiday apartment in Spain, France or Portugal that is on a complex, check your building insurance – it could be inadequate.
It is common practice that part of a holiday apartment owners community/maintenance fees goes towards the community buildings insurance. However, there is a common misconception from apartment owners that the community building insurance is sufficient to cover their apartment and that they only need additional contents insurance.
Inadequate holiday apartment insurance
The problem is that community building insurance in Spain typically only covers communal areas such as walkways, swimming pools and the basic rebuild of the building structure. Usually, the community buildings insurance does not cover 'fixtures and fittings' within individual apartments, such as fitted bathrooms and kitchens.
Consequently, there would be a shortfall in cover if for example a water leak from an apartment above or fire damaged kitchen units, as 'fixtures and fittings' aren't covered by contents insurance. The buildings insurance should cover these.
What's covered?
You need to identity what your apartment insurance in Spain does and does NOT cover. Do not assume your urbanisation's insurance policy is covering your individual apartment and that additional insurance is not necessary. You don't want to discover you are underinsured and out of pocket in the event of a claim.
It is also likely that the community insurance doesn't cover the owner for public liability. This insurance protects against legal action by third parties – for example, flooding an apartment below, causing a fire to a neighbouring flat or slips and trips in the property. This cover is usually an integral part of a specialist holiday letting insurance policy.
It is recommended that you take out your own 'all risks' policy for any perils that may not be covered by the community insurance.
Questions to ask your community holiday apartment insurance provider:
If an apartment above caused water damage to my fitted kitchen or bathroom units, would the buildings insurance cover the damage?
If there was fire damage to the block, would the buildings insurance cover damage fixtures within the apartment?
How much are you insured for? (is it enough?)
With a glut of overseas apartments sitting empty, there is a constant threat loss or damage – ensure your Spanish apartment insurance is comprehensive.