Employers liability insurance for holiday homes
When you first bought your holiday home, you may not have intended that it would make you into an employer too. It might though – and you may have to take account of this when insuring your holiday cottage.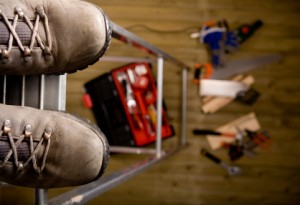 The reason for this is simple. If you employ someone to, say:
mow the lawns and maintain the property;
be available to handle any queries at your property from the people you rent to;
then you may be legally employing them. That applies to any situation where you are hiring them to carry out tasks for you at your request and have a contract of service.
Legal requirements
This means that you may, by UK law at least, need to have employers liability insurance to cover your liability for any harm suffered by an employee who's working under your guidance.
You may think that this is rather like overkill when you only have one person carrying out a few basic tasks for you, and perhaps only a couple of times a month at that.
When things are going well that may be a valid opinion – but unfortunately things don't always go according to plan.
It may be a sad fact, but however good your relationship may be with the person you ask to carry out these tasks for you, everything could change very quickly indeed if they were to injure themselves while doing it.
If the injury was the result of something like, for example, faulty equipment that you perhaps should have had fixed (broken ladders, or frayed wiring on a hoover) then they could potentially sue you for negligence and claim damages.
You may very quickly see your income from your holiday let and a whole lot more, vanish into a cloud of smoke and legal fees.
The problem and our solution
With the potential risks involved, it is surprising some holiday home policies offer low levels of employers' liability insurance as part of their standard cover, so it may be worth you checking your existing policy if it was not taken out with us.
At Schofields, our insurance for holiday homes in the UK includes £5m employers' liability insurance as standard when you choose buildings or contents insurance. You can easily get a quote online at our site.
It should be noted that employers' liability policies differ from public liability insurance – and that it is important that holiday home owners know the difference. We'd welcome the opportunity to help you find out more about ensuring you have adequate employers liability insurance – give us a call.