What does holiday home contents insurance cover?
Whether you take out holiday home contents insurance is an entirely personal choice. However, not insuring your contents could well be a false economy. In the event of a major disaster, such as your home being flooded, would you be able to pay to replace your contents?
In order to appreciate what should be covered by second home contents insurance, you must understand what is meant by the contents of your home.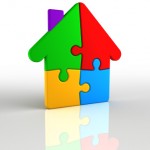 What are contents? It is probably best to think of contents as being everything you would take with you if you moved house. This typically includes furniture, household goods, electrical equipment, curtains, plus items kept in the garden, garage or outbuildings.
The industry convention is to treat carpets as 'contents', even though they are often fitted. This is due to the fact that fitted carpets can be taken up easily and re-laid.
What risks does holiday home contents insurance cover?
We have already outlined what risks holiday home buildings insurance covers. These perils also apply to contents insurance, so rather than duplicate these, refer to this post.
Typically a holiday home contents insurance policy will pay out if your belongings are damaged by fire, flooding (escape of water), storm or if they are stolen in a break in.
Most contents policies will also allow you to extend the cover provided to include accidental damage. For example, if you spilt wine on your carpet or damaged a TV. If you are you are holiday letting, check that your accidental damage cover extents to tenants.
New-for-old vs wear-and-tear policies
Some insurance companies offer two types of contents policy. New-for-old policies, (sometimes referred to as 'replacement as new') in this case the insurer either pays the full cost of repairing damaged items or replaces them with equivalent new items.
The other type is a wear-and-tear policy (also known as indemnity), in this case the insurer replaces or repairs your items, but with an appropriate reduction for wear, tear and depreciation.
Although a wear-and-tear policy might be cheaper, they are not advised because they could leave you much worse off if you have a large claim and have to replace everything as new.
Insurance Exclusions
Due to holiday homes being viewed as a high risk by insurers, many impose exclusions in the small print or terms which can invalidate cover. Some to check are theft claims being declined unless there are signs of forced entry or escape of water damage cover being excluded when the holiday home is unoccupied for more than a certain number of days, usually 30.
It's important to check if there will be a limit on how much you can claim for specific items.
Also, when only a part of a set is damaged (furniture for example) you'll usually only receive the cost of replacing the damaged parts, not the entire set.
In summary, think of contents as being everything you would take with you if you moved home.
As insurance doesn't cover every disaster, it's important to read your holiday home contents insurance policy carefully to make sure it provides the cover you need and that you understand your responsibilities.
We are confident that our insurance for holiday homes offers comprehensive cover with minimum exclusions.