Holiday Home Burglary Risk
As the evenings get lighter and the economic downturn deepens, credit crunch crime is expected to rise. Second homes that are left empty for long periods or let, are especially vulnerable to burglary and theft.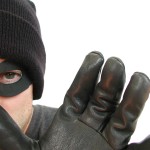 Holiday homes generally don't contain a lot of valuables, mainly it's electrical items that are stolen. Often, the damage caused by gaining entry into property by damaging door locks, grilles or shutters can be greater than the value of the items stolen. Regardless of this, it sensible to check that your buildings and contents insurance is adequately protecting your property from any loss or damage.
Are you insured?
Outdoor items
As the warmer weather approaches, it is likely that your holiday home, especially ones overseas will have an expensive collection of outside furniture, bicycles, lawnmowers, barbeques and tools lying about. Check that your contents insurance covers property left in the open, in sheds/outbuildings, and note any limits. Do items need to be locked away to be covered?
Security requirements
Note any security requirements in your policy terms. Do you need bars/grills/shutters on the windows, certain types of door or window locks? More importantly, some insurers invalidate cover if these security measures are not utilised when your home is empty. Imagine your guests nipping out of your holiday let for an evening meal and not closing the shutters, it is likely your claim would be declined following a break in.
Forced entry
Check if your holiday home contents insurance requires there to be violent and forcible entry into your property for a claim to be valid. This can be a problem, especially if you holiday let, as past guests and employees will have had free access to your keys. Also, many absent owners use key safes or even hide keys under rocks in the garden so guests can access their properties. A burglar using a key or entering through an open window is not forced entry and your claim is likely to be declined.
Other insurance considerations:
valuables such as jewellery, laptops are unlikely to be covered by holiday home house insurance. These should be covered by your main residence 'all risks' contents insurance or your travel insurance.
is there a timeframe (5 days in some instances) which you have to notify your insurer of a theft claim and do you need to obtain a police report?
do you have to inspect your holiday home and document weekly visits?
to assist the claims process, take photos of your items, keep receipts for items purchased and get the insurance company's authorisation before you repair or replace items following a claim.
The thought of your holiday home being burgled can be distressing, but sadly history shows that crime rises during recessions. Check your insurance to ensure you are covered for the above risks and ask your insurance broker for any clarification on restrictions and limits.
Protected your holiday cottage or property abroad now. There are no security requirements on a Schofields policy and we cover theft or attempted theft by non-forcible entry.