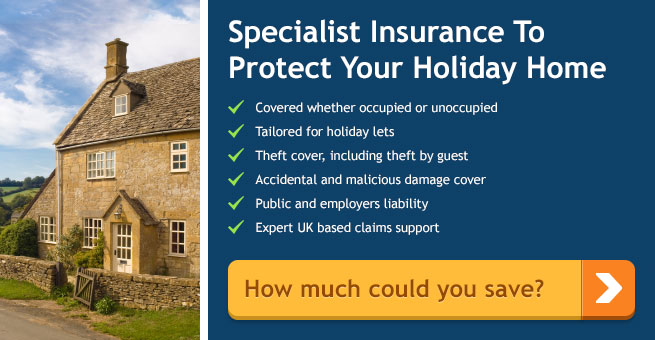 Specialist insurance to protect your Holiday Home in the UK
Insuring your UK holiday home can be a confusing business. There are often multiple exclusions that leave you worried that you might not be covered should you need to claim.
What if you can't get there often enough to comply with the minimum occupancy terms? Or something happens in winter and it's weeks before you discover a leaking pipe, or worse a fuel leak?
None of us like to think about it, but what if you are robbed by someone you have allowed to enter the property such as a guest or work person?
Schofields insurance for UK holiday homes is designed to give you peace of mind. At Schofields we have specialised in insuring holiday homes since 1984 and our comprehensive policy is just that - comprehensive.
We offer great value insurance for complete peace of mind with minimal exclusions to help you enjoy your holiday cottage, with a lot less worry.
It doesn't matter if you are there frequently, or just now and then, the insurance even covers you for letting as a holiday rental.
No insurance can cover absolutely every eventuality and even Schofields have some exclusions - but rather than hiding them in the small print we're right up front with the facts. You can download the full policy below.
Why Choose Us?
Comprehensive Holiday Homes Insurance You Can Depend On
Full cover between occupancy - no need to inspect weekly, or occupy your holiday home monthly. If your property is heated by night storage heaters be sure to read the specific clause in the policy wording.
No worrying security stipulations - we won't ask you how many levers your locks have, or whether the windows have keys, right up to £40,000 of contents insured.
Full theft cover with no requirement to prove forced entry if for example a holiday maker goes out and leaves a window open - most policies don't cover you for theft unless someone breaks in, but Schofields does.
£5m public liability cover - in case someone has an accident at your property and claims against you. And if you have a pool you're covered too.
£5m employers' liability cover - in case someone employed at your property has an accident and makes a claim, such as your cleaner, or house keeper.
Loss of pre-booked rental income cover - if your holiday let can't be used for a period we'll cover the loss you might make from pre-booked guests. You are automatically covered for twice the contents sum insured.
Alternative accommodation cover - we'll cover the costs of accommodating whoever is in residence at the time elsewhere if your holiday home can't be used following a claim.
Accidental damage to contents - cover can be extended to include damage to contents caused by you, guests, or pets.
(Optional) Holiday home ownership legal expenses insurance - Covers eviction of overstaying guests, property infringement, consumer, residential and tax protection.

You choose the cover you need, whether it's just buildings, or buildings and contents. We'll even reduce the excess if you take certain sensible precautions in winter.
What do we consider a Holiday Home or Second Home?
A Holiday Home or Second Home risk is one where the property is:
Occupied as a weekend or holiday home by the proposers family/friends or
Let commercially on a short term basis as holiday accommodation
No more than 8 bedrooms (whether used as bedrooms or not)
Situated in Great Britain, Channel Islands and Isle of Man (excludes Northern Ireland)
Built of brick, stone or concrete and roofed with slates, tiles, asphalt or concrete
A wooden lodge securely built on a concrete base with a pitched roof tiled with tiles or slates
The home should not be:
Used for business (other than holiday letting)
A main residence or an unoccupied main residence
Let on a long term basis to tenants
Permanently unoccupied
Permanently left empty and unused
In the course of construction
Being renovated
Our UK holiday home buildings insurance covers fixtures and fittings attached to the Holiday Home, domestic outbuildings, garages, domestic fixed fuel oil tanks, swimming pools, tennis courts, drives, patios and terraces, walls, gates and fences.
Schofields holiday home insurance covers all this and so much more:
Fire, lightning, earthquake or explosion.
Damage from storm, flood or weight of snow.
Escape of water from fixed water tanks, apparatus or pipes. Do note our winter exclusions and opportunities to reduce excess.
Escape or theft of oil from a fixed domestic oil-fired heating installation.
Theft, or damage resulting from attempted theft, even when entry is not forced. Theft by tenants covered too.
Impact by aircraft or any other vehicle or animal.
Damage caused during violent disorder including riots, strikes, civil commotion or acting maliciously.
Subsidence or heave of the site upon which the buildings stand or landslip.
Damage from falling trees, lamp posts or telegraph poles.
The cost of repairing accidental breakage to fixed glass and double glazing, solar panels, sanitary ware, or ceramic hobs.
The cost of repairing accidental damage to domestic fuel oil pipes and underground utilities such as water-supply pipes, sewers, drains and septic tanks, gas pipes or cables.
Accidental damage to audio and visual equipment within the holiday home.
Property in the open such as garden furniture and barbecues.
Costs you have to pay for replacing locks following theft of your keys.
We offer you comprehensive insurance, with minimal exclusions from an established specialist. Schofields have specialised in holiday home insurance since 1984 that's arranged just for us through certain Underwriters at Lloyds of London.
Important Documents
This is a summary of cover, view or print the full terms and conditions:
UK holiday home policy wording - For cover beginning in 2015

Useful Insurance Information
Compare holiday home insurance - identify the risks and small print that can leave you with inadequate cover.
Confused? read our guide to insuring holiday homes