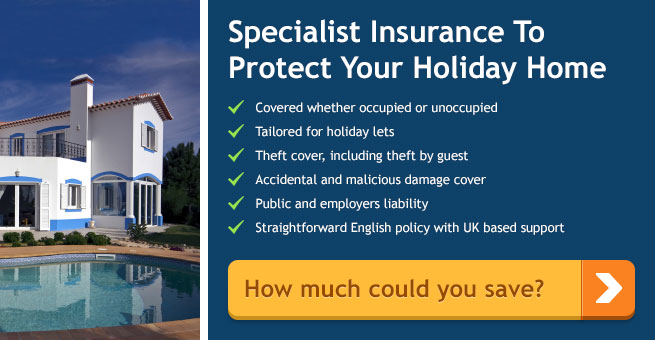 Holiday Home Insurance in Portugal - comprehensive cover when unoccupied or let
Portugal - it's easy to get to, it's affordable to own a second home there, and yet it's a wonderful world away from Britain. The sunny Algarve, the garden island of Madeira or the varied and often beautiful mainland all offer the sun lover a taste of a very different way of life, just a few hours away by plane.
Owning a holiday home in the sun should be a joy that you'll want to share with friends, and maybe even let out as a holiday rental. Unfortunately owning a home in another country is never worry free, but there are a few steps you need to take to ensure you minimise that worry, and the most important is to insure it well.
Insurance is a complicated purchase in a foreign language, particularly for a holiday home, but it's an area where you can't afford to take risks. You need cover that tells you exactly what you're covered for, and what the exclusions are, cover that's both comprehensive, and straightforward. In Portugal you need to be particularly mindful of restrictions on earthquake damage - many insurers charge an excess that's a percentage of your claim, and that may be thousands!
Schofields are specialist holiday home insurers. We offer straightforward comprehensive cover for a Portuguese holiday home, and just as important - we apply minimal restrictions. Our policies are written in plain English. You don't need to worry about unfamiliar insurance exclusions, language barriers or other complications. And should you need to claim, you'll speak to our experts - not a faceless call centre.
You're covered if you rent out your home as a holiday let, or if your friends are staying there. You're even covered if you can't get there very often - that's something you need to be sure of!
Why Choose Us?
Comprehensive cover from Schofields is what it says - it's comprehensive. If you're checking policies make sure your cover will include these vital areas:
NO restrictions between occupancy - we don't impose occupancy restrictions, so if you can't get there every month you're still covered.
NO excessive security requirements - we don't demand that you use sophisticated and expensive security measures (unless the contents sum insured exceeds £40,000).
FULL theft insurance - including theft by non-forced entry and by guests. This is vital with a holiday home in Portugal that's both let and left unoccupied.
Weather damage - we think of Portugal as hot and sunny, but we also protect you when the weather is stormy. We understand that you probably live a long way away, and so we don't insist that you claim for weather damage within a tight timeframe of the loss.
Swimming pool included - your pool is covered by our buildings insurance, which includes important public liability insurance, at no extra cost.
Public liability cover of up to £5m - this gives you protection in case someone claims against you if they have an accident at your holiday home.
Employer's liability cover up to £1m - like public liability this gives protection should someone who is working for you have an accident and makes a claim.
Loss of rental income - if a loss or damage leaves your property untenable and you suffer losses relating to pre-booked lettings you will be covered for twice the contents sum insured.
Alternative accommodation cover - if you need alternative accommodation, for you and your family, or paying guests who are in the property at the time of a claim, you'll be covered.
Travel and accommodation costs - if you need to fly out to your holiday home in Portugal to assess a situation and minimise a claim your costs will be covered.
Optional accidental damage to contents cover - this offers optional additional protection against damage at your holiday home, even by holiday makers.
Low excess charges - even our excess charges are competitive. We charge just £50 on a standard claim, £250 for water or weight of snow damage and for earthquake damage the excess is £300. This is often a percentage of the total claim, which could amount to thousands.

Check out the competition:
We'd like you to check out the competition. We have already! And we know that cover like ours is hard to come by, especially at our excellent rates.
When you're comparing Schofields with other policies look out for:
Community buildings cover, this is particularly relevant with apartments - and often only protects communal areas, not actual fixtures and fittings within your building.
Escape of water. This is usually excluded when a house is left unoccupied.
Theft. There tend to be strict security requirements when holiday homes are unoccupied or rented out.
Check that you are covered for using the holiday home for lettings.
Check the restrictions on your accidental damage to contents cover - especially if it's a holiday let.
Check your public liability cover - as it tends to be a very low level of indemnity.
Everything is in English: everything from Schofields is written in straightforward English. That means you don't have to worry about complicated form filling in Portuguese.
Experts on the phone: If you need to speak to someone just give us a call, you'll speak to one of our experts whether it's before you buy, or if you need to claim.
Long established: Schofields have been providing insurance for holiday homes in Portugal since 1984, all of our policies are arranged through certain Underwriters at Lloyds of London.
Buildings insurance for your holiday home in Portugal - what does it cover?
Fixtures and fittings attached to the Holiday Home, domestic outbuildings, garages, domestic fixed fuel oil tanks, swimming pools, tennis courts, drives, patios and terraces, walls, gates and fences.
Tailored holiday home insurance - covers loss and damage caused by:
Fire, lightning, earthquake or explosion.
Damage from storm, flood or weight of snow.
Escape of water from fixed water tanks, apparatus or pipes.
Escape or theft of oil from a fixed domestic oil-fired heating installation.
Theft or attempted theft including theft by guests, even when entry is not forced.
Impact by aircraft, vehicles or animals.
Damage caused during violent disorder including riots, strikes, civil commotion or acting maliciously.
Damage from falling trees, lamp posts or telegraph poles.
The cost of repairing accidental breakage to fixed glass and double glazing, solar panels, sanitary ware, or ceramic hobs.
The cost of repairing accidental damage to domestic fuel oil pipes and underground utilities such as water-supply pipes, sewers, drains and septic tanks, gas pipes or cables.
Accidental damage to audio and visual equipment within the holiday home.
Contents in the open such as garden furniture.
Costs you have to pay for replacing locks following theft of your keys.
Your contents will be covered on a new for old basis.
Experienced claims support.
There's no need to worry about how we deal with claims when your home is hundreds of miles away. We have an International team of loss adjustors to deal with claims.
Note: no policy can cover absolutely every eventuality, and even comprehensive insurance like ours has some restrictions, but we're completely upfront with all stipulations. Read our Policy Wording below.
Important Documents
This is a summary of cover, view or print the full terms and conditions:
Portuguese holiday home Policy wording - For cover beginning in 2015

Useful Insurance Information
Compare our property insurance abroad