How Non-Disclosure Could Void Insurance
With the number of people lying on insurance applications in an attempt to get a cheaper quote increasing, the implications of doing so and non-disclosure of a material fact, can result in an insurance policy being invalidated.
This was recently highlighted when a major insurer demanded a customer return a £241,000 settlement they received after their home was burned down in an arson attack. Why? Because the insured apparently failed to declare a £150 fine for a benefits offence.
Following this decision, there are concerns that thousands of people could be paying for worthless home insurance because they are invalidating their cover by not disclosing material facts to their insurers.
What should you disclose?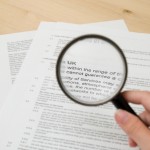 When applying for insurance, it is likely that you will be asked to disclose any material facts that could affect the risk that you're insuring. By non-disclosure (or misrepresentation) of a material fact, there is a risk that the insurer could decline to meet a claim, as well as declaring a policy null and void.
Why? Because the insurer could argue that had they know about a material fact, they would not have offered cover.
What material facts might affect the insured risk?
Permanently unoccupied properties – There have been instances in the past where people have insured permanently unoccupied properties (those inherited, being renovated) on a holiday home basis, when in reality they aren't a holiday home. If your property is permanently left unoccupied, disclose this to the insurer. There are specialist unoccupied property insurance policies available which are more suitable.
Special terms – As holiday and second homes are considered a high risk, often holiday home insurers will impose terms on a policy such as; regular inspections, turning off the water when empty, installing security locks and not leaving the property unoccupied for over 30 days. If the insured was to knowingly only visit the property only a few times a year or not install the required security, this could invalidate cover.
It's a holiday home – There have been instances where holiday home owners have insured their properties as a main residence (maybe because there are less policy conditions?) and then let their homes to holidaymakers. A holiday let needs specialist cover, which a main residence policy isn't likely to include –third party liability to tenants, accidental damage etc. If you let your holiday home, inform your insurer.
Previous claims – When applying for insurance, inform the insurer of any past claims and don't be tempted to not disclose any, no matter how small.
Convictions and cautions – The implications of not disclosing criminal convictions and cautions have been highlighted by the case above. Don't invalidate your insurance by holding back information.
How will the insurer know?
It may seem tempting to suggest that your insurer won't know about non-disclosed facts, but due to increasing fraud, insurance companies are scrutinising proposal and claim forms.
Also, if the claim is serious, insurers are likely to appoint a loss adjuster who will likely discover how often and how a property is used, or question why damage wasn't spotted earlier.
To summarise
Non-disclosure of material facts or misrepresentation in an attempt to get  cheaper insurance is pointless if it puts your cover in jeopardy
Failure to disclose any material fact can invalidate a policy and lead to claims being rejected by the insurer
The responsibility of disclosure is often on the policyholder, whether or not the insurer specifically asks about material facts
If you are not sure, declare everything
If you have any concerns about what you should disclose with regards to your holiday property insurance, please get in touch.