Smoke detectors required in French holiday homes
Reading Time:
2
minutes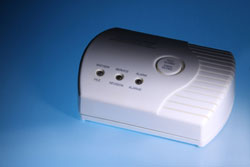 France has traditionally lagged behind the UK in using smoke detectors in homes. It's estimated that only 5% of houses in France are fitted with a smoke alarm, compared to 90% in England. An alarming statistic considering house fires are responsible for 800 deaths per year. Furthermore, you are twice as likely to die in a house fire that has no smoke alarm than a house that does.
The law
As of 8 March 2015 there is a new requirement for smoke detectors/alarms to be fitted in residential property, including rental holiday homes.
These links give further information on the law:
http://www.service-public.fr/actualites/001544.html
http://www.legifrance.gouv.fr/affichTexte.do?cidTexte=JORFTEXT000027169390
Property owners are responsible for ensuring a properly functioning detector is fitted. Ideally it should be fitted to the ceiling, in a corridor or hallway that is near to rooms that are used regularly. The UK Fire Service provides some useful advice.
What type of detector is required?
The smoke detector you buy should have the certification CE and conform to the standard NF EN 14604 which should be marked on the device.
The device should have a 'test button' for regular verification that it works.
Insurance implications
Check with your insurer any specific obligations concerning smoke detectors. Do you have to notify your insurance of the installation? What would happen if you had to make a fire claim after 8 March 2015 without having a smoke detector(s) installed?
Compliance with this law is essential for the safety of you and your guests.
It's estimated that only 5% of houses in France are fitted with a smoke alarm
House fires are responsible for 800 deaths per year in France
You are twice as likely to die in a house fire that has no smoke alarm than a house that does
"Installing a smoke and carbon monoxide detector could help save your home and the lives of you, your family and guests"