Holiday let bookings down? Don't panic!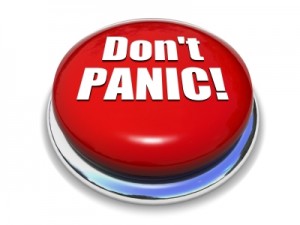 If you spend time on holiday rental owner communities you will often see posts like these from owners who are panicking;
-Enquiries have completely dried up!
-Help! bookings down
-Where have all the bookings gone?
Don't panic!
I know it's difficult not to, but try not to panic. If this is your first year letting your holiday home it's hard no to (as you don't have historical booking trend data) but hasty decisions could impact your rental income. Don't discount peak summer weeks (that you could potentially let twice over) just yet.
Holidays remain a top priority for the majority, with more than 70% feeling a holiday is more important than a new gadget or eating out. A recent survey also found that 92% of people plan to take at least one break  this year. However, trends are changing.
What is going on with bookings?
There is a marked drop in the number of travellers who will book early to get the holiday dates they want.
There is a downturn in the traditional annual fortnight holiday, with many opting for shorter holidays and weekend/short breaks.
The weather impacts UK bookings. When it's wet no one feels in the holiday mood. On the flip side, following the scorching May Bank holiday weekend many saw 'staycation' bookings surge.
For overseas properties, flight prices and the exchange rate has an impact on traveller's budget.
People don't feel as well-off as they did a few years ago, job security is a concern, and don't want to commit to holidays too far ahead.
A growing number of people are shunning the traditional booking rush in January/February and waiting until the last minute to book – and get a deal. Searches for holidays peak about two to three weeks before the main school holidays when holidaymakers are looking for a last minute break.
This is evident in the image below showing the trend in those searching for 'cheap holidays' peaking in July.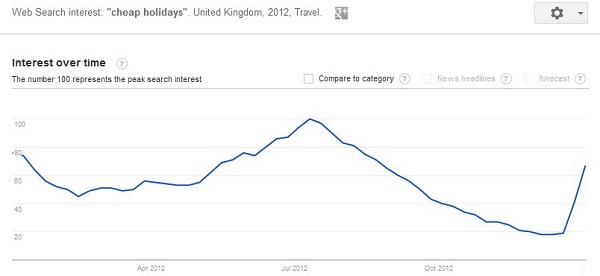 Is it time to be more flexible with your arrival/departure days?
If travellers are opting for shorter holidays or short breaks, can you increase occupancy rates by being flexible with your arrival and departure days? You may end up with odd gaps here and there, but if occupancy is higher it makes sense. You could market gaps as a 'special offer' or make use of the property yourself for a short break or maintenance.
How do your guests travel – fly or drive? If they fly, then having a changeover day when flights are cheaper (typically mid-week) could reduce the cost of your guests holiday. Bear in mind that some people prefer Saturday to Saturday as it means less time off work and a chance to catch up with the washing and ironing before the working week. Test varying days to see which are popular.
If short breaks are popular in your area, being flexible can maximise occupancy. Friday to Monday bookings and Monday to Friday bookings work well for many UK holiday cottage owners.
Discount culture
The dreaded 'D' word. In the current economic climate many people think they can get a discount to make their holiday budget go further. Be careful about discounting peak summer weeks that you could potentially let twice over. Your objective is to maximise occupancy/income.
However, discounting your holiday rental can help fill vacancies in certain circumstances, for example;
– offering a 'late deal' discount 2/3 weeks before the available dates;
– to fill a booking gap;
– discounting a 'hard to sell week' that you know from experience is difficult to let.
What else can you do?
Even with a late booking trend, you don't want to rely on heavily discounting your rates to fill your booking calendar if there are other marketing ideas you can do to get more bookings.
Don't panic yet. If at the end of the booking season you haven't filled empty weeks then you need to panic invest in marketing and improving your bookings.