Is your overseas property insured when empty?
If the credit crunch, the ash cloud or BA strikes have affected your overseas holiday home rentals and it now stands empty for longish periods of time, you may wonder whether you you'll need to make special arrangements for your overseas house insurance.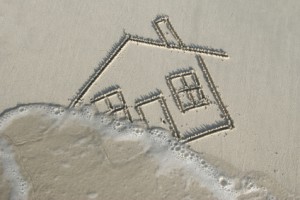 You may wonder whether you'll need special insurance when your property is unoccupied and what your obligations may be as a policyholder (for example, will you need to drain down water systems).
These concerns may be particularly relevant in the current economic climate as the credit crunch may mean that many people are tightening their belts and your property is empty rather more frequently than usual.
Of course, if you are lucky and have a second home in this country, you may see an increase in lettings in the UK as people may opt for a self-catering holiday closer to home rather than travelling abroad. But if your holiday let is overseas, then you may be finding that your lettings have decreased, leaving your holiday home potentially more vulnerable as it stands empty for periods of time.
Do I need to make special insurance arrangements while my overseas property stands empty?
Many insurance providers have clauses in policies that apply when your holiday home is empty.  That is typically because when a property is empty it is generally seen as being more at risk to loss or damage.
It may be a bit of a headache for you if your insurance has such clauses which require you to drain water or heating systems, regularly inspect the property or install certain security measures when your property is empty.
If your property is local to you then you can obviously keep an eye on it during periods when it is not let.
That may be more difficult if your holiday home is in, say, France or Spain though.
Popping in to make sure everything is OK and turning off the water may be slightly more inconvenient, especially as everything needs to be turned back on again when your holiday home is next let.
Full coverage regardless of occupancy
Unlike other foreign insurers our overseas holiday home insurance policy provides cover as normal during empty periods and doesn't make any stipulations about draining down heating and water systems. It doesn't have any security warranties or restrictions in cover during periods of unoccupancy.
Our cover also provides all the features that you may expect from a comprehensive property insurance policy including:
buildings and contents cover (including accidental damage to contents);
public liability insurance to protect you from claims from your renters or others that claim they have been injured while on your property;
employers liability cover to offer protection for the people you employ to clean or perhaps carry out general maintenance;
loss of rental income following a claim
additional costs for travel and accommodation following a claim
policy documents in English
You'll find that our insurance also gives you the peace of mind that, should you decide to use your holiday home yourself, the protection that your policy gives to your paying guests also applies to you and your family.
Get protected
It's a fact that damage largely occurs when a holiday home is unoccupied – whether by water or theft. Ensure you are protected without having to worry about hidden exclusions in the small print that could leave you uninsured. Get a quote on our website or give us a call.